The Shadows of Pygmalion (download)

Developer:

Genre:

Adventure

Specification:

All Ages, Full Voice

Category:

Price:

$34.95 MG point:174

On Sale:

Feb 24, 2017

OS:

Windows XP, Windows Vista, Windows 7, Windows 8, Windows 10

Reviews:

5.0 out of 5 (

1 reviews

)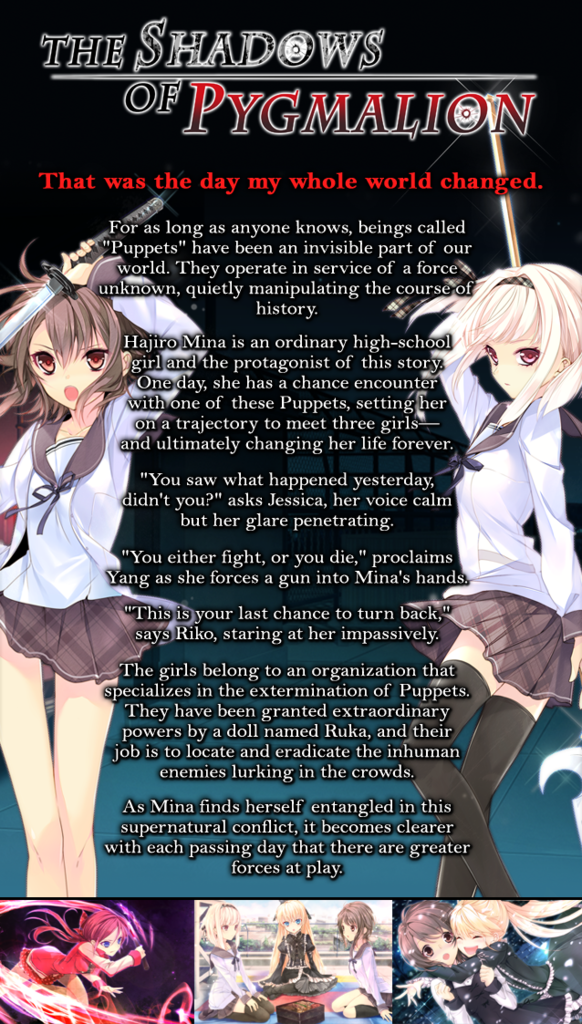 Hajiro Mina

Fifteen years old, a first-year high-school student, and the story's protagonist.

Mina is an ordinary girl attending a public school. Her father passed away when she was a child, and she was raised by her mother. Shortly after entering elementary school, she began helping her mother prepare food and do chores.

At a glance, Mina seems frail and delicate, stimulating the protective instincts of those around her, but at her core is an intractable spirit of innocence. This pureheartedness inspires trust in people she interacts with.

Mina has taken to visiting a doll gallery most days on her way home from school, and it is there she meets the Eidos called Ruka. Inadvertently resonating with Ruka, Mina becomes her fourth emissary and finds herself entangled in a conflict with the Puppets.


Jessica

Ten years old, daughter of an English diplomat and a renowned French violinist.

She attends an international school not far from Mina's high school.

Because her parents frequently travel out of the country, Jessica is a lonely girl who covets a more ordinary family. Consequently, she has a propensity to condescend to those around her.

She's keenly perceptive to others' emotions, often unconsciously empathizing with someone's anxieties, loneliness, or other emotional distress.

She never seems able to express her empathy compassionately, however, which is a source of much of her frustration and self-loathing.


Yang Li-Ling

Twenty-one years old, owner of the best high-class Chinese restaurant in Chinatown, and member of a massive Chinese business conglomerate.

She is the only daughter of Yang Li-Fang (a.k.a. Grandma), owner and curator of the doll gallery Pygmalion. Her mother taught her the truth about the world from a young age, but an event in their past damaged their relationship, and presently, they are on less-than-friendly terms. As a result, she sometimes has trouble keeping her emotions in check.

Sumerami Riko

Sixteen years old, a first-year at the same school as Mina.

She has no parents and lives alone—save for one butler—in the largest, most historic mansion in the city.

Riko is a quiet girl, reclusive and disinterested in the world around her.
She expends no effort to make friends at school, and she actively avoids interacting with the other students.

A family secret seems to be at the heart of her antisocial tendencies, however.
| | |
| --- | --- |
| Required CPU: | Pentium 4 2.0 GHz |
| Recommended CPU: | Core 2 Duo 2.66 GHz |
| Required Memory: | 512 MB |
| Recommended Memory: | 1024MB+ |
| Required Resolution: | 1024x768 / 1280x720 |
| Required Colors: | Full Color |
| Sounds: | WAV, Direct Sound |
| Required Graphics: | DirectX® Compatible Graphics Card |
| Required HDD Free Space: | 1GB+ Available |
| DirectX: | 8.1+ |





Fantastic Game

Friedrich

In the beginning, you will be confronted with a lot of happenings without context, and the protagonist is not treated fairly (or well really). I nearly put it off at that point. But that will soon change. And then it is a VN akin to an action anime. There is no stopping the story until you reach one of the endings. I loved the explanation for some of the weirdness and especially regarding the protagonist. I liked the characters and would have loved to see more of them and their background. The romance is muted but it's there and it's sweet.
Recommended.