Ecchi Sketch (download)

Developer:

Genre:

Adventure

Specification:

Without Mosaics, Partially Voiced

Category:

Price:

$9.95 MG point:49

On Sale:

Mar 14, 2017

OS:

Windows 7, Windows 8, OS X, Linux, Windows 10

Reviews:

4.0 out of 5 (

1 reviews

)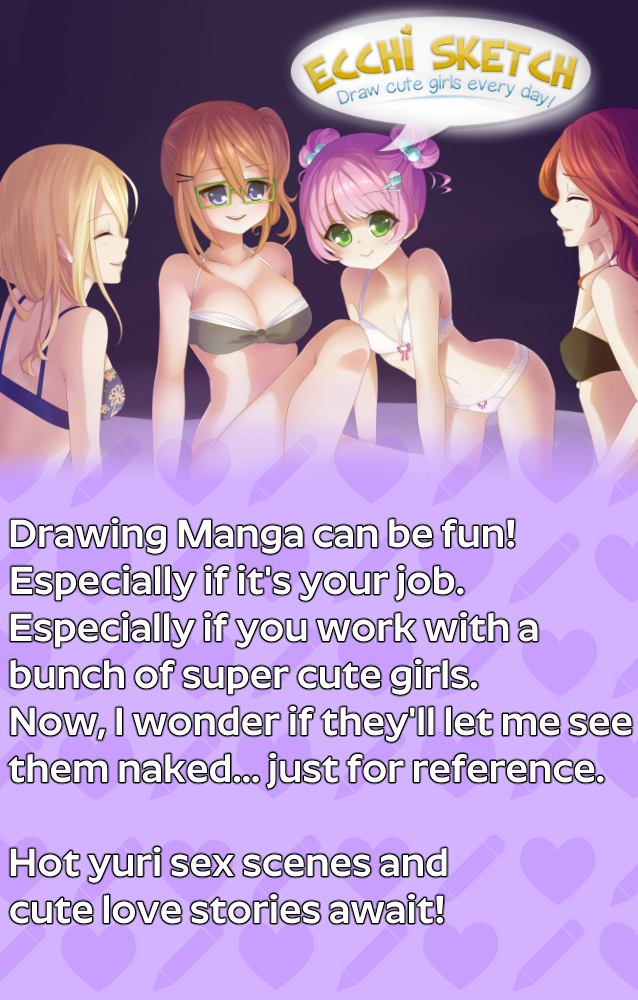 Yume Akiyama

Yume Akiyama, the heroine of our story, is a graphic designer at a funeral company. She's also a highly talented manga artist and is a superfan of anything girl x girl, be it manga, anime or video games.

Yume's mother died while she was young, so now she lives with her Dad, a high powered executive at Miyuhara Industries.

Kyoko Miyuhara

Kyoko Miyuhara is heir to the Miyuhara fortune. Her father is the president of Miyuhara Industries, a national company on the Nikkei stock exchange.

After a chance meeting with Yume, Kyoko reveals she runs her own company - Shirayuri Media who create girl x girl manga and doujinshi.

Megumi

Megumi is a talented storyteller, a hobbyist musician and deep thinker. She often loses herself in her own thoughts... sometimes in the midst of conversation.

She often questions her place in the world, and can come across a little abrasive. Her personal life is a closely guarded secret.

Rin

Rin is the jack of all trades at Shirayuri Media. From shading, to cleaning and colouring, Rin handles the odd jobs. Obsessed with pink, magical girls, and all things cute, Rin often comes across bratty and immature. Underneath, however, she hides a heart of gold.
| | |
| --- | --- |
| Required CPU: | Intel Celeron or Higher |
| Recommended CPU: | Intel i3 or Higher |
| Required Memory: | 1024 MB RAM |
| Recommended Memory: | 2048 MB RAM |
| Required Graphics: | Onboard or higher |
| Recommended Graphics: | NVidia Geforce 640 or Higher |
| Required HDD Free Space: | 350 MB |
| Recommended HDD Free Space: | 350 MB+ |




Not bad at all.

Httastt

I've only got two the third H-seen with Megumi but I'm enjoying it for the most part the voices are passable although I wish there was more voice work. The story is good and the art is nice. Ya get allot of content for $10 lots of girl on girl action. if this review didn't sound coherent I'm writing it at 2:30 AM cut me some slack. well I'm going to bad, night!