Moékuri: Adorable + Tactical SRPG (hardcopy)

Developer:

Genre:

Role playing

Specification:

All Ages, Partially Voiced

Category:

Price:

$24.95 MG point:124

On Sale:

Oct 13, 2017

Status:

In Stock

OS:

Windows Me, Windows 2000, Windows XP, Windows Vista, Windows 7, Windows 8, Windows 10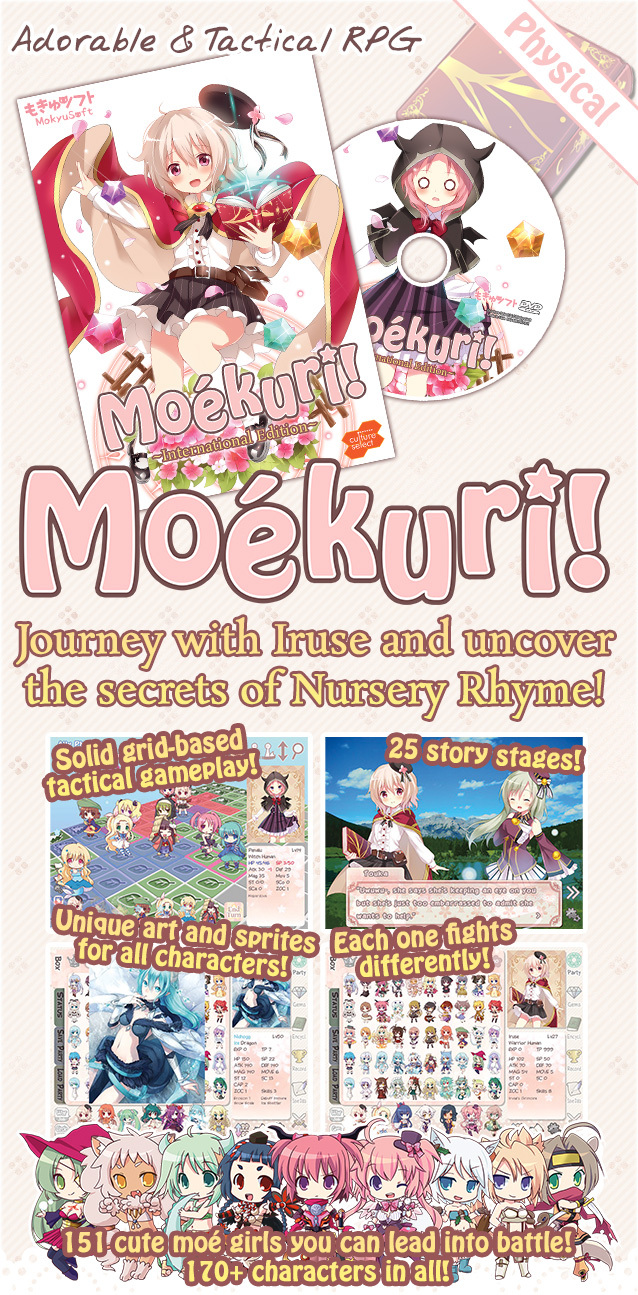 Iruse

A bright and energetic girl with an affinity for Creatures. As a Master, she helps protect her village with a strong heart full of determination.

Her missing mother left her the magical grimoire, "Nursery Rhyme," which she treasures dearly.

"Help us, Nursery Rhyme!"

Nika

Iruse's best friend. She follows in Iruse's footsteps in hopes of becoming a great Master one day.

Feisty, hot-headed, and fiercely protective, she's also the type who is not very honest with her feelings.

"W-wouldn't it be nice... I-if we were always together..."

Liia

A noble Master who acts according to her strongly held set of ideals. She has a powerful sense of justice and a pure, iron will.

A fierce protector, she is compelled to help those who are in need.

"Unfortunately, now that we've met under these circumstances...That makes you my enemy."

Penalu

An innocent, naturally mischievous girl. Not exactly the brightest Master around, but she has an incredible innate power to lay curses.

Coupled with her inexperience this often leads to trouble.

"Unni, I'm Penalu!! Unyo? Unyooooo!?"

Univa

Princess of the Kingdom of Atzilut. She's dynamic and clever, but always does things at her own pace.

She lives for love, unbound by trivialities like "common sense." Sometimes her desires get the better of her...

"I use love to conquer enemies and friends both. Now then, allow me to get this party started!"

Susu

A fastball of a girl, whose small body overflows with justice and confidence. As a priestess of the God of Preservation, she works to maintain balance in the world. Searching out evil wherever it may or may not be, she delivers justice with extreme prejudice. Susu is justice and justice always wins.

"Pick the path you believe in and never look back, that's what Susu always says!"
| | |
| --- | --- |
| Required CPU: | 2GHz+ |
| Required Memory: | 512MB+ |
| Required Resolution: | 800x600 |
| Required Graphics: | VRAM 64MB |
| Required HDD Free Space: | 1GB+ |
| DirectX: | 9.0c+ |