Koenchu! -The Tale of the Voice Actress- (download)

Developer:

Genre:

Adventure

Specification:

All Ages, Full Voice

Category:

Price:

$14.95$7.47 MG point:37

On Sale:

Sep 6, 2013

OS:

Windows XP, Windows Vista, Windows 7, Windows 8

Reviews:

2.5 out of 5 (

2 reviews

)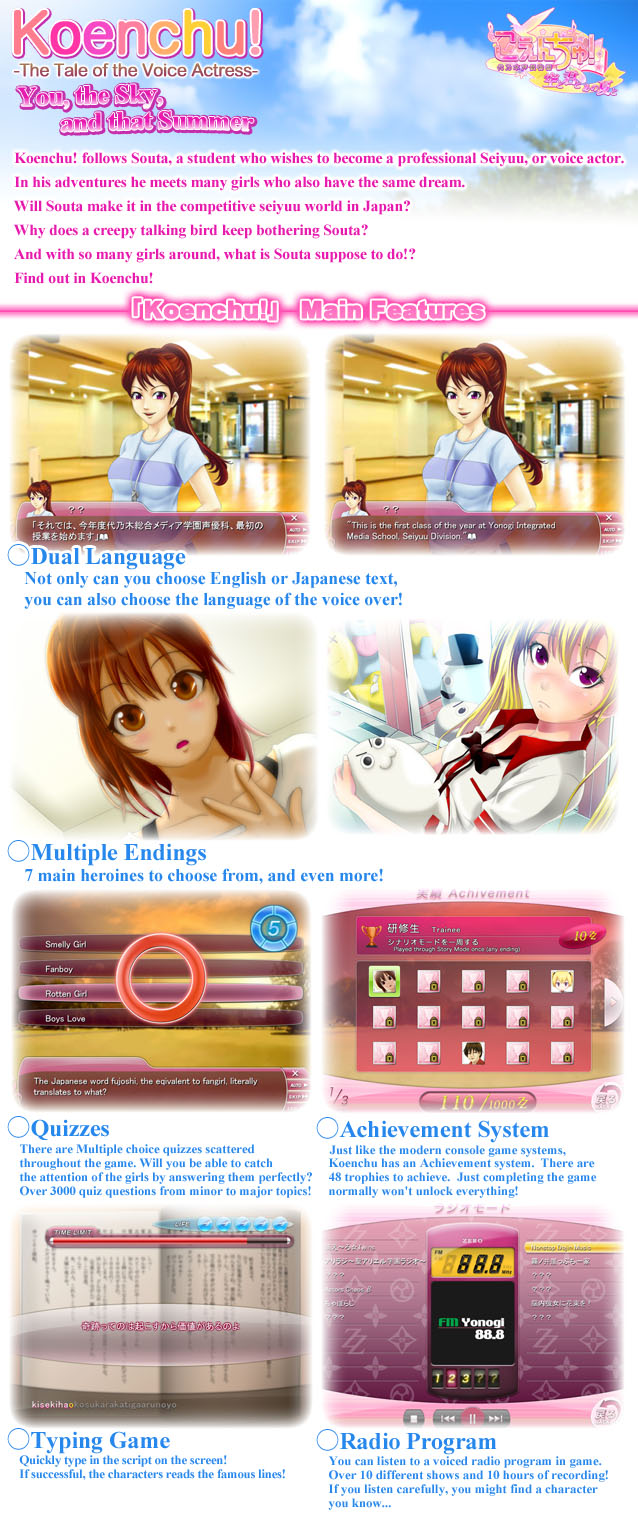 Takanashi Mikoto

She is Souta's childhood friend and is in the Basic Class with him. A cheerful and energetic girl who comes to wake up Souta in the morning. She lives with her two younger brothers.

Yabuhara Himeno

A High School Junior who is in the Elite Class. She works as a seiyuu on a popular anime series while still in school. An egotistical girl who does what she wants.

Kurumisawa Rino

An High School Sofphomore who is in the Basic Class. She is easily angered and speaks her mind, causing trouble for Souta. A strong willed girl who does not like to depend on others.

Kamisono Wakana

A friendly and outgoing Regular Class member who teaches Souta many things as his Sempai. She attends voice acting school while going to university.

Sakuraoka Kanade

A friend of Mikoto and Souta who is in the Basic Class with them. She is mysterious and not much is known about her.

Takatoh Kiri

An Elite Class member who is introverted and usually keeps to herself. However, her hobby is playing games in the arcade. She lives with her older brother who is also a voice actor.

Shinonoi Honoka

The Elite Class leader who comes from a high class family. She tends to make enemies rather than friends.

Shimizu Akane

She is the teacher for the Basic Class and keeps the students on track.

Takagi Ritu

A Special Class member who is very logical and enjoys mathematics.

Daniel Tuttel

Souta's otaku classmate who is often critical of Souta's lack of anime knowledge.
| | |
| --- | --- |
| Required CPU: | Pentium 800MHz |
| Required Memory: | 256MB |
| Required Resolution: | 800x600 |
| Required HDD Free Space: | 3GB |


Alright VN

Zatio

The translations are awful in many places,and the voice acting is missing in the majority of the scenes.As for the story, its alright, the characters are interesting, but their dialog feels a bit off. The music is nice, and the mini game is fun.All in all a okay VN that could have used a lot more work and been a lot better than it is



Potential, but...

Arjisaj

This game has alot of potential, but it why they release it when it's unfinished I cant understand. The story is good, the characters are interesting, the music is great, and the mini-games adds some fun to it aswell. However there are parts where the english is obviously machine-translated and makes absolutely no sense, and even parts that are not translated at all, just saying "DUMMY" over and over in place of real text. Unless you can read japanese dont bother buying this game. It's a good game, but NOT intended for english reading people at this stage.