Aisu Paradise (download)

Developer:

Genre:

Adventure

Specification:

Without Mosaics, No voice

Category:

Price:

$7.95 MG point:39

On Sale:

Jun 7, 2019

OS:

Windows Vista, Windows 7, Windows 8, OS X, Linux, Windows 10

Reviews:

4.0 out of 5 (

2 reviews

)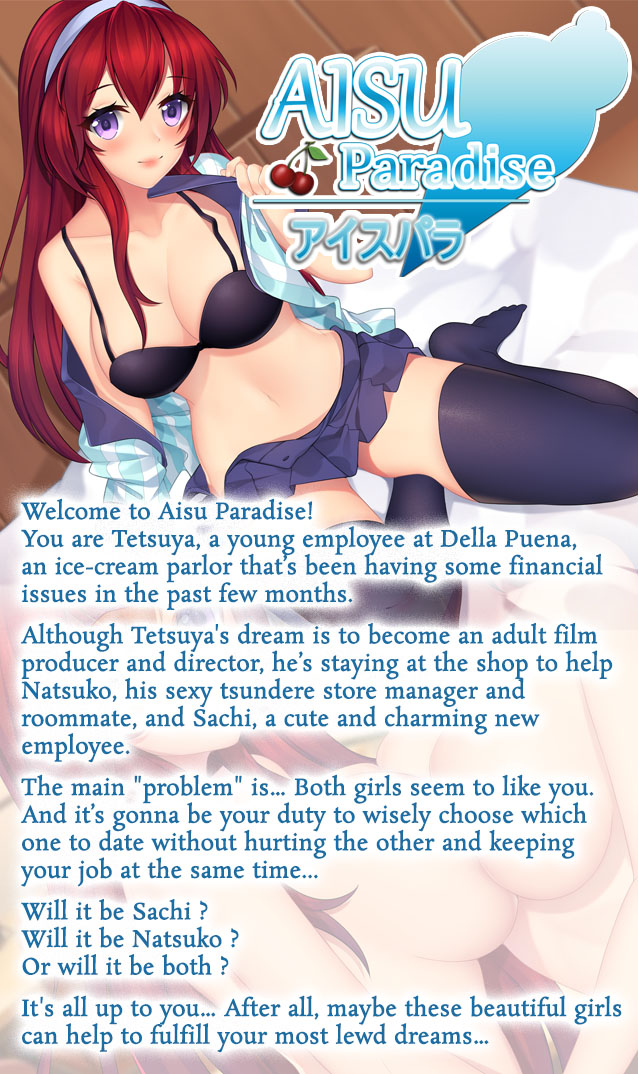 Natsuko

Birthday: January 5
Personality: Tsundere, hardworker
Cup Size: E
Hobbies: Work
Costumes: Store outfit, casual, bikini, lingerie, date dress
H scenes: Blowjob, paizuri, cowgirl, etc.

Sachi

Birthday: November 4
Personality: Kind, timid
Cup Size: E
Hobbies: Flowers, movies
Costumes: Store outfit, casual, bikini, lingerie, date dress
H scenes: Paizuri, blowjob, butterfly, etc.
| | |
| --- | --- |
| Required CPU: | 1.2GHz |
| Required Memory: | 128MB RAM |
| Required HDD Free Space: | 200MB |




great for the price

Thor

The art is great and the characters sweet, but somehow i couldn't really delve into the story. It's quite standard, so don't expect too much surprise.
The h-scences are great, but could be better if there would be sound.

For the price, it's definitely worth to buy. It can give you a nice afternoon. That's why it still gets 4 stars.




Great, buuuut...

BloodGod5

This is a great VN with great art, likeable characters, and while there are some grammar and spelling errors its story is cute and fun. However, I was HIGHLY disappointed in the ending. See, I was playing it trying to court Natsuko, and was planning on going back to court Sachi and then try for the Both ending. However, as it turned out, making choices is ultimately pointless, as regardless, you get with both of them at the end. So, up until the final part, it was fantastic. But like I said, the ending and it making basically everything pointless was a huge let down.