The Invisible Man's Stealth NTR: Convincing and Inseminating the New Announcer with an Invisible Boner (download)

Developer:

Genre:

Adventure

Specification:

with Mosaics, Female Full Voice

Category:

Price:

$13.95 MG point:69

On Sale:

Jul 28, 2022

OS:

Windows 10

Reviews:

3.0 out of 5 (

1 reviews

)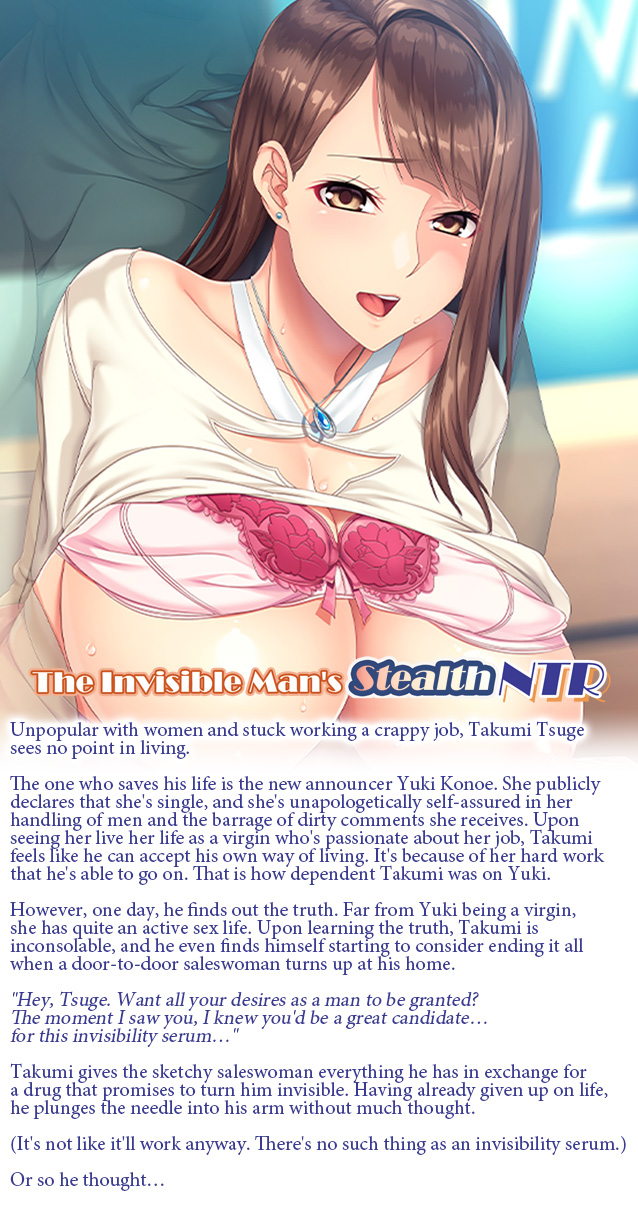 Yuki Konoe

An intensely popular new announcer.

Beloved by men and women alike for her refusal to flirt with men and her unapologetically single lifestyle, she makes frequent appearances on variety shows as well. However, in truth, her persona of a woman totally uninterested in love is merely an invention of her agency.

She has a high libido and loves sex, frequently having it with her childhood friend Towa Kijiyama.

"I'm not interested in sex. Or rather, I hate it. It disgusts me."
| | |
| --- | --- |
| Required CPU: | Intel Core i series and higher |
| Required Memory: | 8GB |
| Required Resolution: | 1280x720 |
| Required HDD Free Space: | 1GB |
| DirectX: | Version 9.0 |



Title says it all

Jhessail

This is a very short VN with (3?) possible endings. It's really easy to get to the good ending and the the other two are just there to give the option to click on something else so it feels like you did something else then read.

The NTR part of this isn't overly bad, the guy doesn't know he's being cucked and even when Yuri falls for you in the way as all NTR girls do, you find out that they kinda fell out of love in the first place and it doesn't feel like the worse thing in the world.

But yeah, if you want a big invisible guy doing invisible stuff to make a girl this game will give you that.

The scenes are drawn well, the voice actress has a nice voice, and there are a few instances that are not captured here on the preview page to enjoy an extra surprise.

I enjoyed this, but I do recommend waiting for a sale if you want to get it yourself, as I stated at the beginning of this, it is a short VN. I literally read through it in a couple of hours.