Dizzy Hearts Chapter 1 (download)

Developer:

Genre:

Adventure

Specification:

Mild Nudity, No voice

Category:

Price:

$14.95 MG point:74

On Sale:

Dec 5, 2019

OS:

Windows 7, Windows 8, Linux, Windows 10

Reviews:

2.0 out of 5 (

1 reviews

)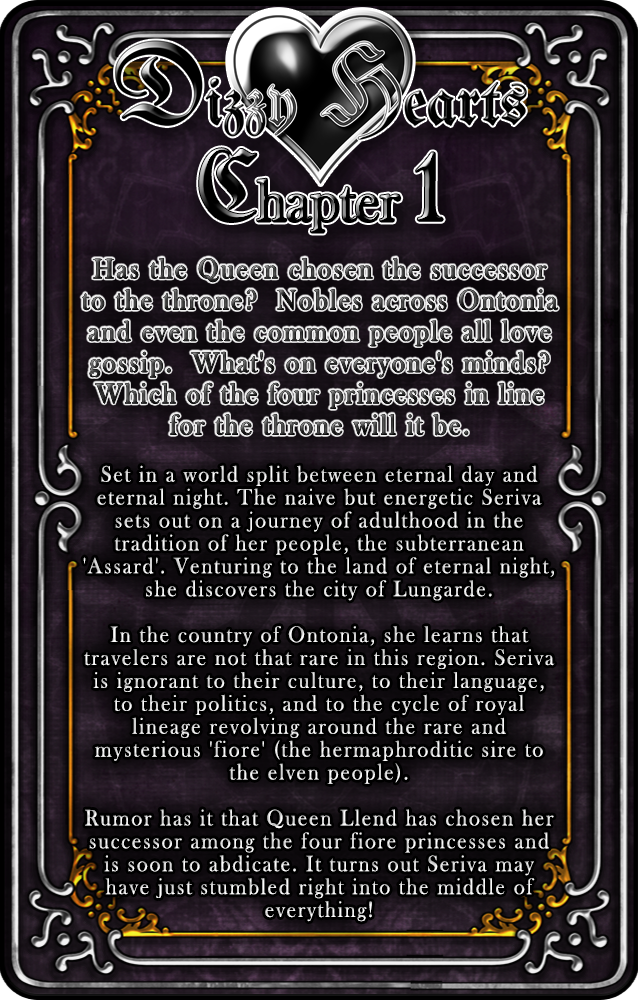 Seriva

Seriva's people, humans called the Assardi commonly live underground, leaving to hunt and barter with the people around them. When they reach adulthood, they have a natural compulsion for wanderlust, to go learn from other cultures & travel the world.

Seriva is a stubborn, energetic girl who journeys from home to view The End of all Creation. The inky blackness that lays beyond the equator into the 'night side' of the world.

Mercilia

A princess of the Ontonian elves on the other side of the Rift, Mercilia is the youngest of four princesses of Lungarde. She at first is cold, short and snarky to Seriva, they also didn't have the best first meeting.

She has an unfortunate collision with an Assard human while preparing for a party, and that human ends up residing in her manor by the end of the day...

Irraere

Irraere is the royal thaumaturge of the princess Mercilia, and the disciple of her master the Queen's royal thaumaturge Biilarae.

Much like a alchemist, or a doctor, she is responsible for the health of the manor. She often resides in the ward that she's made into her own personal library, and rarely leaves. When she does, she is often seen as aloof, lost in thought or lethargic. Acting more like a hermit of sorts, much to the annoyance of the rest of the manor.

Aunyrae

Aunyrae is a priestess, the holy order of concubines to the goddess Mylbriia, a royal priestes, she advises and tutors the Princess Mercilia.

Aunyrae is very bubbly, cheerful, sultry. However she is very steadfast in her faith, and loves her goddess more than anything. She has a strong commitment to her duty, so strong that she values her duty above everything else.

Nail

Nail is Mercilia's big sister, and her appointed bodyguard. Overly protective she doesn't quite let anyone know how much she cares about her sister.

An illegitimate child Queen Llend and an elf of the Rift, she is outside the royal lineage. Folowing a war between her two peoples, Her mixed heritage has made her struggle to find a place to belong.

Llend

Queen Llend is the current and well regarded Queen of Ontonia. Through her, the Frozen War at last came to an end.

Llend's motivations and mindset are a mystery, A queen of four fiore Princesses, rumor has it she has decided who her heir will be.
| | |
| --- | --- |
| Required CPU: | 1Ghz |
| Required Memory: | 850MB |
| DirectX: | 9.0c |
| OpenGL: | OpenGL Compatible |


Unfinished

Lordgreystroke

This VN is very much still a work on progress I backed it as a Kickstarter a long time ago and it is now limping to market it even had a separate KS to add voice acting as yet unimplemented so you can see my possible bias

So story has potential and in some way is well written but the tone and style are uneven possibly due changes of writer or style changes in such a long period of production
Art is very nice if you like the style so very much on personal taste your millage can vary

To be clear as well the VN has no real H scenes it's a teens VN I have no issue with this I own non hentei VN's but it is very strange in what is starting to become this VN's final form it is rather jarring to be told about this permissive society harems are normal , open intercourse is common ectara and the story being told is about the MC becoming a consort for a princess so nice idea trapped in a teenage story frame it seems like this wastes some of what was going on

Overall I would say save your cash until this product is finished as nice idea just not well implemented at present