The Modest Handmaid's Sex Work (download)

Developer:

Genre:

Adventure

Specification:

with Mosaics, Female Full Voice

Category:

Price:

$13.95 MG point:69

On Sale:

Dec 23, 2021

OS:

Windows 10

Reviews:

4.0 out of 5 (

1 reviews

)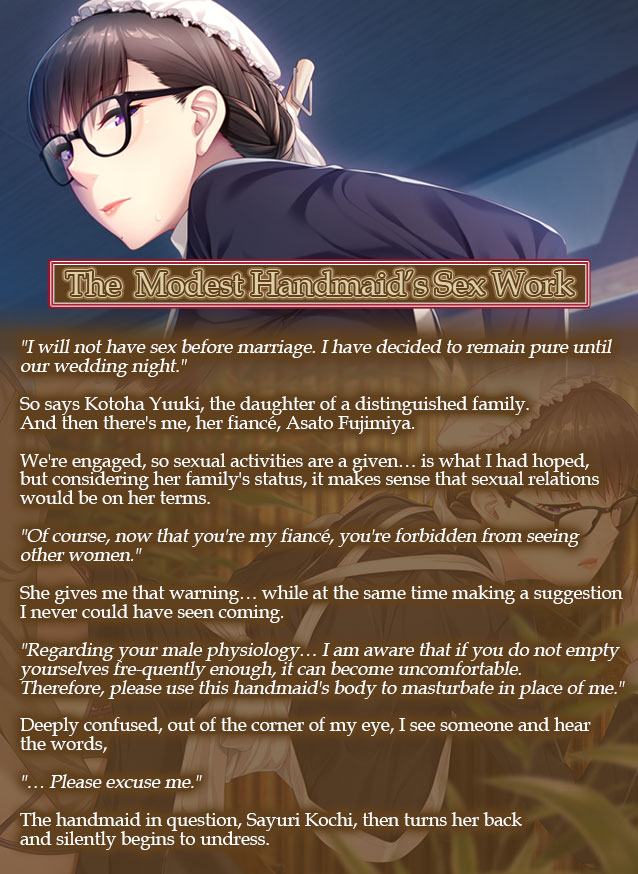 Sayuri Kochi

A handmaid wholeheartedly devoted to her mistress.

She comes off as quiet and modest. She presently has no sexual experience with men, but this is a self-imposed restriction so that she does not fall for a man and become distanced from her mistress.


Kotoha Yuuki

The youngest child of a family with a long, distinguished heritage. She is prohibited from so much as touching a man prior to marriage.

To demonstrate her understanding of male physiological needs, she has ordered her fiancé, Asato, to use her handmaid's body to masturbate in place of having an affair.
| | |
| --- | --- |
| Required CPU: | Pentium 4 1.30 GHz and higher |
| Required Memory: | 4GB |
| Required Resolution: | 800x600 |
| Required Colors: | TrueColor (32bit) |
| Sounds: | DirectSound compatible Sound card |
| Required HDD Free Space: | 500MB available space |
| DirectX: | Version 9.0 |




Short Yet fun

General Hentai

There are only 2 choice points in this fun, yet short game. It's short, but not too short, as it's about right for the price. There are 3 routes available starting at that first choice. Save there. depending on your choice, you'll either go that route to the finish, or you will take a rote that leads to a second choice. Again, save at that point, and follow the route you picked to the end, go back to the second choice for the last route.

It's a simple game with simple routes: Fiancee, Maid or Harem. Either way, the 2 seiyuu do a good job, especially the maid. So if you like a traditional maid doing sex scenes, it's likely woprth your while.