Forbidden Love with My Wife's Sister (download)

Developer:

Genre:

Adventure

Specification:

with Mosaics, Female Full Voice

Category:

Price:

$14.95 MG point:74

On Sale:

May 29, 2015

OS:

Windows XP, Windows Vista, Windows 7, Windows 8

Reviews:

3.2 out of 5 (

7 reviews

)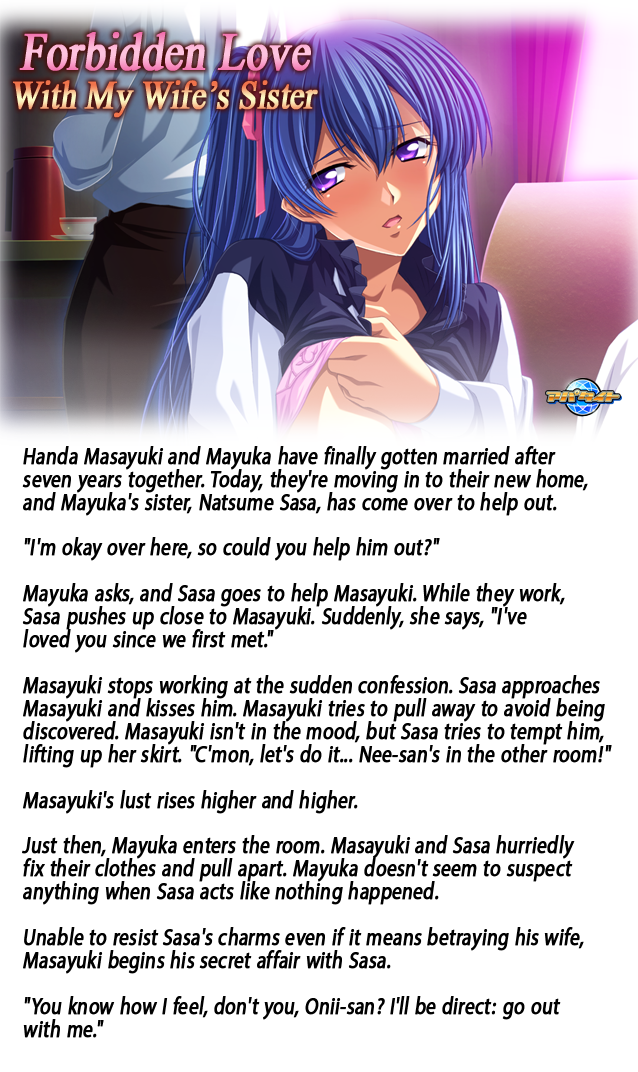 Natsume Sasa

Age: 22
Sizes: Height: 160 / B: 95 (F) / W: 60 / H: 93
Profession: College student

Sasa loves her sister's husband, Masayuki. She can't get over how he works so hard, and gets so awkward around women. His demeanor is so cute to her that she wants to make him hers.

They met when Mayuka once brought Masayuki home. This one-time-event started everything, when Sasa fell in love with him at first sight.

Handa Mayuka 

Age: 33
Sizes: Height: 165 / B: 77 (B) / W: 62 / H: 78
Profession: House Wife

Masayuki's wife who loves her younger sister Sasa dearly. She sometimes still thinks of Sasa as the child she used to live with.

Handa adores her little sister, and sometimes relies on her due to the large age gap between them.
| | |
| --- | --- |
| Required CPU: | Pentium III 800 MHz |
| Recommended CPU: | Pentium 4 1.30 GHz |
| Required Memory: | 512MB |
| Recommended Memory: | 2GB |
| Required Resolution: | 800 x 600 |
| Sounds: | DirectSound |
| Required Graphics: | 16MB |
| Recommended Graphics: | 32MB |
| DirectX: | DirectX 9 |



Not To Bad

M3488724324

Short and quite fun. Is it worth the price I would have to say yes, Yes it is.



Touch me baby

Christi21

The interactions and story was good for smut. I like the abundance of choices which there is only one choice yet I can not get all the scenes. Worth searching around for a bit. This is abit tasteful.





Short and Sweet

Nikuradse

Translation was done fairly well. The scenes and story were superbly done with additional variety possible from the choices. Voices were excellent, A+.

The downsides are the short story length and lackluster ending, but that didn't prevent the game from being enjoyable. Each of the H-scenes however were also pretty short.

I liked the back to previous choice option which lets you quickly backtrack to the previous choice without having to load. This feature made it really easy to explore the consequences of the different choices.


Terrible game

Deviantray

The sound quality was pretty low. I had to turn the BGM almost all the way down, with voices all the way up, plus the sounds as a whole just don't fit well, they're too overdone. Sure, the art looks okay, but the game as a whole is unbelievable. I honestly would have had just as much excitement just looking at CGs. The protagonist doesn't even resist at all. I thought part of the excitement of watching a girl take a guy away from another woman was seeing him resist and her ultimately triumphing over that, but this game doesn't do that at all. I don't think that's really much of a spoiler, because honestly you see that within minutes of gameplay.

Maybe my standards are just too high, but this was seriously a waste of money.




Good Netori

WolfeAvenrios

This visual novel has a good translation, and a good story. The H-Scenes were excellent, and had variety. The endings could have been better, and the visual novel was really short. It only took me an hour to get 100% CG and read the entire story.

Overall, it's still a great visual novel, and I would recommend getting it if you happen to love Netori, or if you simply want 'adult material'.





A good netori vn

NefariousEvil

This visual novel is a great visual novel that portrays the netori in its story very well. It has good H-scenes and has a good story. The only things that may be a downside for some people is that the endings may not please everyone and the H-scenes are censored but other than that it is a great visual novel and would recommend it for all who like netori or just looking for a visual novel different than most.

Very short NTR Nukige

Tobby

Short 30min nukige with only NTR scenes. I was expecting incest/familty story with at least a few hours, not this. Add one star if it get's properly labeled in the description.
...More