Go! Go! Nippon! 2015 (download)

Developer:

Genre:

Adventure

Specification:

All Ages, No voice

Category:

Price:

$7.95 MG point:39

On Sale:

Oct 16, 2015

OS:

Windows XP, Windows Vista, Windows 7, Windows 8

Reviews:

5.0 out of 5 (

3 reviews

)

*Note: This is a stand-alone package for Go Go Nippon 2015! It can be played without the original.

If you would like both the full game and this expansion, check out our Bundle!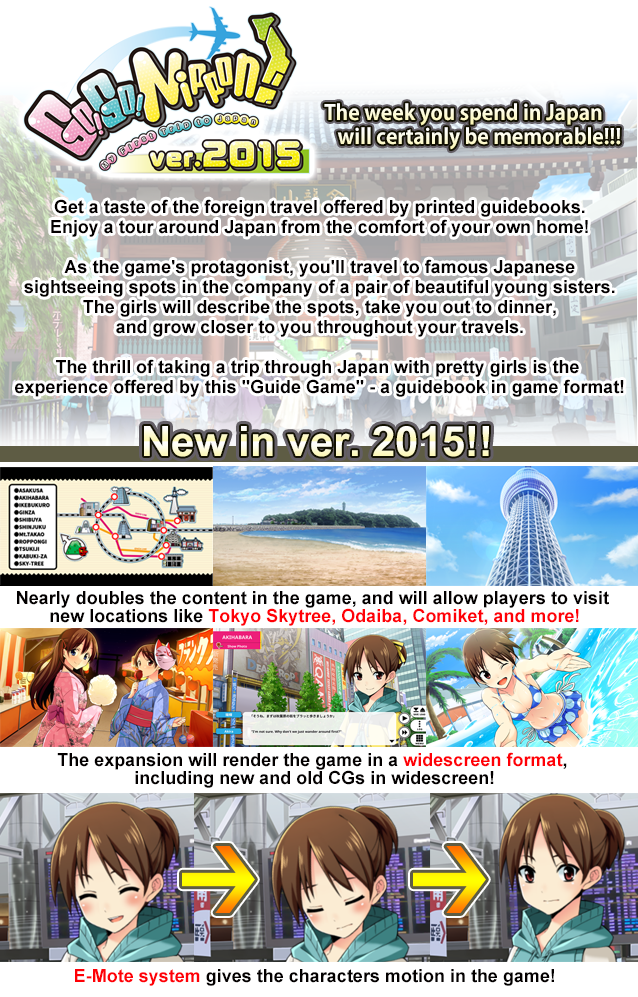 Misaki Makoto

Bright and sweet, Makoto is the epitome of a "good girl." She studies English literature in college, and therefore can speak English quite well.

After leading such an illustrious student life, her cooking is absolutely awful. It is said that one bite of her food can induce unconsciousness. At home, she seems to enjoy smoothing the constantly-ruffled feathers of her outspoken little sister, Akira.

Misaki Akira

Akira is so bad at English that even when she speaks it, the listener assumes she's speaking Japanese. Unlike Makoto, she's a skilled cook, and cooks for the protagonist every night during his stay.

She's so awkward that even when she's feeling happy, she tends to express it as anger. Still, she's a spunky girl unafraid to voice her opinions. She tends to act sullen around the protagonist, but... maybe it's just because she's shy?
| | |
| --- | --- |
| Required CPU: | Pentium4 1GHz |
| Required Memory: | 1GB |
| Required Graphics: | 512MB |
| Recommended Graphics: | 1GB |
| Required HDD Free Space: | 1GB |
| DirectX: | DirectX 9.0 |





Loving the E-Mote System

Equ3strianGam3r

This is my first time playing Go Go Nippon but I have watched some playthroughs of the original on the internet. When I learned of this version I decided to go ahead and buy it for myself and I am so glad I did I'm only on Day 3 of my first playthrough but I'm really enjoying it so far and I love the animation of the characters thanks to the E-Mote system. I only wish the game had voice to go along with the animation. I know that's just a small gripe though on an otherwise great game. Also I've had a slight problem with my stand alone version crashing from time to time so I have to save often so I hope that maybe a patch will come out or something but this is still an awesome game.





Great expansion!

Drift

After playing the first version a number of years ago, learning about this expansion and what it held got me really excited and after playing it, I wasn't disappointed. I really like the E-mote system (although I do miss one or two faces from the first version...) and the the amount of expansion from the first game is quite large. In the first version, all I had to do was play the game 2 times to unlock all CG's and Scene Replays, this version I had to play over 4 times to unlock everything! The only complaint I have (but can be said for many VNs) is learning how the game ticks. Sometimes I'll get a scene to play out, but the next time it won't, or I'll take two different routes, but end up in the same path I had on the former run, but hey, that's the fun in it! A big problem that I had with the stand-alone 2015 ver. (from MangaGamer) is it had a tendency to crash every so often, but if you just want to play the 2015 version and don't care, then get it! Otherwise get the Bundle (as it's the only way to get Go Go Nippon original on MangaGamer from what I could see) if you want to see the differences between games. Regardless, you'll probably enjoy learning about Japan from these two cute girls (Akira being my favorite)!





E-Mote Win!

Labelle102

I was a fan of the first game, so a second run with twice the content was a win in my book. But after seeing the E Mote system in action i feel it adds a surprising amount to the game. the motion isn't much but in a game full of mostly still frames and scenery the little motions stand out and add a lot of character to the characters. Love the game, 10 of 10, would GO Go Nippon again in another 4 years if they update it.
...More