Umineko When They Cry - Question Arcs (download)

Developer:

Genre:

Adventure

Specification:

All Ages, No voice

Category:

Price:

$24.95 MG point:124

On Sale:

Jul 8, 2016

OS:

Windows XP, Windows Vista, Windows 7, Windows 8, Linux, Windows 10, OSX 10.10

Reviews:

5.0 out of 5 (

1 reviews

)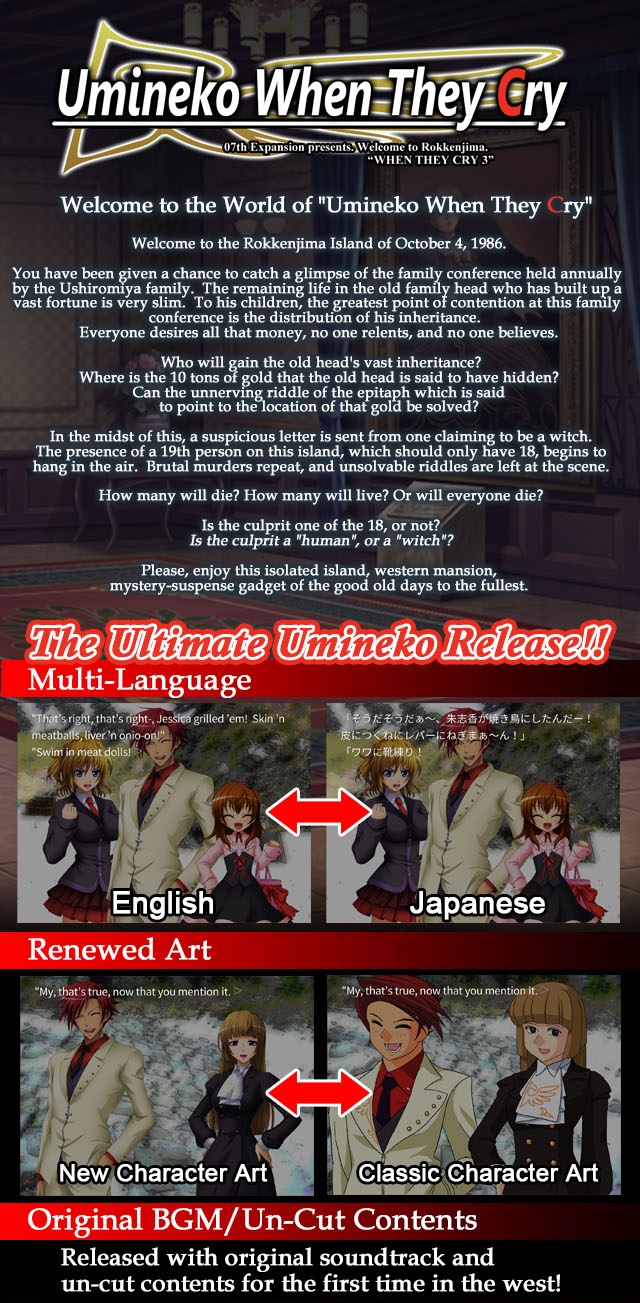 *This release features ep.1 to 4 of the series.
Ushiromiya Battler

The son of Ushiromiya Rudolf and his first wife, Asumu.

When his father married a second wife shortly after Asumu had passed away, Battler rebelled and went to live with his grandparents on his mother's side. However, both of these grandparents passed away, and he had now returned to the Ushiromiya family after six years.

This family conference is a chance for him to renew his friendship with his cousins after a six year gap.

Ushiromiya Jessica

The daughter of Ushiromiya Krauss and Natsuhi.

In the absence of any irregularities, it is thought that she will eventually inherit the headship of the Ushiromiya family (or technically, her husband will). However, she seems to have no interest in all of this.

She was born with weak bronchi and is sometimes assailed by sudden asthma attacks.

Ushiromiya Maria

The daughter of Ushiromiya Rosa.

The identity of her father is unknown.
She can't shake off the habit of speaking like a young child, which often earns her a scolding.

She has no interest in studying or making friends, but is very interested in things concerning the occult and black magic. Thanks to her excellent powers of memorization, she knows all kinds of obscure trivia.


Ushiromiya George

The son of Ushiromiya Eva and Hideyoshi.

An affable young man liked by everyone in the family. He is currently studying as an assistant for his father's company, and it seems he dreams of making it on his own one day.

As the oldest of the four cousins, he acts as their leader and arbitrator.
| | |
| --- | --- |
| Required CPU: | Pentium III 800 MHz |
| Required Resolution: | 1280 x 960 |
| Required HDD Free Space: | 3Gb |





Worth it

NashingElseMatters

I have only finished the first episode so far, but trust me when i say that it is worth it !