Supipara - Alice the magical conductor. Chapter #01 - Spring Has Come! (download)

Developer:

Genre:

Adventure

Specification:

All Ages, Voiced Except Main Character

Category:

Price:

$14.95 MG point:74

On Sale:

Jul 29, 2016

OS:

Windows XP, Windows Vista, Windows 7, Windows 8, Windows 10

Reviews:

4.1 out of 5 (

6 reviews

)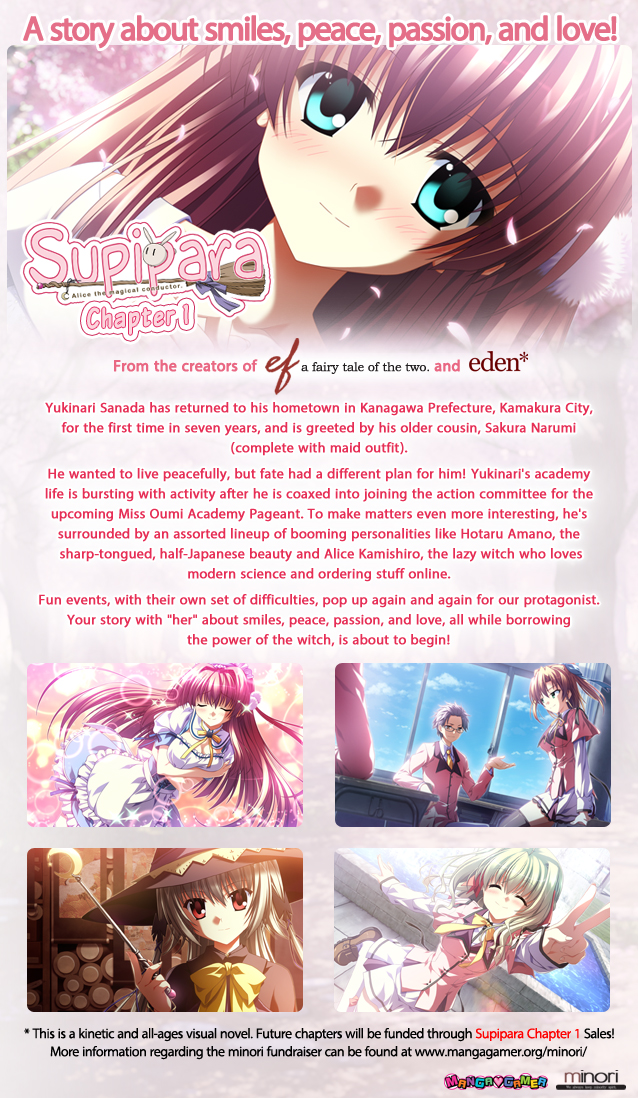 Also, check out
the minori fund-raising project website
for updates on the funding status of chapters 2+!
Yukinari Sanada

The main protagonist, and a second-year student at Oumi Academy.
He likes to cook, clean, and study. Alice seems to have an odd interest in him... What could their connection be?

Rikka Sanada

A first-year student at Oumi Academy.
She is the protagonist's sister, and despite being an overall upstanding person, is modest as can be. Still, something seems off about her...

Sakura Narumi

A third-year student at Oumi Academy.
An inspiring girl who declares herself everyone's big sister regardless of gender or age.
The "second cousin" of the game's protagonist, a poster girl for a maid cafe, and also a fledgling, novice idol.

Her personality is pointlessly positive and brimming with curiosity, and maybe just a little sexy?
Not the type to stick her nose into other people's fun, she plans and puts into motion her own fun events.

Hotaru Angeline Amano

A second-year at Oumi Academy. A half-French, half-Japanese girl.
A classmate of the protagonist, and Alice the witch's best friend.

Very sadistic and sharp-tongued, she loves telling exaggerated lies and comedy routines.
There are a very limited few she calls her friend, but she is beloved from afar as an amusing person by those around her.

Momiji Yuuzuki

A first-year student at Oumi Academy.
Momiji is a student by day, and a shrine maiden by night, with a split personality to go with each role.

Alice Kamishiro

A second(?) year student at Oumi Academy.
She is the protagonist's classmate, but is actually a false student who snuck in by the power of suggestion.
Her true identity is that of a modern-day witch.

She takes an interest in Sakura Narumi and Hotaru Amano and monitors their activities for a certain purpose.
Though she tends to find most things boring, she ultimately ends up getting dragged into bothersome events as a consequence of being a show-off who assesses herself as a "gifted woman".
| | |
| --- | --- |
| Required CPU: | Intel Core i series |
| Required Memory: | 2GB |
| Required Resolution: | 1280 x 720 |
| Required Graphics: | PCIe x16 256MB |
| Required HDD Free Space: | 3GB |

Terrible translation

Kuro

It's really disheartening when you want to support VN translation efforts and are met with shoddy work. I hate to leave a negative review - it's my first, in fact - but I'd also hate for people to waste their money on a terrible translation work such as this, or support these bad practices.

The writing in this is so unnatural and full of problems (I found a typo in the first minute, even) that if you're a native English speaker or have a good grasp of the English language you will feel like this is some form of literary torture. The intro reads so confusingly, with bad grammar and unnatural expressions and nonsensical quotes and constant cuts between yet introduced speakers, that coupled with an all too full of itself tone makes this a complete mess to read. I gave this VN a shot twice, and neither time I was able to withstand more than 15 minutes.

In addition to the translation the UI has some glaring problems too. For example, the fastest text speed before instant is so slow that even a slow reader like me found himself waiting for text to scroll, before settling with instant as the lesser of two evils. Another issue: the volume sliders are backwards, with maximum volume being with the slider all the way on the left, and there's no visual or textual indication of which side is which.

Please, save your money, and demand better products.





Fantastic VN in every way

saint

So I have to start out by saying that this VN is absolutely beautiful with amazing small touches that truly add elements of "life" to the story Unlike any other I've read.

And the soundtrack is a wonderful light hearted accompaniment that's equally top notch.

You can't go wrong with Minori. And sidenote: if you haven't picked up Eden yet then you need to. It's a lot more dramatic but easily the best VN I've come across.





Wonderfully well made.

aducaine

Supipara is a visual novel of a stunning quality. Wonderful visual and soundtrack are mixed with peculiar, yet likable characters. There is much attention to detail such as blinking, walking animations, movement of lips when talking, cherry blossoms falling, etc. There is also good sense of humor throughout the game. Playtime is about 10 to 14 hours for the first chapter.
Unfortunately, initial release of Supipara has resulted in financial loss for the developer, most likely due to the lack of eroticism. This has resulted in halt in future Supipara chapters until sales targets are met as shown below.
http://www.mangagamer.org/minori/
I would love to see the future chapters come to fruition.





Truly Enjoyable

moetaku

I can't remember the last time I actually enjoyed a simple visual novel(or is it?) with a setting like this. Which is to say I fought through the despair of "waiting eagerly" to get off work just to head home and start up Supipara.

Everything from the stunning visuals and soundtrack to the presentation is top notch minori quality. What can anyone really ask more of.

I would really hope to be able to experience the rest of the Supipara magic that wasn't able to come to fruition due to the lack of eroticism. For that reason I wouldn't mind making a deal with the modern day witch, Alice the magical conductor.





Beautiful kinetic novel

angryjedi

Supipara is an ambitious undertaking for both developer minori and localiser MangaGamer; while the first two chapters currently exist in Japan (albeit as a single game), and the first of these has already been localised into English, the future of the series is largely up to visual novel enthusiasts.

Rather than relying on crowdfunding as developers such as Frontwing and localisation outfits such as Sekai Project have done in the past, minori and MangaGamer are instead ploughing the combined profits from Supipara's first chapter and science fiction love story eden* directly back into the series, with various milestones allowing the companies to continue their collaboration and — hopefully, anyway — see the Supipara project finally brought to complete fruition.

Having finished reading the first chapter of Supipara last night, I would very much like to see the remaining chapters become a reality. And if you're a fan of visual novels, checking out Supipara's first chapter is an eminently pleasing way to spend twelve or so hours of your life.

Read the full review at MoeGamer: https://moegamer.net/2016/10/30/supipara-a-tale-of-the-greatest-of-smiles/




A Great Introduction

restricted12345

Let's get the obvious out of the way. The visual aspects are all outstanding, like every other Minori VN. Even regular scenes look CG quality, to the point where it's hard to tell what's a CG and what's not.

The soundtrack fits the VN well. Not much to say about that other than it's nice and atmospheric.

The main heroine of Ch 1, Sakura Narumi, is endearing and fleshed out pretty well. The other heroines leave enough of an impression that you can't wait for them to be fleshed out in future chapters, and the other side characters are also amusing. Their dialogue is a joy to read, which is important since Ch 1 is a romance slice of life story with minimal drama. This is because it serves as the introduction to the setting and since it's the "Smiles" portion of Smiles, Peace, Passion, and Love. Of course it's happy.

If you have an issue with partials, don't worry about Supipara Ch 1 since its main conflict is wrapped up within the chapter itself.

Despite being chapter 1 out of 5, it's a very stand-alone chapter and tells a complete story for reasons that only hinted at by the end. I didn't rate Chapter 1 5/5 because it doesn't fully bring out the dramatic potential of the setting and only hints about it at best. Chapter 2 seems like it will though, so that's very exciting.
...More