Hapymaher (hardcopy)

Developer:

Genre:

Adventure

Specification:

Without Mosaics, Full Voice

Category:

Price:

$44.95 MG point:224

On Sale:

Jun 4, 2019

Status:

In Stock

OS:

Windows 7, Windows 8, Windows 10

Reviews:

5.0 out of 5 (

1 reviews

)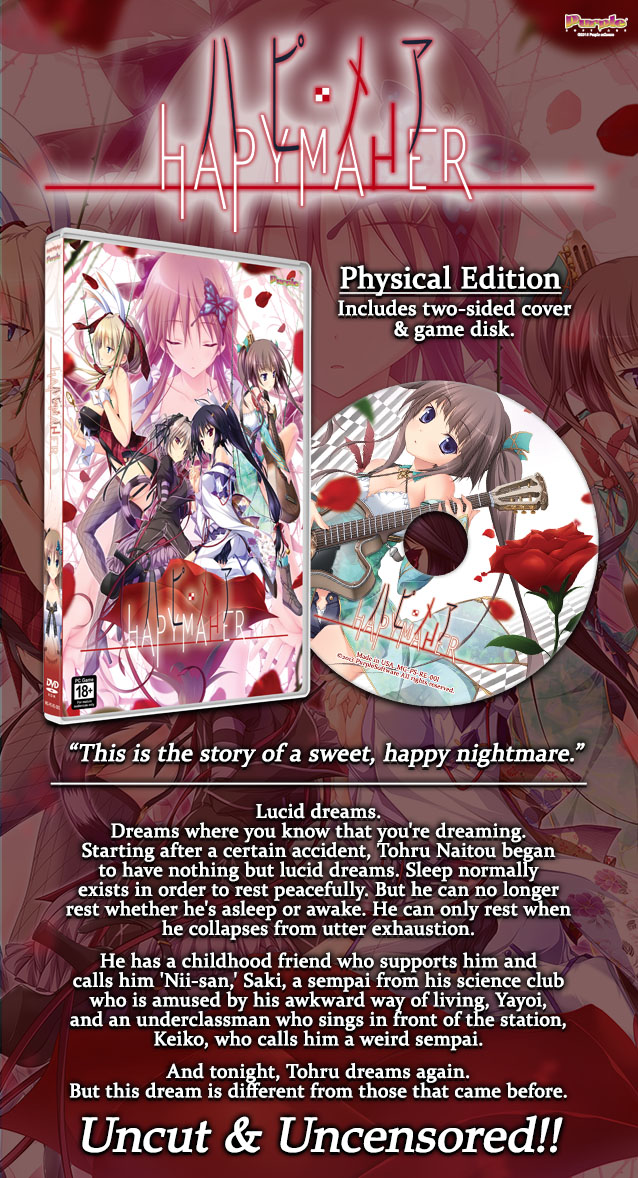 Alice Toriumi

A girl that appears in Tohru's dreams. She claims to be able to wander from dream to dream, but there's no way to prove it.

Her words and actions are often frustrating, because she seems to know various things but then it turns out she really doesn't.

But it's at least certain that she's an ally of Tohru's... Probably.

She is never really on her guard.

Saki Hasuno

Tohru's childhood friend.

She used to be a good, honest girl, but after a certain point she became Tohru's little sister,
and turned into a scary girl who entangles her brother in her wiles. (According to Tohru.)

And the scariest part is that she does so almost unconsciously, so her brother is always
troubled.

With circumstances being what they are, it's not that she has a complex towards her brother.

Incidentally, her family are rich landowners.

Yayoi B. Lutwidge

Tohru's sempai and the head of the school science club who has returned to Japan.

As her name suggests, she's half Japanese, and as you can see, she has figure distinct from a Japanese person.

One mustn't be deceived by her appearance, because she is always behaving in a calculating manner—or so she says, but Tohru thinks she mostly just relys on intuition.

But it's impossible to know what she's thinking behind that smile.

Keiko Hirasaka

Saki's classmate and Tohru's underclassman. The principal's niece.

She doesn't have many friends because she doesn't talk much and often glares at people. She plays guitar as a hobby, and sometimes sings in front of the train station.

Often behaves coldly, and kept Tohru and co. at a distance at first. She doesn't like Yayoi because the latter is over-familiar and it's hard to know what she's thinking.

It goes without saying that she's from a well-off family.

Maia Naitou

The worst trauma that appears in Tohru's dreams.

She's the one behind him getting trapped in dreams.

But as long as he had lucid dreams, she wasn't supposed to appear ever again.

Tetsuya Nezu

Tohru is a triple threat with his menacing expression, poor sociability, and tendency to collapse suddenly, but Tetsuya is a friend who tells him not to worry about it, like it's no big deal.

He's a thoughtless idiot, but he's also a good, innocent person.

But it's a pain when he and his girlfriend Asahi are together. In a sappy couple sort of way.

Asahi D. Lutwidge

Even though her hair and stuff obviously stand out, she is not showy. She is a comforting small animal. Always smiling, and none of her classmates have ever seen her get seriously angry.

She doesn't mind Tohru's more troublesome aspects, so she's another one of his few friends. When she and Tetsuya are together they suddenly form their own world, so that's a pain.

In a sappy couple sort of way.

Mia Takahara

An employee of the company Saki's father runs, she is currently under company orders to act as Saki's chaperon.

Driving away the pesky insects who approach Saki is part of her job, and towards her greatest enemy at the moment, Tohru, she harbors mixed feelings of trust and hostility.
| | |
| --- | --- |
| Required CPU: | Pentium III 1.2GHz |
| Recommended CPU: | Pentium 4 2.0GHz |
| Required Memory: | 512MB |
| Recommended Memory: | 1024MB |
| Required Resolution: | 1024x576 |
| Recommended Resolution: | 1280x720 |
| Required Colors: | True Color (32bit) |
| Required Graphics: | VRAM 128MB |
| Required HDD Free Space: | 4GB |
| DirectX: | DirectX 9.0c |





Which is the Dream? Hapymaher

moetaku

Not often do I find myself truly immersed in a visual novel so much that I spend as much of my limited free time on it to complete every single route. Hapymaher is a dream worth experiencing till the dream itself consumes you.

The story paces itself very well. There was never a time in which I felt impatient and wished for a scene to just get it over with as I was reading. Due to the nature of the story in Hapymaher, there were scenes in which I wished would have been expanded upon as they could have led to a very entertaining outcome. Not spoiling anything, one ending, not saying which, is why I love Visual Novels and the way some of them wrap up the whole story and is the reason why spending all the time going after each ending feels worthwhile and not for some lofty completionist goal trophy. The "skip to next selection" functions also helped in speeding up each playthroughs too.

Characters: The chemistry between the 5 heroine and our protagonist is just phenomenally written. Despite each heroine sporting the typical archetype of their respective characters, the heroines themselves and their actresses are able to make me feel as if I was seeing their archetype for the 1st time. In each of my subsequent playthroughs, I always found myself falling in love all over again with each of them as I see how they react and converse in the different routes.

Soundtrack: Beautifully composed. I found myself listening over and over to each of the heroines bgm themes.

Favorite Heroine: Its honestly a hard choice though I find myself leaning towards Lutwidge-sempai because I'm a sucker for anime bombshell blondes and seiyuu Kazane(Sakurai Harumi) but Saki is also voiced by none other than Tomonaga Akane, Alice and Keiko are also hard to pass up too. Ahh....I can hear the girls accussing me of being a lecherous typical male who is interested in any girl who has Kinpatsu と Kyonyuu. Might as well just get Harem.

Lastly, I pray that the fandisc sequel "Fragmentation Dream" might also see a possible Eng translation. It feels like an absolute must to get the complete Dream Experience in Hapymaher.