Hashihime of the Old Book Town (Hardcopy)

Developer:

Genre:

Adventure

Specification:

Without Mosaics, Full Voice

Category:

Price:

$39.95 MG point:0

On Sale:

Oct 27, 2022

Status:

In Stock

OS:

Windows 7, Windows 8, Windows 10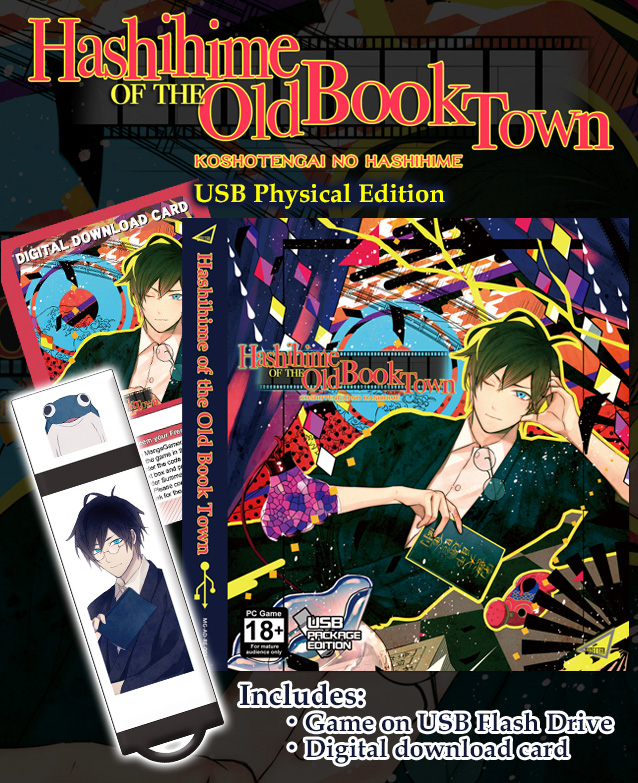 Tamamori

Hometown: Aizu
Age: 20

The stingy, pathetic bookworm.

Pretentious enough to wear fake glasses, Tamamori is only good at looking like he's serious and intelligent. He came to the capital with his childhood friends, Minakami and Kawase, but he's driven out of his boarding house after failing in his own endeavors. He currently lives and works at the used book store Umebachidou, in Jinbochou, 1-chome.

Even though Tamamori is aiming towards acceptance into the Imperial University, he's preoccupied with reading fantasy novels, watching movies, and writing his own short stories. According to Kawase, he's "a genius at producing pieces of trash at amazing speeds." Perhaps because Tamamori is a writer, he has a habit of suddenly getting lost in his own world.

Minakami

Hometown: Aizu
Age: 21

The eldest son of a sake brewer.

A student of the Imperial University's Literature Department, Minakami is currently under the care of a philanthropist in Koishikawa, 1-chome. He is a sensible man who has a calm personality and dislikes confrontation; on the other hand, he has a somewhat careless side and is quick to lose his wallet or uniform hat. Minakami is an exceptional bibliophile. Always carrying around a novel, once he starts reading, he can't take his eyes off the page.

Kawase

Hometown: Aizu
Age: 20

The germaphobe.

Kawase is childhood friends with Tamamori and Minakami, who are from his hometown. While he gets points for being handsome enough to have groupies, Kawase's biggest flaw is how irritable he can be. A genius student, he lives alone in the western-style Ikeda Mansion in Hongou, 3-chome while studying medicine at the Imperial University. Kawase's daily routine includes harassing Tamamori, and he hangs around Umebachidou in his spare time. However, he has no interest in art or antiques and can't stand the dusty smell of Jinbochou. Even though he has some personality problems, neither Tamamori nor Minakami think he's a bad guy...

Hanazawa

Hometown: Aizu
Age: 23

The son of a doctor.

A true man of Japan. Blunt, but righteous and passionate.

After graduating from middle school, Hanazawa attended a military academy far from Fukushima and is currently a second lieutenant in the military. He got along with Tamamori and the others but eventually grew distant, becoming estranged from them for eight years. He's recently been making frequent appearances in the capital's Hongou and Jinbochou districts.

Hanazawa is always frowning, but long ago he used show Tamamori alone his smile, spoiling and treating him like a younger brother. However, traces of that are long gone.

Originally in the artillery, Hanazawa's love of fantasy caused him to drift into working in a military research lab. He seems to be friends with the Lieutenant of Military Technology.

Hikawa

An eye-patched man who wanders into Umebachidou in the evening.

Hikawa has a polite and formal way of speaking and suspiciously timid behavior. Always nervous, he seems to make an effort to smile but is rather tense. No one knows where he came from, but he became a regular customer at Umebachidou when Tamamori began working there. He asks to be called "Professor," even though it's unclear what, exactly, he's researching. Hikawa seems to know Tamamori somehow and is an avid fan of his, coming across as creepy. He gives Tamamori tin goldfish watering cans as proof of their friendship.
| | |
| --- | --- |
| Required CPU: | Pentium 4 and up |
| Required Memory: | 512MB and up |
| Required Resolution: | 1024x576 |
| Required HDD Free Space: | 2GB |
| DirectX: | 9.0c |