Evenicle (USB hardcopy)

Developer:

Genre:

Role playing

Specification:

Without Mosaics, Partially Voiced

Category:

Price:

$44.95 MG point:224

On Sale:

Nov 22, 2022

Status:

In Stock

OS:

Windows 7, Windows 8, Windows 10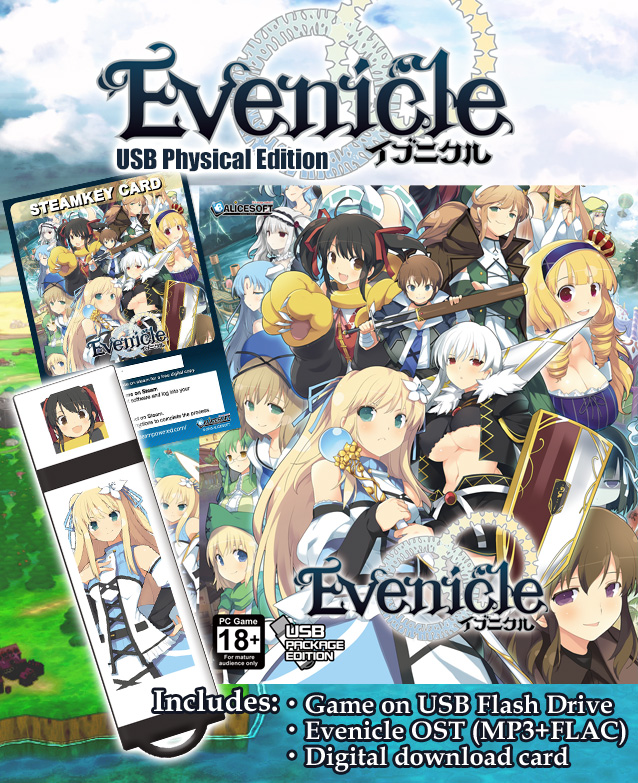 Asterisk

A man from the barely-populated Fresh Fish Island, he was raised by beautiful twins named Kinou and Kyou.

Seeking to have sex with both of the sisters by becoming a Knight, he decides to go on a journey.

His primary goal, and one that the sisters encourage, is to become a great enough man to marry lots of women.

Riche

The second princess of the Kingdom of Eden.

She's pursuing Snake Crest, an evil organization plotting to put the world at war, all by herself.

At the same time, she's searching for a trustworthy personal Knight to assist her.

Ramius

A Knight serving the Kingdom of Eden.

She has a legendary mother and a talented brother who she struggles to live up to, but continually fails to do so.

Even her fellow Knights keep their distance from her, but she's still striving to improve for the sake of defending her nation.

Gurigura

A girl trained as a Ranger, the most agile of all classes of Knight.

She lives in constant starvation in the Republic of Lancelot, and is something like a stray kitten.

Kathryn

A girl with the rare ability to enhance the capabilities of others.

She was selected and trained to be a Knight from a young age.

However, after an incident during the destruction of the Kingdom of Arthur, she hid herself away from society.

Currently living high in the mountains, she undertakes peculiar kinds of research while relying on the Amuzon delivery service to sustain herself.

Kinou & Kyou

Twins who looked after Asterisk like they were his older sisters.

They taught Asterisk everything he knows about fighting monsters and living life to the fullest, as well as having encouraged him to travel to the mainland.
| | |
| --- | --- |
| Required CPU: | Core i3 or higher |
| Required Memory: | 2GB or higher |
| Required Resolution: | 1280 x 720 |
| Required Colors: | Full Color |
| Sounds: | Direct Sound |
| Required Graphics: | GeForce 3 or Radeon 8200 |
| Required HDD Free Space: | 1.4GB(Game)+1GB(OST) |
| DirectX: | 9.0c |