Funbag Fantasy: Sideboob Story (hardcopy)

Developer:

Genre:

Adventure

Specification:

Without Mosaics, Partially Voiced

Category:

Price:

$44.95 MG point:224

On Sale:

Jun 27, 2019

Status:

In Stock

OS:

Windows Vista, Windows 7, Windows 8, Windows 10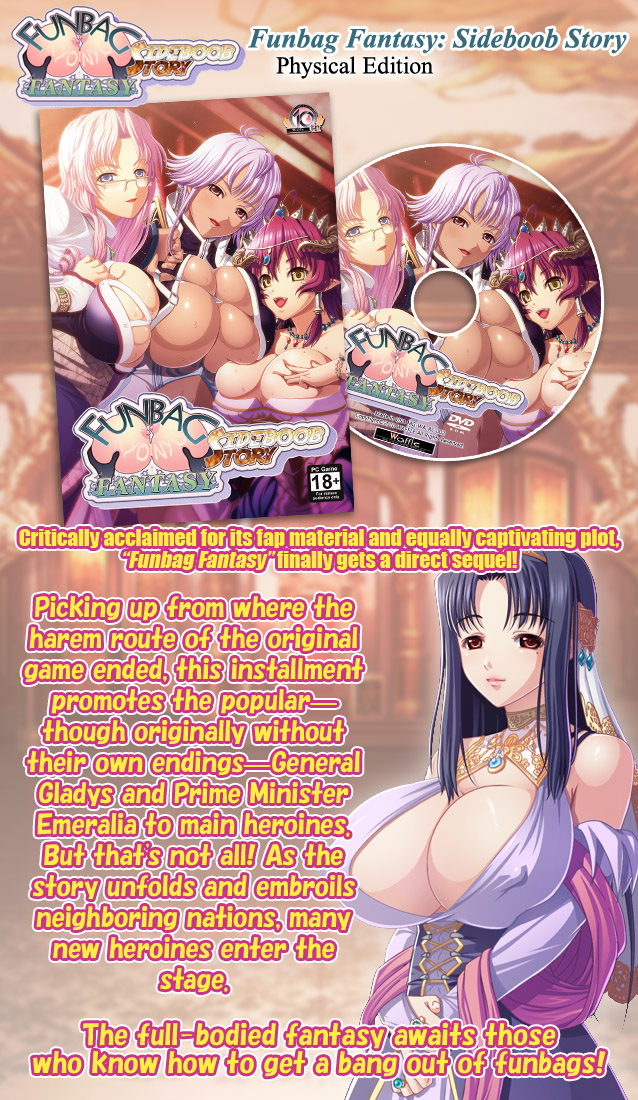 Gladys von Wackenheim

The high commander of Edelland and a concubine in Lute's harem. She is displeased with the fact that Lute does not officially marry her.

Gladys was the castellan of Vunderbalt Castle. In Inland, where she was renowned for her prowess in the art of war as well as being the daughter of Hero Wackenheim, Gladys lost in her confrontation with Lute. She has since lost her heart to him and self-proclaimed herself his wife.

She is very popular with military personnel.

Emeralia

Previously, Princess Luceria's private tutor. These days she works as the prime minister, but is still versed in the magic arts. She is also a concubine in Lute's harem.

In fact, Emeralia is quite the nympho, and an expert in sexual techniques.

Shamsiel Shaharl

Also known as simply Shamsiel. A wedded wife of Lute I. Her job is to look after former rebels sentenced with penal labor in Vunderbalt. Rumor has it she threatens to "eat" the prisoners.

Despite being a succubus, with the adoption of a new law, Shamsiel officially married Lute. Nowadays, she is one of the three queen-consorts, but, apparently, considers herself to be the first queen.

Aphrodia

The queen-regnant of the Kingdom of Fronce, a great power of Eurodia. Despite sometimes being called Virgin Queen, whether or not she really is a virgin is a delicate subject. Among her interests is meeting different people, and she doesn't mind going out to meet them herself. She is also interested in Lute. Having knowledge of martial arts, she goes as far as challenging him, but she is not fond of wars.

Aphrodia knows very well that Fronce's national treasury is shrinking day by day, and waging a war in this situation would prove difficult. Therefore, she repeatedly rejects Grand Chamberlain's expansionistic rhetoric.

Nellis

A magician and a retainer of the Kingdom of Lingobard. Sir Argent presents her to Lute as a tribute to be used as a "milk maid." She makes several attempts to kill Lute in Boan, but fails. Furthermore, having her breasts sucked once, she becomes enthralled by Lute's techniques. Thus she finds herself between a rock and a hard place: whether to fulfill her duty or to indulge in her own lust.

Roxanne de Desir

A wedded wife of Lute I who engages in official duties. Once a daughter of an impoverished noble and a prefect's wife, she married Lute I after becoming a widow. Nowadays Roxanne mostly manages the palace's kitchen and meals. And as other poor wives, she excels in rational use of food, thanks to which the court's expenditures on meals has been greatly reduced. Though it goes without saying, her cuisine is top grade.

And as always, she lactates well.

Isis Petrovna Elenskaya

A concubine of Lute's harem. She is an elite knight attached to the King's Guards, but the title of Bedroom Soldier suits her equally well. Born in Ostacia, she was Lute's classmate in the Knight Academy. After graduation with the second-highest grades, she was attached to the King's Guards. Later, when Lute returned to the capital, Isis was paired up with him on a dangerous mission.

She used to despise knights who rely solely on their luck, like Lute. But now she loves and deeply respects him.

Luceria von Diamante

A wedded wife of Lute I who engages in official duties. A princess at that time, she got to know Lute shortly after he was promoted to high commander. Later, as Lute was appointed as her private tutor, he taught her about lewd things. Not long after, she married King Lute.

Because Luceria has some fairy blood flowing in her veins, she loses her head during sex. That fiendishness of hers matches that of Shamsiel.
| | |
| --- | --- |
| Required CPU: | Pentium III 800MHz |
| Recommended CPU: | Pentium 4 1.5GHz or higher |
| Required Memory: | 512MB+ |
| Recommended Memory: | 1GB |
| Required Resolution: | 1280x720 |
| Sounds: | PCM |
| Required Graphics: | GeForce 3 or Radeon 8200 |
| Recommended Graphics: | GeForce 6600 or Radeon X700 XT |
| Required HDD Free Space: | 2GB |
| DirectX: | 8.0a+ |