Rance 01 + 02 Limited Edition (hardcopy)

Developer:

Genre:

Role playing

Specification:

Without Mosaics, No voice

Category:

Price:

$39.95 MG point:199

On Sale:

Nov 19, 2021

Status:

In Stock

OS:

Windows 7, Windows 8, Windows 10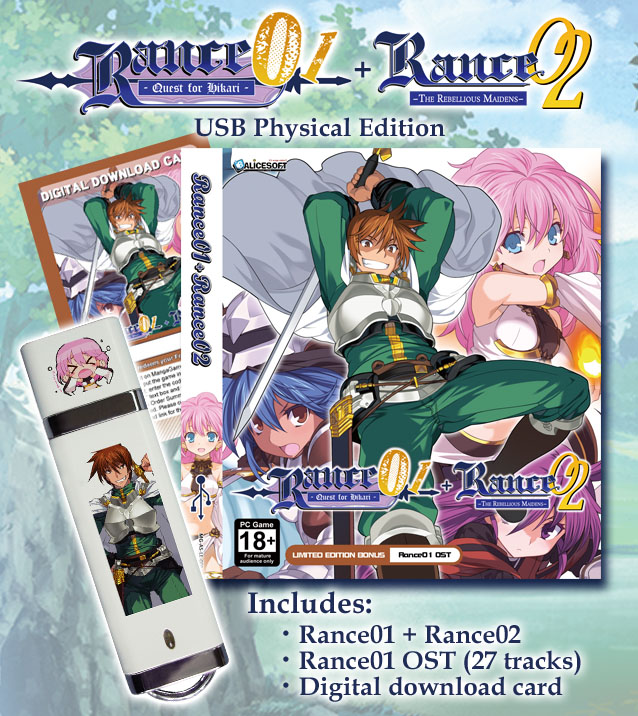 Rance

The protagonist.

A skilled warrior and pretty competent adventurer whose head is constantly filled with thoughts of sex, which makes him act solely on desire and instinct. In that sense, he's the perfect star of an 18+ title.

Skills:Sex (Or so he claims)
Weakness:Effort

Sill Plain

Rance's XXXXX.

She's a powerful mage, but in the four months Rance has owned her, he's used her for endless housework, random tasks, and sex.

Her role during this job is to act as Rance's assistant.

Skills:Housework, Magic
Weakness:Sex

Millie Lincle

The girl who runs the weapon shop, "Lost Hope," in Leazas.

Quiet and not very assertive. She has no real interest in her business and isn't all that good at dealing with customers, but she's friends with Patty.

She's attacked by ruffians every so often (including Rance), but she always seems to make it out okay somehow.

Skills:Sleeping
Weakness:Living

Patty the Summer

The girl who runs the beach-themed item shop, "Baltic," in Leazas. It's an item shop, but it looks the perfect place to visit in the summer. It has shaved ice, but it's an item shop. Unfortunately, she doesn't seem to have any plans to pick one or the other.

She's never been to an actual beach before, so it's her dream to go one day.

Skills:Cooking (Noodles), Beach Volleyball
Weakness:Winter

Yulan Mirage

A gorgeous gladiator who reigns as the unparalleled champion of the colosseum inside Leazas Castle. No one can avoid her special attack, "Mirage Sword."

Skills:Fighting a worthy opponent
Weakness:Fighting a boring opponent

Lia Parapara Leazas

The princess of the Kingdom of Leazas, which is the wealthiest nation in the world.

Her father, the king, is in good health, but she's the real power behind the throne. Blessed with both brains and beauty that make her citizens implicitly trust her gentle smile. She hardly seems to have any flaws at all, in fact, but...

Skills:???
Weakness:???
| | |
| --- | --- |
| Required CPU: | Core 2 Duo and up |
| Required Memory: | 1GB |
| Required Resolution: | 1024 x 768 |
| Required Colors: | 32bit colors |
| Sounds: | WAVE, Direct Sound |
| Required Graphics: | 32MB VRAM |
| Required HDD Free Space: | 1.5GB(Games) + 0.5GB(OST) |
| DirectX: | 9.0c |