A Kiss For The Petals: Remembering How We Met (download)

Developer:

Genre:

Adventure

Specification:

All Ages, Full Voice

Category:

Price:

$7.95 MG point:39

On Sale:

Sep 25, 2015

OS:

Windows XP, Windows Vista, Windows 7, Windows 8, OS X, Linux

Reviews:

3.8 out of 5 (

5 reviews

)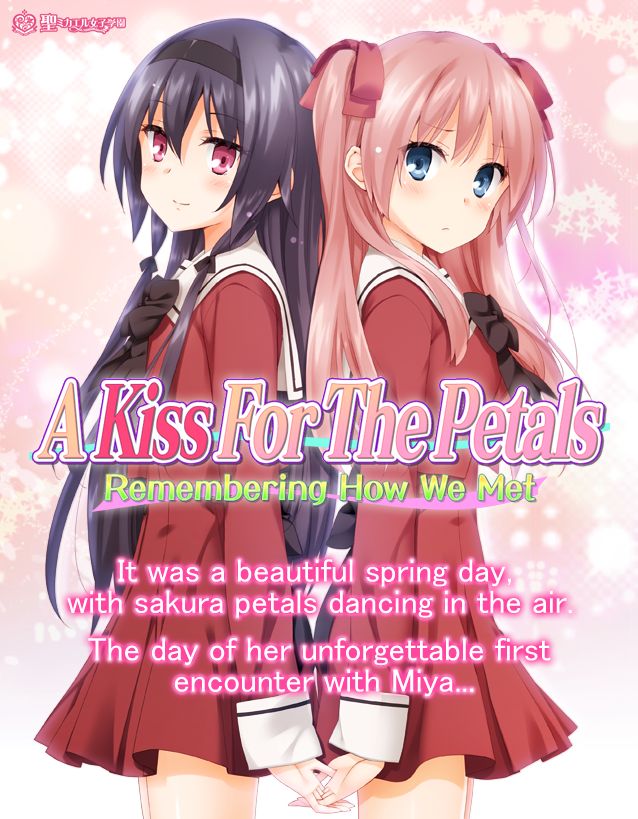 Azumi Risa

Class Representative of the Year 2 "Snow" class, she currently lives with her girlfriend and classmate, Miya. She has a studious and hardworking personality.

Ayase Miya

Risa's girlfriend and classmate in the Year 2 "Snow" class. One of the brightest minds on campus, and although still not terribly sociable, she has started to become more outgoing through her interactions as a member of the St. Michael's Best Couples.
| | |
| --- | --- |
| Required CPU: | Pentium III 800 MHz |
| Recommended CPU: | Pentium IV 1 GHz + |
| Required Memory: | 512 MB RAM |
| Recommended Memory: | 1024 MB RAM |
| Required Resolution: | 800x600 |
| Required Graphics: | DirectX or OpenGL Compatible Card |
| Required HDD Free Space: | 300MB |
| DirectX: | Version 9.0c |




quick question

Alex

pretty good game just wish it where longer! I would love to play the others if they were ever available in English! also, from my understanding, the original Japanese release of this game has mature content. why don't we see that here?





What you'd expect

Cynthia

For its price, its length and knowing there aren't any NSFW scenes it's great. Just like an introduction to the series, buying this serves to support the translation and production of more SonoHana titles like Mugggy said before, just don't expect a long full-price explicit title. Overall, a great VN as always.





More SonoHana PLEASE!

Mugggy

I'm a huuuge fan of the original Sono Hanabira works, specifically the original 10 games (I love all 5 original couples so much!). I'm dying to play the 11th and beyond, and to get the opportunity to play a kind of "prequel" to the 11th game was fantastic! I highly suggest this game; the art by Peko is iridescent and beautiful and the character interactions are charming and romantic.

CONS!
- ... All ages means no sex scenes this time (a bummer, but the other games are PACKED with yuri scenes)
- ... Too short; I personally wish it were longer

PROS!
+ ... Beautiful Art
+ ... Lovely character design and development
+ ... An A+ yuri romance, for all ages
+ ... Adorable yuri fluff that just makes you feel good and want to smile
+ ... Friendly to anyone new to the series itself; no previous knowledge needed!
+ Leading up to the 11th installment of the "A Kiss for the Petals" series (so hoping for more!)
+++ ... Supports the potential production and release of future SonoHana VN's!

Please, Fuguriya, YurinYurin, and Mangagamer; give the west more SonoHana to fall in love with!


Annoying

etherel

If not for the author twisting the story the main character, Risa, wouldn't have anything to do with the cliché named Miya.

What a joke. Poor history of annoying characters (we can not really speak of "futur lovers") and in each situation, the author strengthen their relationship unnaturally(by no mean it sound like it should have happen...)

I really regret buying this "thing". I won't even look at the next game of this series.



Disapointment.

Hex

As much as I love SonoHana, I can't recommend this game. It's basically ripped from what makes this series good:
- early establlished yuri couple,
- fluffy romance,
- pure yuri sex scenes.
Whithout that you are left with a boring story about two classmates. If not for the short prologue/epilogue which shows main girls as a couple I wouldn't call it even a yuri game. Seriously, if authors wanted to write a SOL game, they should have done a better job with the story. I give it 3 stars. And only 'cause I love SonoHana.
...More