Kindred Spirits on the Roof Drama CD Vol.3 (download)

Developer:

Genre:

Drama CD

Specification:

All Ages, Full Voice

Category:

Price:

$9.95 MG point:49

On Sale:

Jun 17, 2016

OS:

Windows 2000, Windows XP, Windows Vista, Windows 7, Windows 8, OS X, Linux, Windows 10

Reviews:

4.0 out of 5 (

1 reviews

)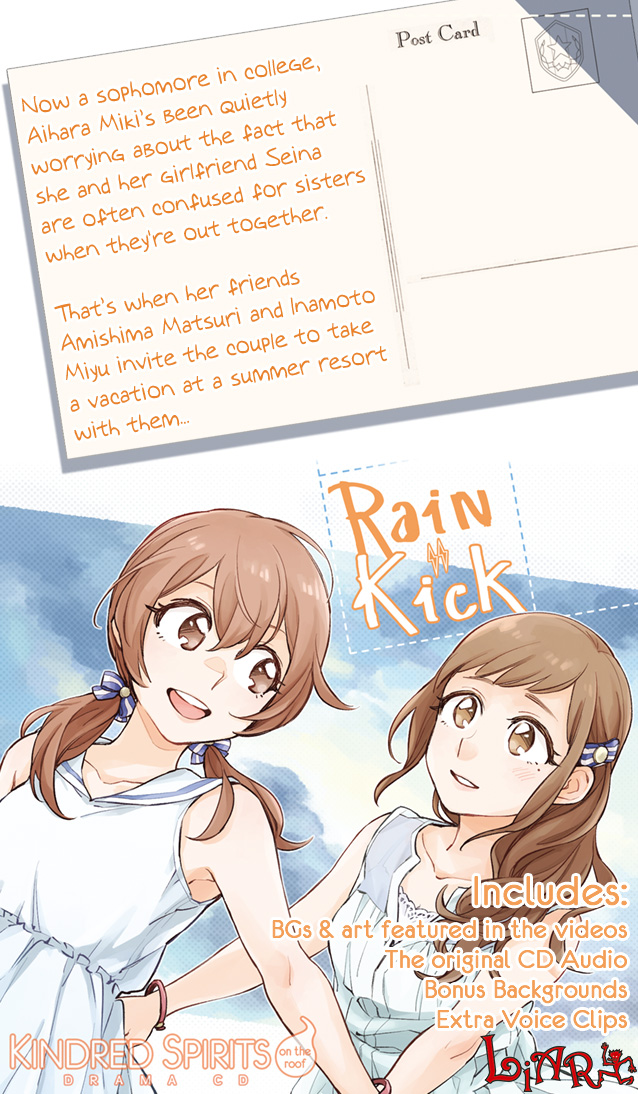 Maki Seina

"Oh, and just tug as hard as you need to, okay? I know if you don't I'll just rush off the wrong way."

In her last year at Shirojo, Seina's studying hard to get into college, but having just as much fun going out on dates with Miki, too. Something's been bugging Miki ever since one of their recent dates, but maybe Seina has a solution to her girlfriend's worries!

Aihara Miki

"Will you... hold my hand? Will you pull me with you, in the best direction for us...?"

In her second year of college now, Miki's volunteering in a small club with Yuna. Her girlfriend Seina is getting ready for her own college entrance exams, but when her friends Matsuri and Miyu invite her on a beach vacation with them, Miki invites Seina along too, thinking a break from all the studying would do her some good. And it might be a good opportunity to talk to her about something that's been bothering Miki lately...

Amishima Matsuri

"No, I'm sorry, we don't have to talk about this anymore. I feel like I don't have a leg to stand on anymore. Seriously, just ignore all this."

Finally off at college with her girlfriend, the two of them living on their own at last, still running track together, everything is going great for Matsuri! Then again, everyone has their moments of doubt. Maybe this vacation is a good opportunity for some introspection, and a chance to touch base with Miyu about the future.

Inamoto Miyu

"In other words, Matsuri, I'm not worried at all about spending the rest of my life with you, and I don't question it either."

It's summer break, and it's time to relax... on a schedule, of course. Even on vacation, there's still studying and training to be done, and somebody has to plan the meals so they don't starve or break the bank. Still, Miyu should be able to unwind on the beach with her girlfriend, as long as Matsuri doesn't do anything stupid!
| | |
| --- | --- |
| Required Resolution: | 1920x1080 |




Enjoyable little after story

ghost

This drama CD has my favourite (Seina and Miki) and least favourite (Miyu and Matsuri) couples from the original game, but I really liked the moments with both of them here.

There's no major drama or events here, just plenty of the couples chatting with a few heartwarming moments.

Recommended if you enjoyed the original game and want more of either of these couples.