Heart of Crown PC & Card Game Bundle

Developer:

Genre:

Table

Specification:

All Ages, No voice

Category:

Price:

$64.99 MG point:324

On Sale:

Jan 19, 2018

Status:

In Stock

OS:

Windows XP, Windows Vista, Windows 7, Windows 8, Windows 10

Reviews:

5.0 out of 5 (

2 reviews

)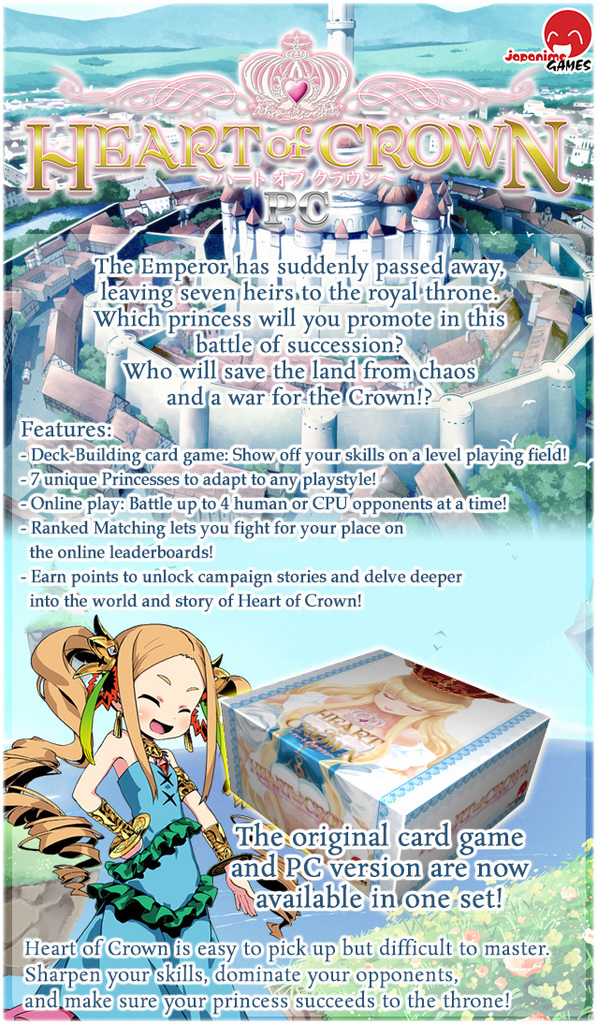 This release uses a Steam key card to activate the PC game!
Lulunasaika

First Imperial Princess

Oldest child of the late Emperor Hellard. The first successor in line to the throne but you wouldn't know it. With a kind heart and a wise mind, she is much loved by those around her, growing flowers and vegetables in the inner garden of the Royal Court.

Laolily

Second Imperial Princess

Second child of the late Emperor Hellard. Still very young, she's supported by the nobility due to her maternal lineage, and many send their daughters to be Laolily's handmaids. Despite being raised away from older sister Lulunasaika and not knowing of her until recently, she's quickly become very fond of her.

Klam-klam

Princess of the South Seas

Backed by the Firones, a huge trading family in the Empire. Though a second cousin to the late Emperor Hellard and not related by blood, Klam-Klam is a trusted merchant with many shops under her command. Making money is also a personal hobby. Has been good friends with Bergamotte for quite some time.

Bergamotte

Scholar Princess

Only daughter of the Duke of Friesberg and a relative of the late Emperor Hellard. Extremely knowledgeable and intelligent. She would rather spend her days buried in her research, but has become a candidate for the throne with the Friesberg family's support. Should she ascend, she'll double the Imperial Research Institute's funds.

Flammaria

Princess General

Niece of the late Emperor Hellard, accompanied him in the Second Eastern War. Candidating in an attempt to avoid civil war arising from a tip in political balance. Heavily supported by the military, she also has many enemies in the nobility. Likes inventions, her current favourite is the Salamander Mk 2, a weapon that fires metal spikes using gunpowder.

Lain and Shion

The Princess Twins

In the exceptionally autonomous state of Elsia, magic and fortune telling have always been the object of study. The royalty have always been powerful magicians and the Twins are said to be the most powerful rulers in Elsia's history. Their candidacy for the throne was decided by reading the stars.

Ohka

Far East Princess of Sums

Daughter of Maisen II, Lord of the Far East Territory. With her sharp mind and lineage, Ohka turned her homeland into an important center of trade. Her father, intends to put Ohka on the throne, but Ohka herself would rather spend time on her collection of fine art from all over the world.
| | |
| --- | --- |
| Required CPU: | 2.0 GHz+ |
| Required Memory: | 512 MB RAM |
| Recommended Memory: | 1024 MB RAM |
| Required Graphics: | VGA Shader 2.0+ Supported |
| Required HDD Free Space: | 264MB+ |
| DirectX: | 9.0c |





A beautiful gem.

Sergey

I've always wanted to buy one of these -it's one of the best card games i've ever played on Steam. I have a question though - is it a full card game, or we need to buy expansions?





Hard Game

Tsuijin

I bought this game on Steam cause I never realized it would get onto MangaGamer. It is quite an addictive and hard game. I have like alot of MTG and Hearthstone experience and I find the game distinctly different from both.