ENIGMA: (download)

Developer:

Genre:

Adventure

Specification:

All Ages, No voice

Category:

Price:

$14.95 MG point:74

On Sale:

Nov 15, 2016

OS:

Windows Vista, Windows 7, Windows 8, Windows 10

Reviews:

5.0 out of 5 (

1 reviews

)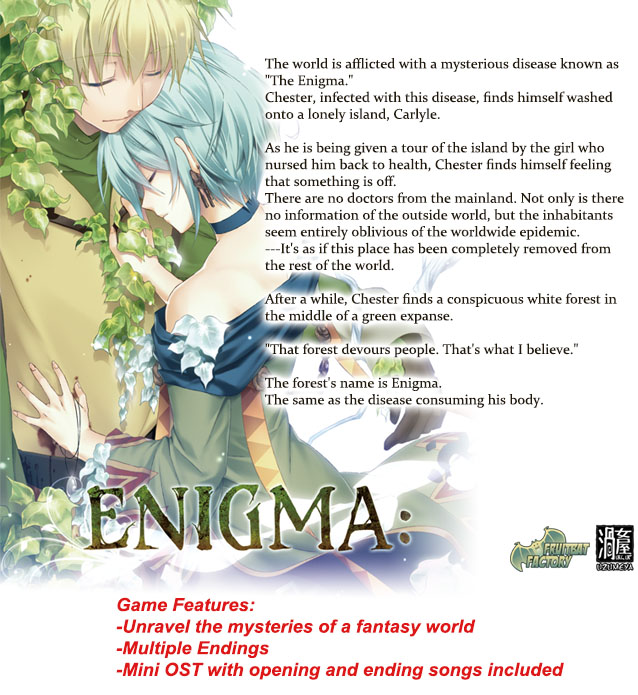 Chester

The protagonist. He is afflicted by Enigma, with only a few weeks left to live.

Yet he continues on with a laid-back attitude, as though he has no regrets, or perhaps it is just his character.

He washes up on the beach of Carlyle, and is nursed back to consciousness by the local inhabitants. As he spends his time on the island, growing closer to everyone, he starts uncovering one of its other faces.

How will Chester use his remaining time in this world?


Envirio

A mysterious living doll that Chester meets on the island.

It possesses an androgynous appearance, and although it usually behaves like a young child,

It tends to change its attitude suddenly and utter a word or two that seem to hint at something beyond common knowledge.

It doesn't seem like it minds the fact it is despised and shunned by the islanders.
For whatever reason, it shows no interest in anyone but Chester.

Colette

A girl who works as a weaver on the island.

She has lost her parents at a young age, and has lived alone with her brother Lauro since.

She is good at household chores, but hopeless at cooking.


Greta

The only doctor on the island,

Greta's red hair makes her stand out from all other inhabitants.

She is the one to recognize Chester's disease, and provides him with a temporary place to live, as well as information about the island. Her mannerism makes her seem a lot older than she looks.


Ignis

A man mysterious even for an inhabitant of the island.

He shows little emotion, and hardly ever speaks; no one can tell what truly is going on inside his mind.

An artisan dollmaker.


Lauro

A young woodcutter.

He has his lost parents at a young age and has grown up with his sister Colette, which in part explains his slight sister complex.

He is hotheaded and has a foul mouth, but is an honest and gentle boy on the inside.

| | |
| --- | --- |
| Required CPU: | Pentium 2.0GHz or higher |
| Required Memory: | 2GB RAM |
| Sounds: | DirectSound Compatible |
| Required HDD Free Space: | 1GB+ Available |
| DirectX: | Version 9.0c+ |





Hidden masterpiece

Lostwalker

Okay, so lets just see pros and cons of this game first:
+Amazing and mysterious story (also ton of angst)
+BEAUTIFUL artwork, both characters (even of those who don't do anything at all in story) and CG's (lot of them)
+20 endings, every single one worth seeing
+Well written characters (also best friendship routes I've ever seen in VN's)
+Ton of angst
+That awesome opening
+And ton of angst

-... none ... seriously, I'm trying to be objective, but there was nothing I didn't enjoy about this game. Maybe for someone it might be a little short... And some endings might be a little bit disturbing. But not for me.

so I play a lot of Visual Novels, and when I pick some up, I rarely stop without finishing them. That does not mean I'm not picky about them, and for VN to keep me glued to the monitor I need several aspects (that will balance the lack of gameplay), and it just so happens this game has it all.
The story is sad with nostalgic vibes, I just had to know everything about the great mystery of this island and all characters (excluding Tai, because reasons). Every single character has their motivation and backstory (you can't judge them based on only one route or ending), and angst comes even from directions you would never expect it from.
Yes, this VN has the saddest story ever and I love it. The story itself is split into three different routes, and (same as in Fate stay night) you have to get the true ending of one route to unlock the next route (I really recommend to get all endings though). Third route of course has the TRUE ending.

I can't recommend this game enough - I picked it up just because artwork looked beautiful, but I got the best story I've ever encountered in VN's.

I envy everyone who will play it for their first time.