Dungeon of Corruption (download)

Developer:

Genre:

Puzzle

Specification:

Without Mosaics, Female Full Voice

Category:

Price:

$12.95 MG point:64

On Sale:

Jun 2, 2017

OS:

Windows Vista, Windows 7, Windows 8

Reviews:

4.0 out of 5 (

1 reviews

)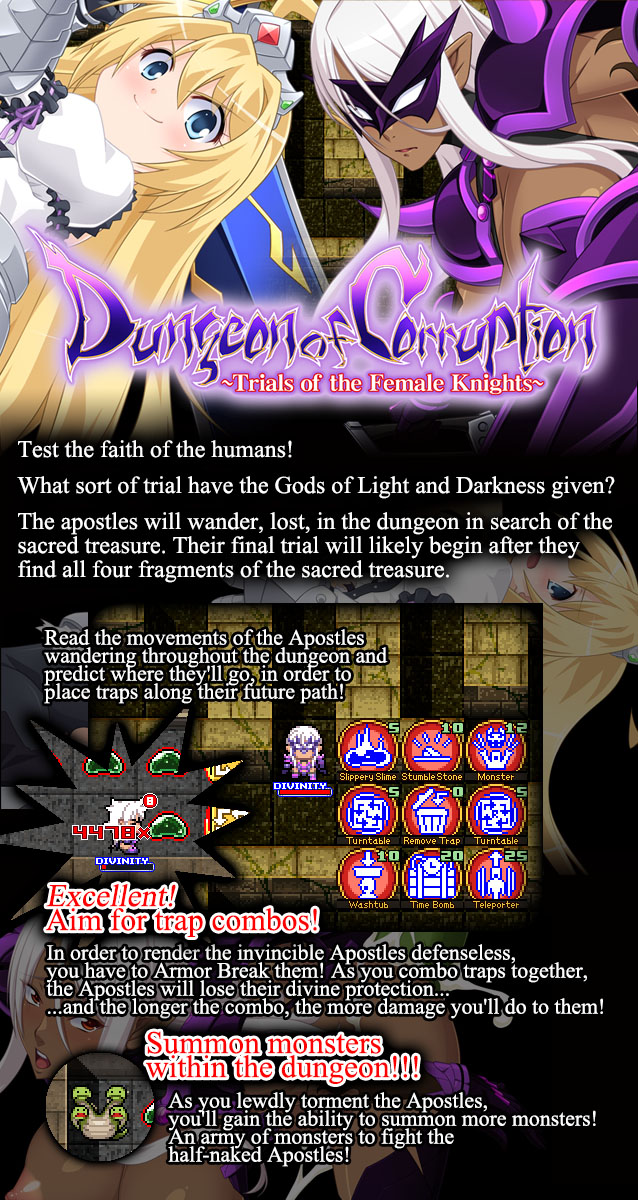 Apostle of Darkness, Griselda

Griselda is the withdrawn general who gathered all the non-humans of the Grumadia Kingdom under one flag. She is merciless to those who do not worship the Darkness and has destroyed many smaller nations with her armies. Her ruthless nature has led to her being known as the Abyss Knight of Anguish.

Apostle of Light, Eliska

Eliska is princess of the the Holy Shasta Kingdom, known as the Evangelical Maiden Knight.
She wields her blade in the name of justice and the God of Light's creed, beating back the forces of darkness which attempt to invade her kingdom's borders. She is quite popular among the populace despite her strictness.
| | |
| --- | --- |
| Required CPU: | Pentium 4 2.0 GHz |
| Recommended CPU: | Core 2 Duo E6300 |
| Required Memory: | 1GB |
| Recommended Memory: | 2GB |
| Required Resolution: | 1280x768 |
| Required Colors: | Full Color |
| Sounds: | OGG, DirectSound |
| Required HDD Free Space: | 600MB or More |
| DirectX: | 9.0c+ |




A refreshing change of pace

aika092

Gameplay 9 out of 10

A short puzzle game with a unique concept but a low amount of replay value. It's all about the experience of playing it for the first few times, learning the tricks and unlocking all the content. You control the placement of traps in real time as an acolyte walks through the dungeon in order to guide her path and cause her to slide into monsters rather than just walk into them, called a trap combo. This actually requires a decent amount of learning as your traps have a charge-up time so you cannot drop them right in front of the acolyte, you have to work out where she is going to go. She follows certain rules and it takes longer than you'd expect to get used to predicting it. The mechanics have their own clever elegance - the more traps you want to put in a row to create a multiplicative trap combo that does loads of morality damage, the further in advance you are going to need to predict her movements.

There are a couple of small puzzles to solve, with clear hints provided when the acolyte walks over certain spaces, usually in the corners of the dungeon rooms. You want to get big trap combos with the new monsters you have unlocked because this is what will unlock the next monsters to be spawnable and so on. Rather than being able to spawn any monster you want, you have to guide the acolyte to the correct room where that monster can be spawned. This is clever as it forces you to send her around the place a lot more than you would have to otherwise.

I really enjoyed the gameplay because it felt like a real game rather than a mindless clicking exercise. You choose the order of what objectives to complete and you have a lot of freedom in how to approach laying traps and moving the acolyte around to your will. There are only two weaknesses of this game, firstly the way you lose is actually by going overboard on a trap combo and taking her morality down to 0, this results in her going nympho and then the game ends. I am not sure I like being punished for making such a super awesome trap combo. Secondly and more critically, the game is over within 3 to 10 hours of gameplay depending on your skill, and then you will likely never open it again. Then again, the same is true of Portal!

Lewdness 8 out of 10

The game has a CG set accompanying each monster for when the heroine gets caught. There are two different heroines, and the CGs are completely different for each, not just minor clones. The CGs are excellently drawn with X-rays where appropriate and accompanied by Japanese voice acting. The CGs do get very repetitive after a while because you see them again every time you throw the heroine into the same monster.

But overall the lewdness is great! They do a great job of appealing to some extreme kinks ranging from giant anal penetrations to womb punching to breast squashing. The art style allows this to be done in a rather tasteful fashion without it feeling too brutal. Secondly the body modification is done excellently. Both heroines have a different body modification that can happen from a big trap combo on a certain monster. Once done it is permanent and from then on all the other CGs show alternates with this modification. Make sure you save before the modification though because it prevents a monster from being able to do its thing which could prevent you from unlocking all the CGs in one playthrough. The body modification also prevents the acolyte from regaining their armor. I really like it when games have gameplay impacts as consequences for lewdness.

Misc

There is not really a story at all, but who cares?
There is a weird feature where the girl moans constantly when her arousal is above around 30%, which is most of the time. This gets really annoying over the course of the game!
The translation is very good.
The text and facial expressions in the CGs do not change until right at the end when the morality is 0 and they start to enjoy stuff. I would have liked it if there were a few different stages to their reaction to the sex.