Space Live - Advent of the Net Idols (download)

Developer:

Genre:

Adventure

Specification:

Mild Nudity, No voice

Category:

Price:

$9.95 MG point:49

On Sale:

Sep 29, 2017

OS:

Windows 7, Windows 8, Windows 10

Reviews:

5.0 out of 5 (

1 reviews

)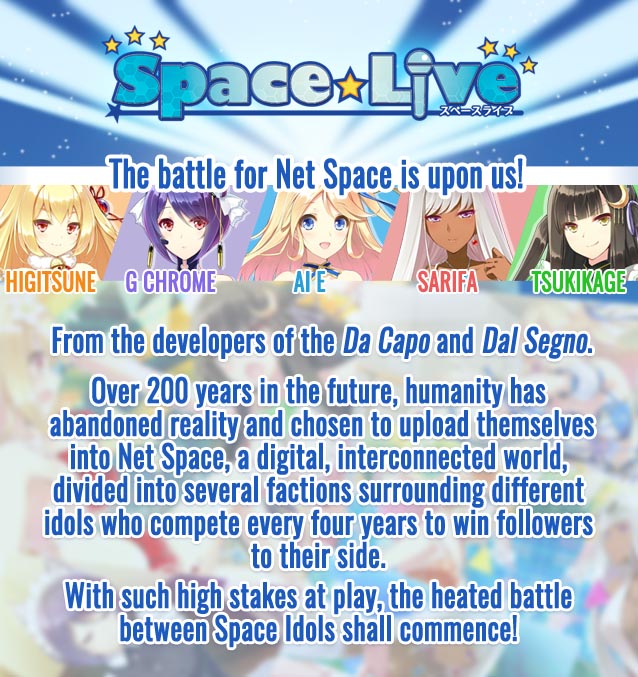 Ai E

Ai used to boast a tremendous amount of popularity, but after losing her mantle at the top she is looking for a chance to prove her mettle.

Her desire for the crown is strong, and she spares no effort. However, she tends to mess up and get flustered, leading her to fall short of the mark. To make sure she delivers favorable results for this concert and continue acting as Macro Space's representative, she is currently devising a trump card for the tournament.

Affiliation:
Macro Space

"I have to take first place at the Space Live!"


G Chrome

With vast economic power propping her up, she is greatly expanding her popularity. Supposedly, dark rumors are hinting that a stranger has acquired her personal information.

Although she's the cool and emotionless type, she unexpectedly hates losing and will lash out when provoked.

She excels at data analysis, so she will exploit that by challenging her opponents' weaknesses, adhere to the audience's preferences, and employ superior tactics. Her Space is betting everything on her, so she's the favorite to win.

Affiliation: Goggle Space

"I have no interest in being the top idol. But... I hate losing."

Higitsune

A fox spirit said to have been wandering since ancient Net Space. Her elusive nature is such, that given the chance to vanish before you, she will reappear in the exact same location.

She acts haughty, but her skills and reputation are second to none.

Although she's next in line to be the ideal candidate for the championship due to her composure and exceptional prowess, she doesn't yearn for victory. Instead, she delights in seeing the youth give it their all.

Affiliation: Mosaic Space

"You say you do not know me? My word, it seems some education is in order."

Sarifa

Sarifa is an eloquent and fashionable person that dislikes rooms with windows. Numerous people have seen her indulging in apples. She prides herself on her trendy fashion sense which she uses as her selling point, but she utterly rejects those who clash with her style.

She makes a point of never displaying her bad side, which she upholds, come rain or shine. Although she's the most composed and pragmatic of the idols, she has a habit of employing all-or-nothing gambles.

Affiliation:
AI Space

"I won't do something unrefined like achieve victory through great effort. Instead, I will attain it in a smart fashion. Right, in a way best suited to my nature."


Tsukikage

Born in the country of the rising sun, she dons an old-fashioned look and has the Galapagos-style trait of referring to herself as 'Boku.'She is worried that her Japanese-style appeal is overlapping with Higitsune.

She wants to shed her minor character persona, so she exudes an almost cunningly cute aura. However, she lacks many opportunities to attract attention, so she never gets the chance to bare her fangs.

Her dream is to become an adored star during this concert.

Affiliation:
Luna Space

"Don't say that! What I'm wearing is authentic Japanese clothing."
| | |
| --- | --- |
| Required CPU: | Core 2 Duo Or Better |
| Required Memory: | 512MB+ |
| Required Graphics: | 128Mb DirectX 9 Compatible Adapter |
| Required HDD Free Space: | 300MB |





An entertaining short romp

restricted12345

It's only about 3 hours, but it has so much concentrated fun. It is thoroughly entertaining and is a steal at only $10 despite being so short.

The characters are likable, the antics are silly, and the live chat on the side makes everything funnier than it has any right to be. I can recommend buying it if you just want to have a few laughs.

Strangely, Ai E is best girl. I didn't expect to like her so much.