Imouto Paradise 2 (download)

Developer:

Genre:

Adventure

Specification:

Without Mosaics, Female Full Voice

Category:

Price:

$44.95 MG point:224

On Sale:

Dec 22, 2017

OS:

Windows Vista, Windows 7, Windows 8, Windows 10

Reviews:

4.6 out of 5 (

5 reviews

)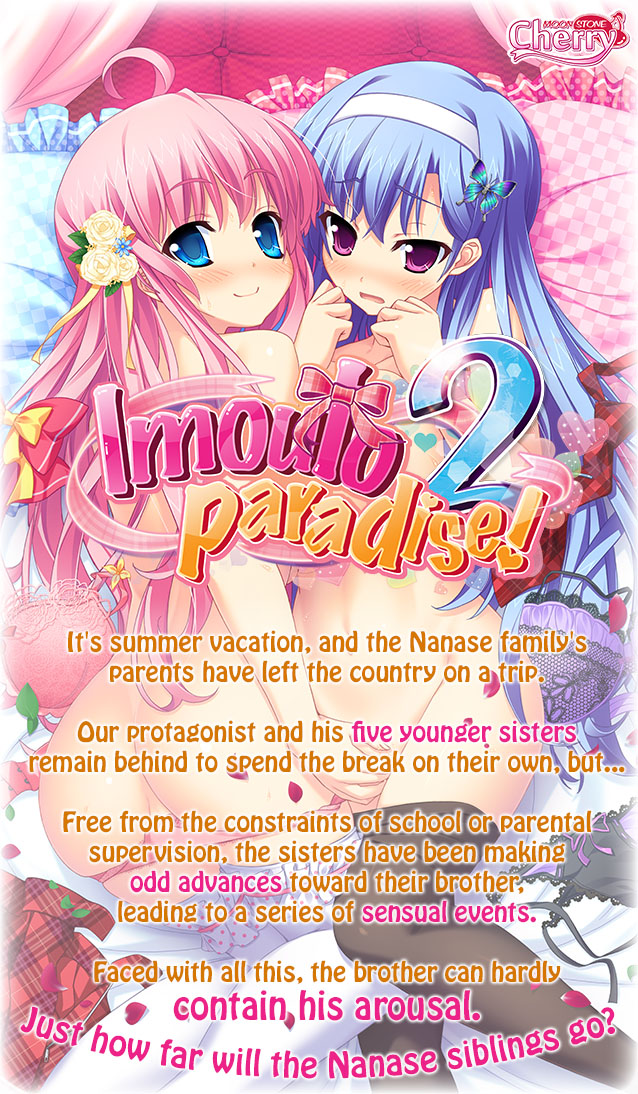 Momoka Nanase

One of the protagonist's younger sisters. She's unaware of just how much she spoils her brother. With their parents gone on vacation, she's taken up all the housework herself.

Her talent for cooking is fairly remarkable, particularly her specialty in baking sweets.
Momoka is devoted to her beloved family, and has a kind, often motherly personality.
While she may look like she has everything together, she can't keep that facade up at all times, especially when it comes to her weakness for sugary foods, leaving her constantly self-conscious about her waistline.

She tries to restrain herself for the sake of the other sisters, but, like them, she's been in love with her brother from a young age.


Ririna Nanase

One of the protagonist's younger sisters. She's loudmouthed, but also caring.

A studious girl, Ririna takes charge both at school and in the home, acting to organize the rest of the siblings. Germophobic and hateful toward men, she's frequently harsh on her slovenly and perverted elder brother.

Her typical reaction to hearing a dirty joke is to deliver a swift kick to its teller. Despite all her complaints, she can't bring herself to hate her brother, and deep down, she truly loves him.

As Ririna cannot outwardly condone sexual behavior, she must make absolutely sure nobody ever finds out about her masturbation habit.

Yuzu Nanase

One of the protagonist's younger sisters. She somehow finds a way to trip over absolutely nothing. Her continually clumsy and hectic nature, coupled with her young appearance and amusingly over-the-top reactions, lends her something of the appearance of a lovable mascot character.

Yuzu has a complex about her short stature and minuscule chest, and so wants to become a mature adult as soon as possible. She often clashes with her teasing elder brother, but still loves him at the end of the day.

Although Yuzu knows little about sex, as she doesn't want to be treated like a child, she pretends as though she's an expert on the subject.


Chiharu Nanase

One of the protagonist's younger sisters. She always smiles when they're together.
A lover of anime, manga, and video games, she's abnormally close with her brother and plays with him constantly. Her high level of energy rubs off on the rest of the Nanase family.

Chiharu is inclined toward exercise, and is a member of the cheerleading squad.
She eats a lot, plays a lot, and sleeps a lot, but hates to study. Unlike most of the other sisters, she doesn't even try to hide her love for her brother.

Whenever she sees the chance, she charges right at him with a powerful tackle. She's happy to talk about sex, and even tells dirty jokes like they're nothing.
Chiharu is also not shy about trying to seduce her brother, no matter the time or place.


Shizuku Nanase

One of the protagonist's younger sisters. Her two favorite things are her brother and reading.

The sight of her silently reading a book is beautiful enough to be compared to a painting, but the moment she opens her mouth and says something bizarre, that image is ruined.

Both unpredictable and prone to believing whatever she reads, the knowledge she picks up from one strange book or another always leads to trouble for her family.

The ways in she expresses her love for her brother tend to be rather unique, but her affection is so earnest that she really will do anything for him. As the combined result of knowledge, training, and her natural talent, Shizuku's sexual techniques end up surpassing all expectations.

| | |
| --- | --- |
| Required CPU: | Pentium III 800 MHz or higher |
| Recommended CPU: | Pentium 4 1.7 GHz or higher |
| Required Memory: | 512MB |
| Recommended Memory: | 1GB+ |
| Required Resolution: | 1024x768 |
| Required Colors: | 16bit colors |
| Recommended Colors: | 24bit colors |
| Sounds: | PCM |
| Required Graphics: | VRAM 32MB or more |
| Recommended Graphics: | VRAM 128MB or more |
| Required HDD Free Space: | 5GB |
| DirectX: | DirectX 9.0c or better |





Strictly as a Moe Nukige

TasteyCookie

As long as you aren't looking for anything crazy for story and realize this just a moe nukige (not quite moege as it's still definitely an H game), this is definitely one of the best out there. Much better than the first in terms of art quality and scene variance, it is definitely worth the price of entry and up there for the best moe nukige I've played yet.




Improvement

TheDarksIde2012

It's similar to Imouto Paradise 1 in the fact that all the characters look and act exactly the same. With an exception of two characters; Yuzu and Chiharu Nanase. Chiharu has the playfulness and perverted side of Koharu. Yuzu might as well be a completely new character. The game mechanics haven't changed, but the menu and tools have. They added more moving scenes, at least one for every character. The beginning or day one was much longer than the first game taking me 1hr 45min to complete. Overall a good game in terms of eroticism, not so much if you're looking for something heavy in story. Just an erotic comedy. Still worth the buy.




Great but could be better

MightyFiredemon

Ah to give in to the base nature that is lust and just let your urge guide you. Each route is good in its own way that does give you a different story so to speak of what goes on in this family's life. Could have done without the events in between each sister's individual scene kinda makes it feel like you have one moment that actually never happened.
One thing that did bug me is I was expecting more animation scenes which while there are some the amount of still image scenes greatly out weigh the animated ones.
Overall was satisfied with my purchase and would recommend.





Months worth of fap material.

P-man

Looks like Christmas came early for 2k17 cause Imouto Paradise 2 is out for sale! Having played the original, I knew that ImoPara 2 will be a winner but boi, they just cranked up that greatness beyond my (high) expectations.

Just like the previous generation, you can see that Moonstone Cherry cares about the character development. Yes, they are mostly focused on having sex but you'll find out that the dialog and story elements are actually just as much. It's like having bacon bits in your gravy; you don't expect it but it's now better.

As for the sex scenes, I can assure you that the increased the no. of CGI/animated scenes from the previous game so no complaints here. Overall, this is so good and hot that it'll probably turn gays, straight. We may not have hot loli twins action but 1 loli is still good.

Pro Tip: Save the game when it first gave you the order to choose which girl if you want to skip the introduction scenes. The correct order for girls in my recommendation is: Yuzu, Ririna, Shizuku and the other 2 is of your choice. Obviously Harem end is the one you do last.

This game will probably give you months (if not more) worth of fap material for just 50 bucks. Apparently Imouto Paradise 3 has been just released last month by Moonstone so you have 3 years to save up 50 bucks when mangagamer releases that.





Grate

WayneC

Grate Game And Aal So thares beren a swqual Imouto Paradise 3
...More