Supipara - Alice the magical conductor. Chapter #02 (download)

Developer:

Genre:

Adventure

Specification:

All Ages, Full Voice

Category:

Price:

$14.95 MG point:74

On Sale:

Apr 12, 2018

OS:

Windows Vista, Windows 7, Windows 8, Windows 10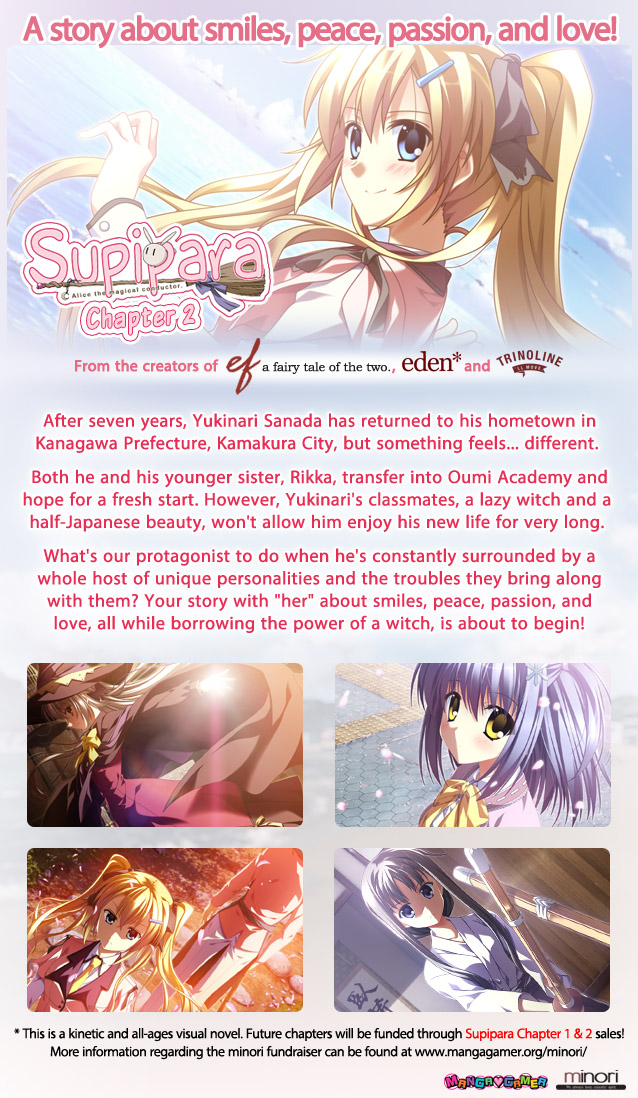 Yukinari Sanada

The main protagonist, and a second-year student at Oumi Academy.
He likes to cook, clean, and study. Alice seems to have an odd interest in him... What could their connection be?

Sakura Narumi

A third-year student at Oumi Academy.

Sakura is an inspiring girl who often declares herself to be everyone's big sister regardless of age or gender.

She is Yukinari's "second cousin," the poster girl for a local maid cafe, and a novice idol.

Her personality is pointlessly positive and brimming with curiosity, and maybe just a little sexy? She isn't the type to stick her nose into other people's fun, and likes to create her own exciting adventures on her own.

Hotaru Angeline Amano

A second-year student at Oumi Academy. A half-French, half-Japanese girl.

She is Yukinari's classmate and Alice's best friend. She's very sadistic and sharp-tongued, and loves telling exaggerated lies and comedy routines. Hotaru has very few friends, but she is beloved from afar as being an amusing, yet kind of scary, person by those around her.

Alice Kamishiro

A second(?)-year student at Oumi Academy.

She is Yukinari's classmate, but is actually a fake student who snuck into the Academy by the power of suggestion. Her true identity is that of a modern-day witch.

She takes an interest in Sakura Narumi and Hotaru Amano and monitors their activities for a certain purpose. Though she tends to find most things boring, she ultimately ends up getting dragged into bothersome events as a consequence of being a show-off who assesses herself as a "gifted woman."

She loves science and ordering stuff online.

Momiji Yuuzuki

A first-year student at Oumi Academy.

Momiji is a student by day, and a shrine maiden by night, with a split personality to go with each role.
| | |
| --- | --- |
| Required CPU: | Intel Core i-series |
| Required Memory: | 2GB |
| Required Resolution: | 1280 x 720 |
| Required Graphics: | PCIe x16 256MB |
| Required HDD Free Space: | 3GB |