Detective Masochist 2 - The Case of the Tortured Servant (download)

Developer:

Genre:

Adventure

Specification:

Without Mosaics, Female Full Voice

Category:

Price:

$14.95 MG point:74

On Sale:

Mar 22, 2018

OS:

Windows Vista, Windows 7, Windows 8, Windows 10

Reviews:

5.0 out of 5 (

2 reviews

)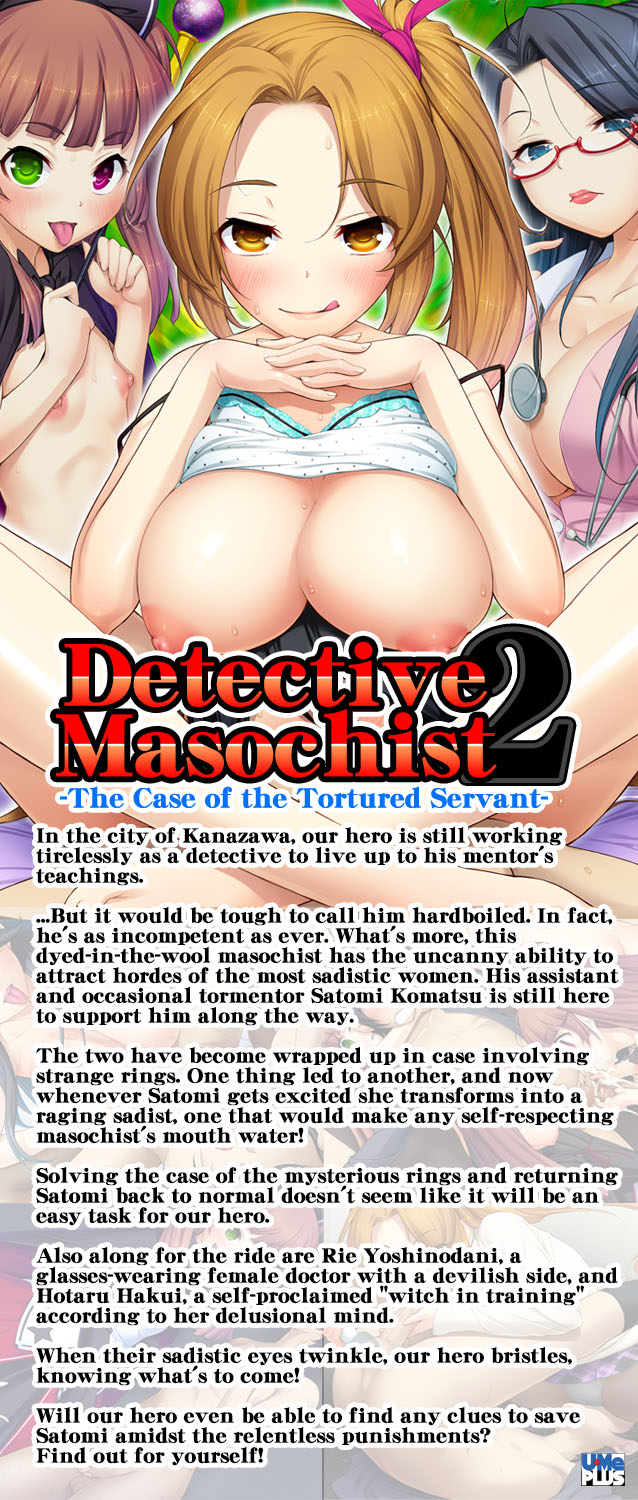 Satomi Komatsu

Age: 19
Height: 186 cm
Weight: 59 kg
B: 88 cm (E-cup)
W: 59 cm
H: 86 cm
Birthday: December 1st
Blood Type: A

A high statured college student who is as beautiful as she is smart. Childhood friends with our hero, she attempts to look after him despite being shocked at his general uselessness and incompetence. She was wrapped up in a strange case and has suffered some...interesting effects (That is to say, when she gets turned on, her clitoris grows into a penis).

Her life with our hero looks like it's continuing along normally...but could she want something more than just friendship?

Rie Yoshinodani

Age: 25
Height: 171 cm
Weight: 62 kg
B: 95 cm (H-cup)
W: 62 cm
H: 88 cm
Birthday: October 11th
Blood Type: AB

A beautiful female doctor who works as the director of a nearby clinic. She has a candid disposition, like an older sister. The fact that she has been hired as a director at her young age is proof enough of her skills.

There's no question among herself or others that she's a total sadist, and she has a bad habit of luring in cute boys to torture and tease.

Hotaru Hakui

Age: 18
Height: 154 cm
Weight: 62 kg
B: 71 cm (AAA-cup)
W: 53 cm
H: 73 cm
Birthday: November 3rd
Blood Type: O

Her fashion sense more akin to cosplay than regular clothes, this odd girl is a self-proclaimed "witch in training". Her delusions lead her to believe for certain that one day she will be able to use magic.

Though normally innocent, she affects a strange manner of speaking while deeply immersed in her delusions.
| | |
| --- | --- |
| Required CPU: | Pentium II 233MHz |
| Recommended CPU: | Pentium II 400MHz |
| Required Memory: | 128MB |
| Recommended Memory: | 512MB |
| Required Resolution: | 800 x 600 |
| Sounds: | PCM, Direct Sound |
| Required HDD Free Space: | 900MB |
| DirectX: | 7.0+ |





Great femdom

Ravenleaf182

Love femdom, and its so rare to find it in english outside of monster girl genre. This had more pegging/futa scenes and its excellent! really hoping they finish this series. the first was okay, this was a huge step up, but now I really do want resolution with the story itself, please don't leave us hanging mangagamer!





good, recommended

Lee Sin

I bought this for the futa scenes. It had a pretty good amount of futa content for a game not centered on it.

The other scenes were well rendered. The ass shots are pretty impeccable. However the only downside in this game is the anti-climatic ending.