Room No. 9 (download)

Developer:

Genre:

Adventure

Specification:

Without Mosaics, Full Voice

Category:

Price:

$29.95 MG point:149

On Sale:

Aug 6, 2020

OS:

Windows 7, Windows 8, Windows 10

Reviews:

4.7 out of 5 (

11 reviews

)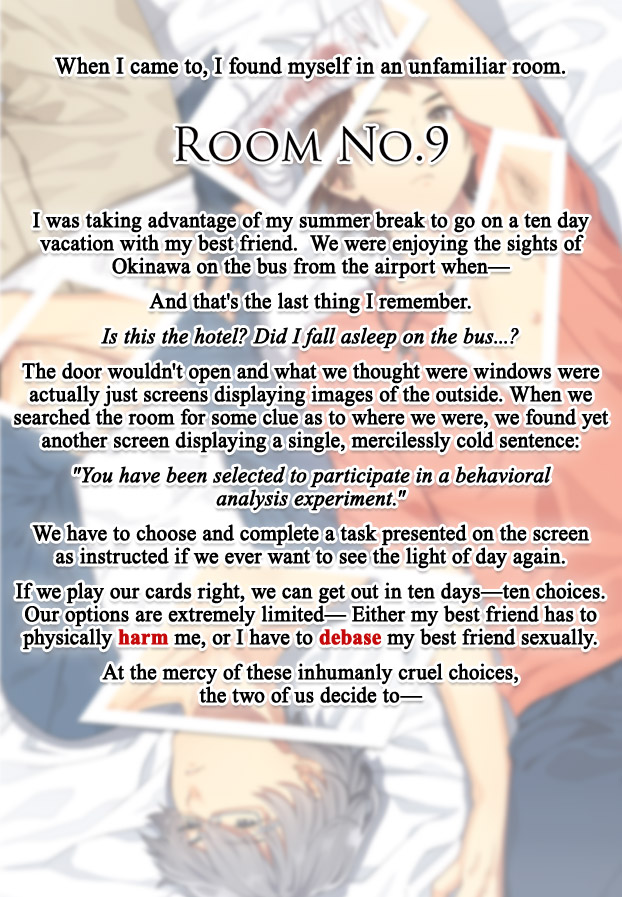 Daichi Kobayashi

Test Subject A
Age: 21
Blood Type: O
Height: 172cm (5'8″)

A kind-hearted young man with a sunny disposition and the protagonist of the game. He might seem like a bit of a loser to some, but he gets things done when it matters, and doesn't sweat the small stuff.

He's a senior on scholarship at a public university with hopes of becoming an elementary school teacher. He has no relatives to speak of.

He's straight and rather sexually uninhibited. Since it doesn't take much for him to fall head over heels for a woman, he has a history of getting into relationships with less than savory characters. After his girlfriend cheated on him and dumped him, he decided to take Seiji on the trip he'd planned to go on with her.

He'd never say it out loud, but he thinks of Seiji as his dearest friend and believes Seiji feels the same way about him.

Seiji Azumi

Test Subject B
Age: 21
Blood Type: AB
Height: 176cm (5'9″)

A calm and intelligent young man. Seiji is the second son of a government official, member of an upper class family, and a senior at a fairly prestigious private university. He's an honest, kind-hearted and well-mannered person, but he isn't one to actively seek out other people.

He's straight and while it goes without saying that he's popular with members of the opposite sex––being such a catch with no perceptible flaws––he's rather uptight and hasn't had very many partners.

Daichi has been his best friend since middle school. He'd never say it out loud, but he thinks of Daichi as his dearest friend and he believes Daichi feels the same way about him.
| | |
| --- | --- |
| Required CPU: | Pentium 4 1.5GHz |
| Recommended CPU: | Core 2 Duo |
| Required Memory: | 1GB Ram |
| Recommended Memory: | 2GB Ram |
| Required Resolution: | 1152x720 |
| Required Colors: | High Color Compatible |
| Recommended Colors: | Full Color Compatible |
| Sounds: | Direct Sound Compatible |
| Required Graphics: | 32MB VRAM |
| Recommended Graphics: | 64MB VRAM |
| Required HDD Free Space: | 2.3GB+ |
| DirectX: | DirectX 9.0c |





Changed my life

hal

To paraphrase Daichi: my dick hurt, but my heart ached even more. I first played RN9 in Japanese in 2018 and fell in love. When I heard it was getting localized I was over the moon, and the MG team did not disappoint; I found myself tearing up a few times at how well some of the most heart-wrenching lines were conveyed in English. Replayed recently and wow, it still hits. Just an amazing game all around. It manages to make you squirm without needing to go over the top and maintains the grim undertones of psychological horror even throughout the H-scenes. Voice acting is also incredible; hard to believe this was Irakusa Netoru's first BL! The only complaint I have is that it's not 50 hours longer. Thank you to parade for bringing Daichi and Seiji into my life. I think about them at least 14 times a day and I don't think they'll ever lose their grip on my soul.





An intriguing story

Liddy

Okay, this clearly isn't for everyone, but I personally loved it!

The art is just beautiful; the story about two young men being stuck in this hotel room and having to go through these very cruel experiments to survive, it was just so interesting and I couldn't stop reading and became invested in it very quickly. It was hard to not feel bad for the main characters, and I even felt uncomfortable reading some of the gruesome H-scenes. It was still very addictive and worth reading. I definitely recommend you to read this one.

The only downside is that I wish it was a bit longer, since after I finished it I still had questions and wanted to learn more about what was going on "behind the scenes" so to speak.





Soul-crushing and Amazing

Krissie009

I loved Parade's 'No Thank You!!!' and I love this one just as much. The graphics, storyline, endings, characters, literally everything is so well done. The gameplay itself is also extremely well done with lots of options for preferences. This game makes this situation pretty realistic, not a sugar-coated romantic version of it that you'd usually see in similar themed media. Literally can't give enough praise on how well their able to bring the player through the storyline and feelings.

I'll just be spending the next few hours (days) crying and obsessing over it. I hope hope hope to see more games from them!





Quarantine but make it spicy

audinobutt

3 stars for story and presentation
1 more for art because parade/clockup always makes beautiful games.

Not gonna lie when i saw clockup at the beginning of the game screen i thought it was going to be a wild ass time like euphoria but it wasnt so i guess thats my own fault for going into this game hella bloodthirsty.

I really enjoyed the corruption of Seiji and Daichi i enjoyed my first playthrough a lot because i went in blind and my thoughts initially were ok how do i do this without messing up our friendship like all the way and then i proceeded to mess up our friendship x10 LOL

I loved not being able to know what Seiji was thinking or feeling until the very one scene where his whole personality was completely warped from his original self from the beginning of the story. I loved watching Daichi try his best and when he failed he blamed his parents lol very relatable content right there i do that too. anyway it was a cool time would have loved to play a route where i could torture the heck out of Daichi with Seiji, you know for like science... but i guess i can just go back and replay euphoria lol





A great time~

leighawoof

I am giving this game 5/5 stars out of my own experience. I'm sure others would give lower based on theirs, but for me, this game blasted my expectations out of the water for what I was looking for.

Reading the synopsis and seeing the preview images, I thought "wow this game is for me, its art is very well done and it looks like it'll be sad, messy, and emotional". And whilst I was not wrong, I was not expecting the feelings and anxiety that I had from it. With such amazing voice acting, the scenes felt very realistic. I was sweating and felt sick during some of the scenes (sometimes from emotions and sometimes from the scenes... er... content) but I was looking for that experience going into it. If this is not what you are seeking then maybe this game is not for you.

I will also say that the settings in this game are great and can cater to your tastes very well (and by that I mean, enabling and disabling certain visual content. As well as a whole menu of sound adjustments).

In total it took me 13 hours to complete this game in it's entirety. There are 3 routes you can take, with 6 endings in total. There are also some lovely messages from the director, artist, script writer, and the two main voice actors that you can read/listen to when you unlock all the endings. Oh so wholesome.

My final thoughts would be - do not expect happiness from this game. Do not expect all of your "why"s to be answered in the endings. But do expect to have a fantastic time playing! I hope this review gives you the push you need to try this game.

For better or for worse,
~Sadistic weeb ( ͡° ͜ʖ ͡°)




Short but sick and sweet

Tiki=waifu

While the game could really use an extra hour or two it still stands as an excellent game as is. The writing is absolutely FANTASTIC and while it's less bloody than it seems the writing is spine chilling and makes you feel like you're the one getting hurt. The characters develop wonderfully and have a very beautiful friendship and more.




Very good!

Dewey

I must congratulate Parade for such a good game and thank Mangagamer for bringing it to the west. Awesome art and voice acting, maybe the story can seem simple but brings to the surface lots of emotions (and sex). Also I loved the new features such as the Evasive Maneuvers (although I never could set a Decoy Screen) and the ability to zoom in at any time while you play in the scene. The start menu looks very lacking at the begining but it has a reason to be so. The gallery looks very nice.
It is not for everybody, some scenes can be too strong sometimes.
I don't give 5 stars because there were lots of spelling errors, the text for the options blends with the image (they should be in boxes all time not just when you highlight it) and there wasn't an option for bigger resolutions although this last one I understand why it was missing.
I hope this game gets some kind of sequel, like with another couple. Well, see you in three years with Lkyt from Parade located by Mangagamer? Bye!





LOVED IT!!

Redherring

I can't get enough of these boys ❤️ Here's hoping for the license/release of more BL games in the future!! Thank you MangaGamer for this treat!





Must for New Hardcore

Kassie

Tldr; It's a quality starter for those new to Hardcore/harsher genre and definitely worth it's price. But keep in mind that it's more 'event' focused over plot. Be sure to support the Developer, it would be amazing to see more great stuff from them in the future.

Pros:
Honestly it's a great starter for those who want to dip their toes into hardcore BL or harsher tags in general, as it doesn't completely shove it in your face to scare those who don't care for it, but gives enough to satisfy those who enjoy it. The translations were also top notch and the general idea behind the whole thing was interesting.

I would say this was defiantly a good pick for something "short & sweet" that's of great quality, especially for the original price point.

Cons: *admittedly personal pickiness.
I was so happy when it finally clicked in that this was made by the same people who did "NO, THANK YOU!!!" but when I finished it I was kind of left a bit of dissatisfied in comparison. I had to look back and remind myself that this was less 'story' driven, and more 'event' focused, unlike their previous game. I just felt like it had great story potential that could have been expanded on.

As well, there were things that were introduced early that I was expecting to have been taken advantage of 'event' wise and was excited to see how it would be used/play out, but they never really touched on again sadly.

Honestly, if the developers ever decided to create another game but from the perspective of another room, maybe expand on plot with different 'events', I would definitely buy them.

'Room No.' could be it's own little series.





It's Gay

Sonjay

There's so much I want to say about this game that I can hardly put it into words other than Room No. 9 might be one of my favorite BL games. Time wise, there's about 10 hours of gameplay. There was little to no plot, but kept me entertained and makes you wonder if Daichi and Seiji will make it out alive. There also didn't seem to be much romance,yet it can also be one sided. There's 6 endings, one being a good ending.There's also many h-scenes. I'm in love with the background music, and it can be eerie when it needs to, especially in the beginning and when they're being presented new tasks. There were some parts where I was getting creeped out and anxious, more so when they wake up the room without remembering anything that happened and being presented with the tasks they can choose from. The art is beautiful and the voice acting is spectacular. I think what adds to the mystery part is we get no information about the organization at all. One thing that I would've liked from this is being able to have more control of choosing between what task to do, since most of the time we go with the sexual tasks. Other than that, this game is amazing, and it almost makes me sad that I probably will never experience another BL game like this. Thank you to everyone that worked on this game so that we can experience it!





What can I say

Nyx

I'm a woman of culture and this game (as disturbing as it gets in some places) pleases me.
On a more serious note, the game is designed very well. I enjoyed the in depth game settings, that was a fist for me to have so many options. The sound design is incredible, hats off to the amazing voice actors, whew boy.
Room no.9 does an crazy good job at giving you the front seat in watching over these boy sometimes deliberately making you responsible for their fates. As if to put you in the spot of one of the people that put them there.
The bgm is expertly crafted, delivers surprising amount of tension and general unsettling emotions to every scene. It offers a variety of other tunes that just help to put you in the heads of the subjects.
My only gripe is that at times I did think the sex was a little exhausting(so if you came for H-scenes, you won't at all be disappointed)BUT without spoiling anything, the frequency make sense to those respective routes.
Regardless, the game delivered on everything you expect it to and then some, so 5 stars from me!
However I still have a lot of questions I hope gets answered in future titles.
So grateful I could experience this little gem in english! Thank you

...More