Mira and the Mysteries of Alchemy (download)

Developer:

Genre:

Role playing

Specification:

Without Mosaics, H Voice Only

Category:

Price:

$19.95 MG point:99

On Sale:

Oct 16, 2020

OS:

Windows 7, Windows 8, Windows 10

Reviews:

3.0 out of 5 (

1 reviews

)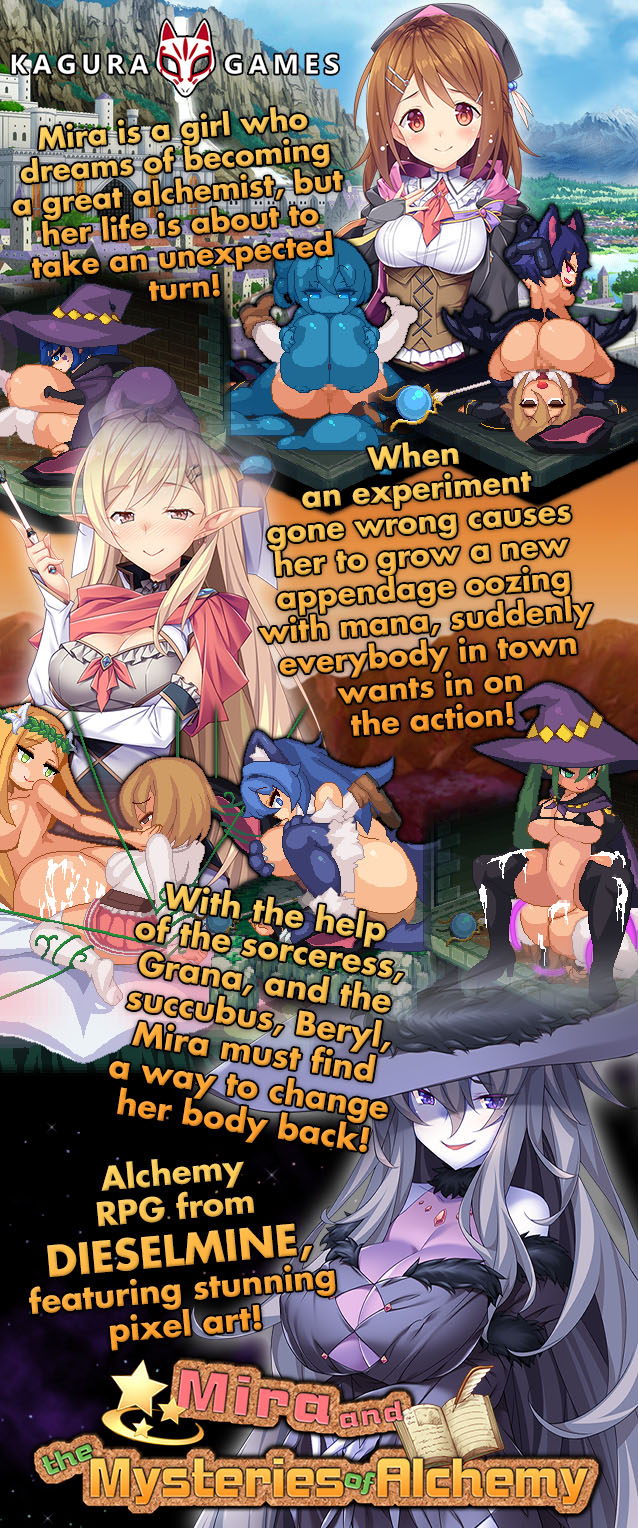 Mira Aries

Mira's just moved to this town on her path to becoming a praiseworthy alchemist. With a kind and cheerful personality, she loves to study, but that somehow does not translate well when it comes to practicing alchemy.

One day, Mira is practicing a particular alchemy spell when she fails, causing her to undergo a physical change… Mira searches for a way to undo that which she has brought upon herself.

Esmeralda Aquaria

Instructor of Alchemy at the university in town. Esmeralda teaches Mira's classes and is an elf who has lived for a long time.

After she notes the change that Mira has gone through due to her trivial words and actions, Esmeralda enjoys teasing her from time to time. Due to living for so long, she has so much time on her hands, she doesn't know what to do.

Roche Jungfrau

Mira's classmate. Roche has a domineering personality, but she does look after others well, and previously taught alchemy tricks and tips in Milan.

A daughter of a family famous for its alchemists, she gets excellent grades.

Grana Grepes

Grana is a witch who runs a magical shop of sorts, somewhere in a corner of town.

She's supposedly human, but since she never appears to change, and no one knows how long she's been around, no one is quite sure what's true anymore. Some even say she might be a specter!?
| | |
| --- | --- |
| Required CPU: | Intel Core2 Duo or better |
| Required Memory: | 4GB RAM |
| Required Graphics: | DirectX 9/OpenGL 4.1 capable GP |
| Required HDD Free Space: | 600MB available space |
| DirectX: | 9.0 |



Short and expensive.

Hund

A good game, but too short.
21 scenes.
13 sprite.

There are some speech errors and programming errors, but not something that matters much.

The price does not match the length or the quality.