Koikari - Love For Hire (download)

Developer:

Genre:

Adventure

Specification:

Without Mosaics, Voiced Except Main Character

Category:

Price:

$29.95 MG point:149

On Sale:

Oct 23, 2021

OS:

Windows 7, Windows 8, Windows 10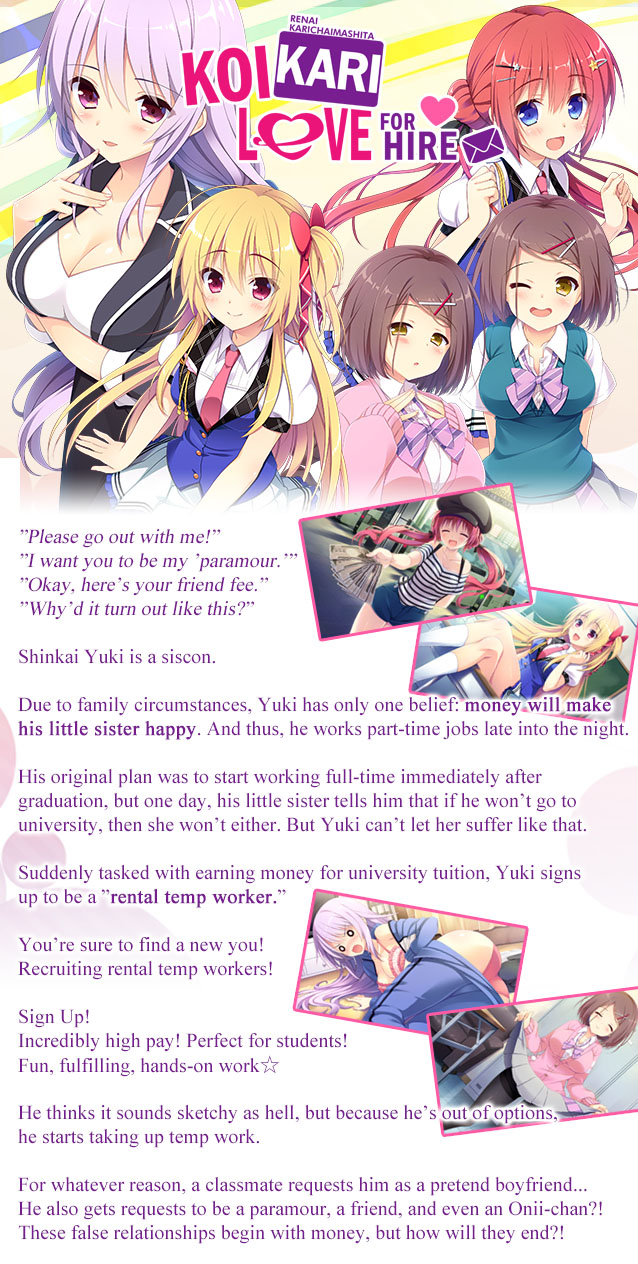 Segawa Emi

The protagonist's classmate in Class 3-C of Seirin Academy.

Provided his first rental request. She's part of a group of popular girls and often sits on his desk when chatting with friends. Only ever talks to him when he asks her to get off his desk.

She's actually the type who doesn't consider the consequences of her actions, so she makes a habit of showing off at the slightest instigation. Though, she also works hard so that her peers don't leave her behind.

She and Hasumi are childhood friends. She loves karaoke and staying active.

Tenma Hasumi

She has the looks and personality of a friendly honor student and is quite popular as a result. Due to her curiosity, lack of fear, and perhaps her somewhat spoiled upbringing, her tastes are a little different than most girls her age. She has a characteristic "nyuhuhu" laugh that the protagonist finds unsettling.

Loves to eat. Her favorite foods are cheese, ramen, and cheese ramen. She's starting to get a little concerned about her weight.

When she runs into the protagonist on the street late one night, she asks him to be her friend.


Izumi Chinatsu

Yukyu Academy Class 1-2. She's the older, more fidgety twin.

In contrast to her little sister, she's strong-willed and hates losing. An archetypal tsuntsun girl. Perhaps due to her little sister's airheadedness, she's taken up the role of a level-headed older sister. Deep down, she wants to be babied, but due to her baby sister's antics and her own disastrous true nature, her desires can never be fulfilled.

She attends the same prep school as the protagonist.

Izumi Konatsu

Yukyu Academy Class 1-2. She's the younger, more laid-back twin.

It's hard to understand what she's thinking, but for some reason, she always seems extremely sensual. She doesn't care for her appearance, so Chinatsu has to mind it instead. She's sensitive to the cold and wears thick clothes even in the middle of summer.

Secretly a horny pervert who's usually thinking something dirty when she's quiet. And she's usually quiet. A quick learner, but can seem a little slow at times.

Soraji Tsubaki

Lecturer at the prep school the protagonist attends. A sleek, mature lady. Her slender figure looks beautiful in her suit.

But when she gets home, she changes into a tracksuit, slurps cup noodles, and lives the lonely gamer life, staying up late into the night. Back in her hometown, she was super serious, and thus never got any experience with men.

Fed up with the meddling of her worried parents and family, she pretends that she's been playing the field and simply isn't ready to settle down yet. However, once her parents send her cousin to check up on her, she gets desperate and asks the protagonist to play the role of a paramour.

| | |
| --- | --- |
| Required CPU: | 1.7 GHz or above |
| Required Memory: | 1GB RAM |
| Required HDD Free Space: | 5GB available space |