Free Friends 2 (download)

Developer:

Genre:

Adventure

Specification:

Without Mosaics, Female Full Voice

Category:

Price:

$24.95 MG point:124

On Sale:

Jan 26, 2016

OS:

Windows XP, Windows Vista, Windows 7, Windows 8, Linux, Windows 10

Reviews:

4.7 out of 5 (

4 reviews

)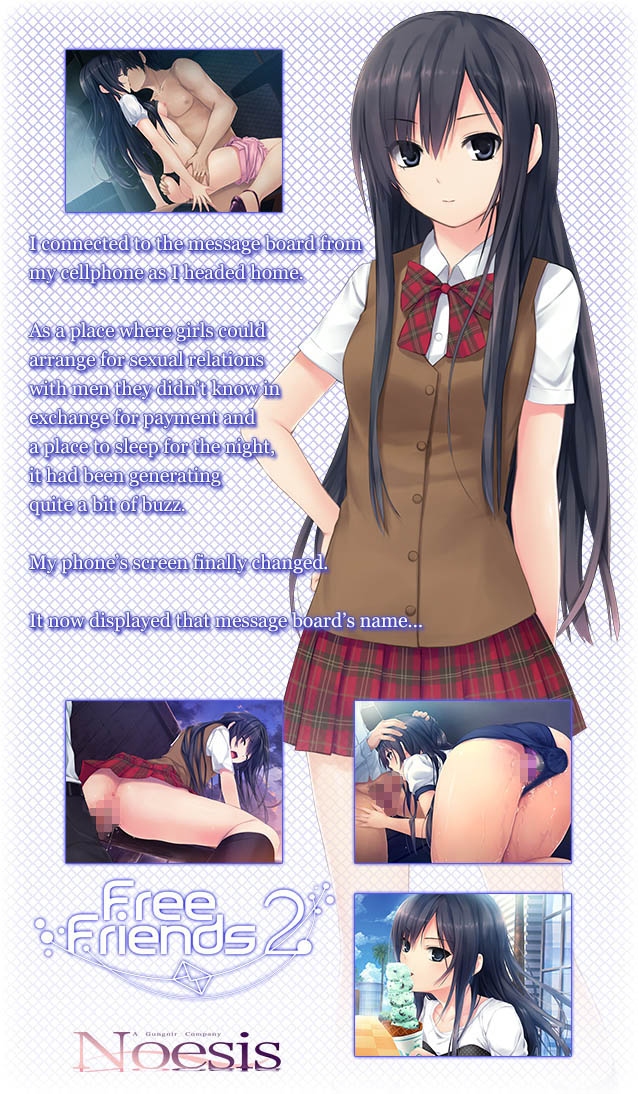 Shinozaki Sumire

When her parents divorced when she was young, she went to live with her mother. She was told her father had died and doesn't even really remember having an older brother.

But one day, her mother suddenly passed away. With no one else to rely on, she creates an account on Free Friends to earn enough money to live on. Her first partner is Kaito, and the two begin their relationship without realizing that they're brother and sister.

Raised by her mother, Sumire's a responsible girl who can handle all household tasks even at her relatively young age. However, she can be rash and make decisions impulsively without giving them much thought, so sometimes she makes people around her end up worrying about her.

She's an optimistic hard worker, positive even in the face of setbacks.

Her hobby is reading shoujo manga. She has a lot of friends, and has lived a relatively carefree life. Despite having a pretty good figure, she's completely sexually inexperienced.
| | |
| --- | --- |
| Required CPU: | Pentium4 1.4GHz |
| Recommended CPU: | Pentium4 2.0GHz+ |
| Required Memory: | 384MB |
| Recommended Memory: | 512MB+ |
| Required Resolution: | 800*600 |
| Required Colors: | High Color |
| Sounds: | PCM, Direct Sound |
| Required HDD Free Space: | 1GB+ |
| DirectX: | 9.0c+ |




Erotic Drama

receipttaker

Free Friends 2 is a short and potentially sweet eroge depending on how you play it.

The plot serves its purpose as a vehicle for sex scenes but accomplishes this in a way that the interactions between Sumire and the protagonist carry weight.

Coffee Kizoku and Noesis have created a beautiful drama about a lost young woman who is brought to life through the voice work of Yuuki Mio.

I would recommend Free Friends 2 to anyone who appreciates an erotic and dramatic story that borders light and dark.







Excellent

Leona1

The art and facial expressions are beautiful and the voice acting is superb. This is what God had envisioned for for the human race. An absolute must play masterpiece and the greatest of our generation.





great VN

Deathgaze

the game is short and sweet maybe 8 hours if you want to unlock everything.

the game has 2 routes, a vanilla route if you will and a mind break ending and that decision comes very early in the game so i'm sure you can guess which one is once you get there.

sex scenes are varied and while is an eroge and you know is all about sex you can still get attached to the MC of the story and still care about every decision that happens and feel intrigued.





Exceptional

VictorDoUrden

A great game being entirely vanilla without a silly harem only makes it even better. Art is great with plenty of scenes and heartfelt moments. Sweet sex with great art and without anything over the top, nothing more one can ask for. I'd say this is a must own. More a must own if your into simple vanilla without magic/moe/disgusting tsunderes/elfs/monsters/etc. Also story is more plausible then most eroge ever made.
...More