Da Capo 2 (download)

Developer:

Genre:

Adventure

Specification:

Without Mosaics, Full Voice

Category:

Price:

$44.95 MG point:224

On Sale:

Dec 24, 2010

OS:

Windows XP, Windows Vista, Windows 7

Text Lang:

English

Reviews:

4.8 out of 5 (

5 reviews

)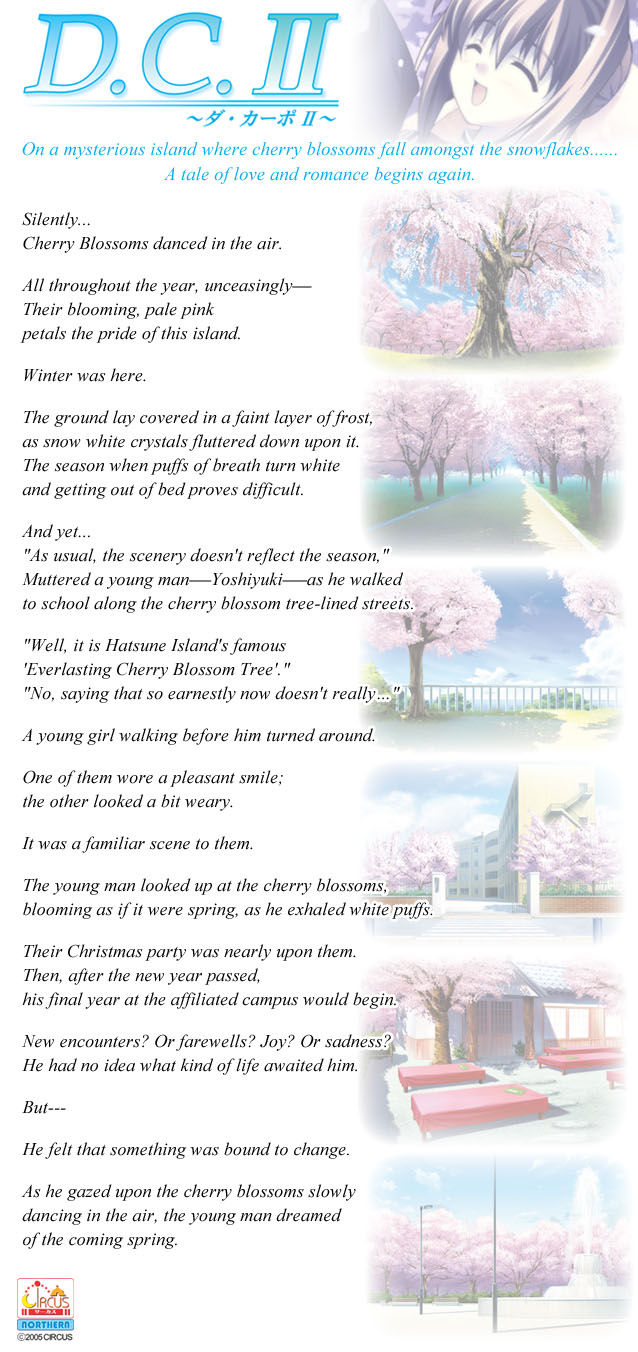 Asakura Otome

~The absolutely perfect, pampering older sister~

Height: 158cm
Weight: 43kg
B/W/H: 73/53/82cm
Birthday: June 17th
Club: Student Council
Likes: Acting like an older sister, Japanese sweets
Dislikes: Dirty things, Ghosts
Class: Kazami Academy, Main school, Class 2-3

"You shouldn't underestimate the student council president. All information passes through me!"

Asakura Yume

~The stubborn, clumsy, little sister~

Height: 153cm
Weight: 38kg
B/W/H: 79/51/80cm
Birthday: January 2nd
Club: Health Committee
Likes: Baths, Jerseys
Dislikes: Persistent people, High places
Class: Kazami Academy, Affiliated campus, Class 2-1

"No, the only one who ever sees me in this outfit is you, Nii-san, so there's no problem."

Shirakawa Nanaka

~Slightly impish school idol~

Height: 157cm
Weight: 41kg
B/W/H: 82/53/81cm
Birthday: May 3rd
Club: None
Likes: Singing, Hats, Pranks
Dislikes: Being bored, Studying
Class: Kazami Academy, Affiliated campus, Class 3-2

"Nanaka's fine. Just Na-na-ka."

Tsukishima Koko

~The lovable, hard-working, childhood friend~

Height: 155cm
Weight: 46kg
B/W/H: 86/54/87cm
Birthday: November 11th
Club: Light Music Club
Likes: Fashion magazines, Good fortunes
Dislikes: Fighting, Bad fortunes
Class: Kazami Academy, Affiliated campus, Class 3-3

"H-Hey, wait! I can't do it, I can't!"

Yukimura Anzu

~Classmate with a sly tongue~

Height: 143cm
Weight: 34kg
B/W/H: 69/49/73cm
Birthday: January 29th
Club: Drama Club
Likes: Sweet things, Festivals
Dislikes: Spicy things, Being alone
Class: Kazami Academy, Affiliated campus, Class 3-3

"Become honest with your desires. That's what's best."


Amakase Minatsu

~The mysterious transfer student who hates humans~

Height: 151cm
Weight: 36kg
B/W/H: 72/50/75cm
Birthday: Unknown
Club: None
Likes: Animals, Electronics
Dislikes: Bananas, Humans
Class: Kazami Academy, Affiliated campus, Class 2-1

"There are only two things that I hate in this world. Just two."
| | |
| --- | --- |
| Required CPU: | Pentium III 800MHz |
| Recommended CPU: | Pentium 4 1.4GHz |
| Required Memory: | 256MB |
| Recommended Memory: | 384MB |
| Required Resolution: | 800x600 |
| Required Colors: | 16bit colors |
| Recommended Colors: | 24bit colors |
| Required Graphics: | 4MB VRAM |
| Recommended Graphics: | 32MB VRAM |
| Required HDD Free Space: | 3GB |
| DirectX: | DirectX 8.1, Direct3D |





10/10

Tipulaattori

Good writing, good music and really good character art.





Worth the Money

Drew

Best Da Capo game out of all 3 games was written well. All are great but the store line for all characters intrigued me!!




Worth a buy

thecheeze9001

Well-written, great music and good artwork. A bit lighter-hearted than the death-heavy previous game, which is nice. All the main heroines get ample story, though it would be good if they could have some hidden ones like the first game. Side characters too have personalities and some very interesting (and hilarious) dialogue. Though don't read too much into it, there's quite a few deus ex machina moments involving magic from the Everlasting Sakura Tree.

If you enjoyed the first game, you would definitely like this one.





Amazing.

xKinqdom

This Visual Novel was a wonderful read. The story and plot were amazing and well thought out. The feeling you get when reading the story can really impact you with the emotion that is set in it. Each of the heroines are different in their own way, they have their own personal charm to them, You know?

The only flaws I have with are the lack of ecchi scenes. They are short, but not too short, but at the same time no too long. On the other hand, I wasn't really a big fan of those scenes in the first place just because of how they draw the parts, it disturbed me more than it should, but I pretty much just ignored it the whole way.

Now lastly, I think this Novel is an excellent Visual Novel and you should seriously give it a try! You won't regret it. There is the problem of time as this Visual Novel is fairly long..Took me about 2 days for each route. Aim for that Sakura route! It may take a bit of effort, but I tell you, It's worth it!





Amazingly written

Zemann2010

I love the da capo games. They are superbly written and engaging.

In this sequel, about 50 years have passed since the first game. While playing the first game isn't wholly necessary to understand and enjoy this one, it helps to know how the island works, as well as some of the recurring characters.

Some of the story is very depressing and sad, but that just adds to the "realism" of the characters and situation. The protagonist is pretty standard for VNs, but the heroines are all very interesting and complex.

The ecchi scenes are very few, but they tie in with the story wonderfully to show the blooming relationship between the characters.

This game will take many hours to get through every character's ending, and it is thoroughly worth the higher price to experience.
...More