Orc Castle (download)

Developer:

Genre:

Puzzle

Specification:

Without Mosaics, Female Full Voice

Category:

Price:

$12.95 MG point:64

On Sale:

Sep 2, 2016

OS:

Windows XP, Windows Vista, Windows 7, Windows 8, Windows 10

Reviews:

4.6 out of 5 (

9 reviews

)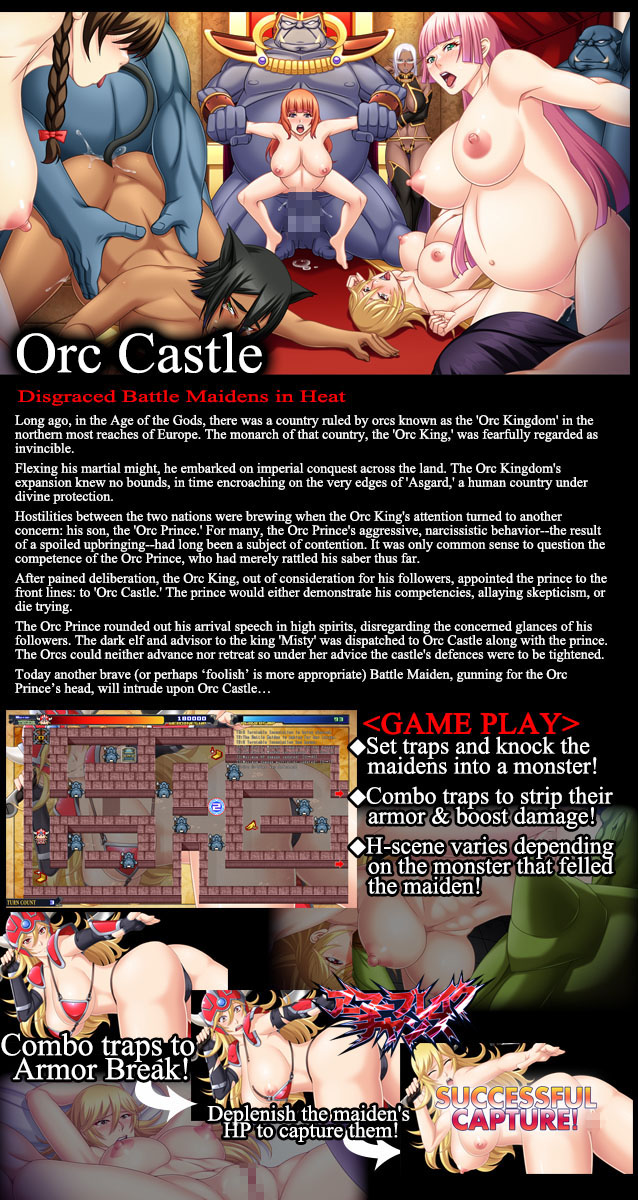 Thudr

Profession: Warrior

The chief of the 'Red Lightning' mercenary group: A female warrior that embarks on skirmishes in a skimpy set of bikini armor.
She's somewhat lacking in brains, but compensates with a maternal, elderly sister attitude and iron will. She infiltrates Orc Castle on her own, hoping to make a name for herself.

Raskris

Profession: Female Assassin

A female assassin: Under order of the Asgardian King to make a hit on the Orc Prince. She is half-beastfolk, half-human. She's cool-headed and thoughtful, but is remarkably clumsy at the most critical of moments.

Rune

Profession: Witch

A legendary witch with a pointlessly skimpy wardrobe: She has a graceful girlishness about her and her every gesture and motion exudes sexiness… To the point where it's pointless… Her inverted nipples are a particular point of interest.
She is over 200 years old but through magical suspension she has managed to retain her youthful appearance. She's also acquainted with Misty.

Hilda

Profession: Princess

The first-born princess of Asgard: Hostilities are currently brewing between her country and The Orc Kingdom. She has been bestowed with the divine protection of the Chief God, Odin.
She heads to the battlefield, the holy blade Balmung in hand, in lieu of the bedridden King Baldur.
Her dignified mannerisms and refined speech give her an air of elegance.
| | |
| --- | --- |
| Required CPU: | Pentium4 2GHz |
| Recommended CPU: | Core2Duo E6300 |
| Required Memory: | 1GB |
| Recommended Memory: | 2GB |
| Required Resolution: | 960×540 |
| Recommended Resolution: | 1280x720 |
| Required Colors: | 16bit color |
| Recommended Colors: | 32bit color |
| Sounds: | DirectSound (Ultramarine3-oggtechnology) |
| Required HDD Free Space: | 550MB |
| DirectX: | DirectX 9.0c or higher |





Screen configuration useless?

jamez23

For some reason, the game seems to always want to start in windowed mode, regardless of what I choose. Weird.





Orc protagonist why not

tyrant99

Very short but quite entertaining, the story a little basic but it makes up for the variety of scenes depending on who you capture the girl and the free mode.





Good game

Archwizard

I quite like the artwork and the writing but it pretty short. Didn't regret buying though.




Entertaining but Not Lengthy

RedUnit10

At $12.95 this game is a tad bit over priced for the amount of content you'll be getting, with a single play through taking about 2 hours at most to complete. (4 hours is you're not good at puzzle games)

Yet the story and the art are pretty good, with a funny Orc character who you kind of identify with as he just wants to impress his father while protecting the castle and his life. And he's not always thinking about sex, as his assistant is a hot dark elf girl who he not once attempts to lay his claws on.

However there are only four girls in total you need to capture, and none of them are even that particularly hard; including the final girl who is simply wearing more armor.

What this game needed is more girls, and perhaps challenge modes with the existing girls. It would have been nice if there had also been a optional boss where you take on your dark elf assistant, who is the final test sent by your father to see if your fit for the throne.




Fun Game but a little short

shiroufang

This game is fun just due to the mechanics. I also did not encounter any bugs while playing. My only complaint is that it is a little short. There are only 4 heroines and each one has 2 or 3 difference H-Scenes. The scense are plently long, I just wish there was more variety, either in the number of girls, or the number of different scenes that you can encounter. Still, solid game!





Surprisngly Entertaining

gerbilx

The gameplay aspect is incredibly fun, and the scenes are pretty great. I'd pay a lot more for a substantially longer game, but what you get for what you pay on this one is pretty awesome.

I'm generally not a fan of monster scenes, but making the Orc Prince kinda a character helped with that : )





Ero combo puzzle

JWN

It's great that we get a game here that's not a VN. It's been since Boob Wars, and there's more gameplay and replayability to be had here!
The goal of this game is to capture the heroine onto a chain of traps (!) that propel her forwards, left, right, or random or teleported directions. Each trap has a multiplyer that affects the damage of the battle if the heroine lands on a monster, multiplied by the monster damage.
If you chain a few traps you have a chance tear the heroine's armor upon combat, leading to even bigger HP loss. You have to make sure the heroine loses her last HP to a special monster to get extra CG.
You can pause/save at every turn to make sure your schemes turn out just right. Save Game is your friend.

Silly back story with rapey CG and good voice acting. 4.5/5 because it's not totally bug-free in my case. Best game I've bought that uses this engine!!




Short, sweet, and simple

Belgerum

This game is pretty short in terms of length, and it doesn't go very far into the world-building, in favor of focusing on the girls, the sex, and the parts you should expect from a game like this. The characters are written fairly shallowly, and the plot is very simple, but it's still quite enough to have fun with, and maybe get a few jerks.

The gameplay itself can take a bunch of waiting and luck to truly accomplish, but it gives you plenty of chances to bring the girls down, such that winning isn't really that hard.

Overall, it was pretty fun, though nothing particularly amazing.





Short but fun

Oakator

Okay, so... this is the first time I bought something from this publisher, and I have a feeling that this one is world above their other stuff.

It's a more of a puzzle game than a VN. You set traps on a map that a heroine walks around in. The goal is to have the heroine cause a chain reaction and run into a monster (traps by themselves do nothing unless it causes her to run into a wall... then it will confuse her and may make her walk into a different direction.)

After the heroine falls into enough traps... put on your "me gusta" faces... It's about to get loud.

The 'reward' for the capture of the heroine is a average VN sex scene. If the heroine is captured by a 'special' monster (mimics, slimes, etc) there will be a bonus scene before the actual scene.

It's surprisingly well done... I mean, it's not 'great' but i'd call it 'good'.

The voice actresses are decent for the most part.

Downside? It's short. But it's less than $15 so it's what you'd expect.




...More