Free Friends 2 (hardcopy)

Developer:

Genre:

Adventure

Specification:

Without Mosaics, Female Full Voice

Category:

Price:

$24.95 MG point:124

On Sale:

Mar 24, 2017

Status:

In Stock

OS:

Windows XP, Windows Vista, Windows 7, Windows 8, OS X, Windows 10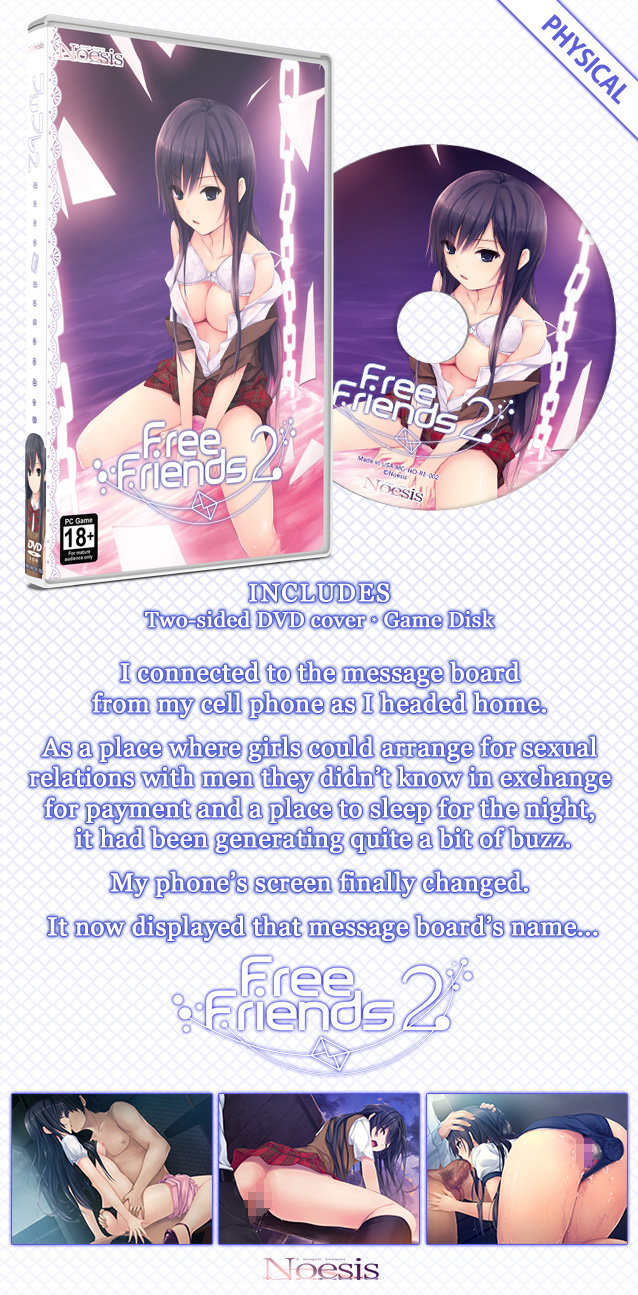 Shinozaki Sumire

When her parents divorced when she was young, she went to live with her mother. She was told her father had died and doesn't even really remember having an older brother.

But one day, her mother suddenly passed away. With no one else to rely on, she creates an account on Free Friends to earn enough money to live on. Her first partner is Kaito, and the two begin their relationship without realizing that they're brother and sister.

Raised by her mother, Sumire's a responsible girl who can handle all household tasks even at her relatively young age. However, she can be rash and make decisions impulsively without giving them much thought, so sometimes she makes people around her end up worrying about her.

She's an optimistic hard worker, positive even in the face of setbacks.

Her hobby is reading shoujo manga. She has a lot of friends, and has lived a relatively carefree life. Despite having a pretty good figure, she's completely sexually inexperienced.
| | |
| --- | --- |
| Required CPU: | Pentium4 1.4GHz |
| Recommended CPU: | Pentium4 2.0GHz+ |
| Required Memory: | 384MB |
| Recommended Memory: | 512MB+ |
| Required Resolution: | 800*600 |
| Required Colors: | High Color |
| Sounds: | PCM, Direct Sound |
| Required HDD Free Space: | 1GB+ |
| DirectX: | 9.0c+ |