Funbag Fantasy (hardcopy)

Developer:

Genre:

Adventure

Specification:

Without Mosaics, Partially Voiced

Category:

Price:

$44.95 MG point:224

On Sale:

May 19, 2017

Status:

In Stock

OS:

Windows Vista, Windows 7, Windows 8, Windows 10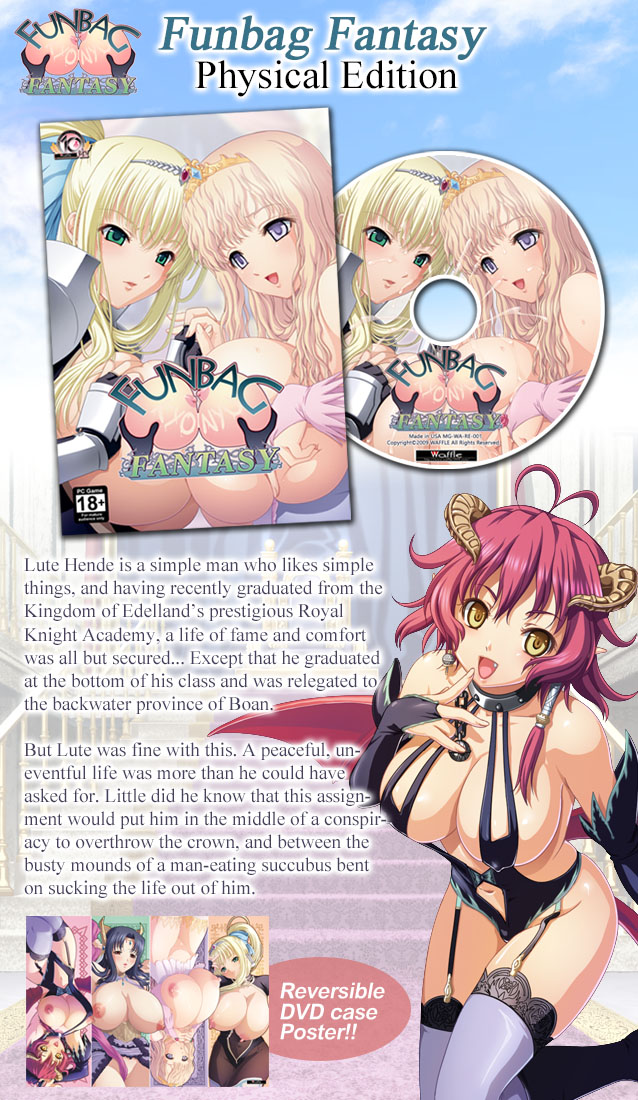 Shamsiel Shaharl

She's been "attacking" the townsmen in Boan, and loves to titty-fuck. Like a little demon, she has a way of taunting everything, and although she doesn't let it show right away, she has a deep concern for the man she chooses, and constantly worries about him. Her boobs are incredibly round and perky, with perfect symmetry.

"Heehee, Lute, you just loooove titty-fucking."

Isis Petrovna Elenskaya

An elite female knight of the royal guard, as well as classmate of Lute. She despises talentless knights who get by on luck like Lute, but for some reason finds herself sent on a troublesome reconnaissance mission with him. Although she appears cold, she is actually a very affectionate girl who cannot hide her true emotions toward men she loves.

Roxanne de Desir

A maiden of the collapsed Boan nobles, she is now the prefect's wife, but will later on find herself widowed. She no longer has sex with her husband Irboyne, and led a boring, lonely life in Boan, until her transformation upon meeting the protagonist. She has a strong daily lust for sex, but acts the role of a proper wife, not letting her emotions and anger surface. It seems she lost her fire as a young girl.

Luceria von Diamante

The princess of the kingdom. She is tidy and clean, but dying to learn about sex. Her prime physical development has bestowed her with breasts of goddess-like proportions, which she will be using for constant sexual practice with her newly assigned instructor, Lute. Her studies progress well, and eventually focus on titty-fucking and titty-fucking and sucking, which will become her personal specialties.

Gladys von Wackenheim

The daughter of a legendary general, but more of a man than most. Her hair is cropped short, and she has a dark complexion. She gives herself wholly in body and soul to the man she loves. She is an "all or nothing" type lover, and will chase her man to the ends of the earth. Her breasts are like massive cannons, and a force to be reckoned with.

Emeralia

She is the personal tutor of Princess Luceria; a cunning, elite woman. Despite her sharp appearance, she is dangerously lusty, and wields powerful sexual spells. Her voluminous breasts have an equally dangerous perkiness.
| | |
| --- | --- |
| Required CPU: | Pentium III 800MHz |
| Recommended CPU: | Pentium 4 1.5GHz or higher |
| Required Memory: | 512MB |
| Recommended Memory: | 1024MB+ |
| Required Resolution: | 800x600 |
| Sounds: | PCM |
| Required Graphics: | GeForce3/RADEON 8200 |
| Recommended Graphics: | GeForce6600+/RADEON X700XT+ |
| DirectX: | DirectX8.0a+ 3D Compatible |