Kira Kira Curtain Call (download)

Developer:

Genre:

Adventure

Specification:

Without Mosaics, Full Voice

Category:

Price:

$19.95 MG point:99

On Sale:

Apr 30, 2010

OS:

Windows XP, Windows Vista

Text Lang:

English

Reviews:

3.0 out of 5 (

1 reviews

)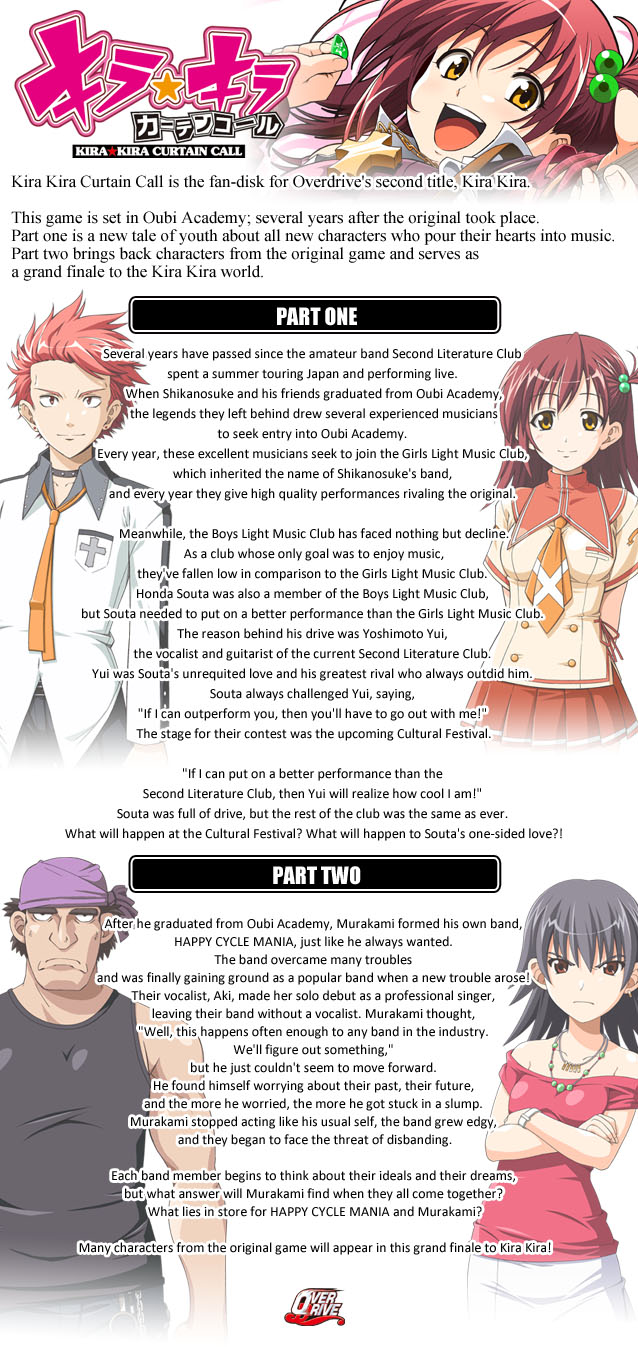 Souta Honda

Guitar & Vocals.
"I'm always living with everything I've got! I'll never hold back in fashion, school, or rock! I refuse to make excuses later!"
Souta is a second-year student of Oubi Academy, and claims to have a "Blazing Rock Soul". He is always passionate, and gives everything his all. However, because he is a little misguided, he dyes his hair, wears punk fashion (leather jackets, offensive cotton shirts, leather accessories with studs and rivets, etc.), and ends up hated by most girls. His grades are average, but because of his extremely unbalanced diet, he lacks stamina and can barely do any exercise that requires endurance. He is aware that he acts strange and does a poor job at communicating with others, so he always feels frustrated. He wants to pour that pent-up frustration into his band and use his songs to express his feelings.

Yui Yoshimoto

Vocals & Guitar.
Yui is a second-year student of Oubi Academy. She is Souta's unrequited love as well as his greatest rival. She is a tomboy and has always been one step above Souta in everything they did. As a result, Souta is always telling her, "When I overcome you, you'll have to go out with me! I'm the one who loves you!" She usually acts obedient and a little slow, but when she gets mad, she becomes just as unreasonable as she used to be, surprising even Yuko. Her weakness is dirty jokes.

Murakami

Guitar & Vocals.
Murakami appeared in the original game as Shikanosuke's best friend. He was always easygoing, positive, and lived without regrets. After graduation, he worked part time to earn his living and started his own band, HAPPY CYCLE MANIA. After many winters, his band finally became popular, but their vocalist, Aki, was scouted for a professional debut and now he worries about their future. He still remains easygoing and positive.

Akira Yashiro

Guitar.
Akira Yashiro appeared in the original game as the vocalist for the visual-kei band, Panic, in Nagoya. When he came to Tokyo, he quickly hit it off with Murakami and joined HAPPY CYCLE MANIA. He has abandoned his talent as a vocalist and decided to devote himself to the guitar. He has an odd commitment to making music.

Jutaro Oomura

Drums.
Jutaro is a martial arts expert who plays the drums for HAPPY CYCLE MANIA. Because his home was a karate dojo, he was trained in the martial arts from a young age. He even has black-belts in Judo and other styles, but for some reason he chose to play the drums. He holds Murakami in high respect.

Okaji

Keyboard.
Okaji plays the keyboard for HAPPY CYCLE MANIA. He is a strange person who only has interest in machines, but his skill is irrefutable.

Miru Furukawa

Bass.
Miru is the female bassist of HAPPY CYCLE MANIA. Since she tends to fall asleep whenever and wherever the chance presents itself, her nickname is Sleeping Beauty. As a result, she always has bed head and seems a bit out of it. She was close friends with Aki.

Aki

Vocals.
After watching Kirari perform during the Second Literature Club's tour in Osaka, Aki came to admire Kirari and decided to begin her own musical career as a vocalist. She originally joined HAPPY CYCLE MANIA, but now she's making her professional debut as a solo artist.
| | |
| --- | --- |
| Required CPU: | Pentium III 800MHz |
| Recommended CPU: | Pentium 4 1.4GHz |
| Required Memory: | 256MB |
| Recommended Memory: | 384MB |
| Required Resolution: | 800x600 |
| Required Colors: | 16bit colors |
| Recommended Colors: | 24bit colors |
| Required Graphics: | 4MB VRAM |
| Recommended Graphics: | 32MB VRAM |
| Required HDD Free Space: | 1GB |
| DirectX: | DirectX 8.1, Direct3D |



Needed more.

Squibeel

So short I can't really call this a fandisk but it's readable just a shame they didn't develop it more and kept it just at one route.

All in all, just something for collectionists I guess.