Imouto Paradise 3 (Hardcopy)

Developer:

Genre:

Adventure

Specification:

Without Mosaics, Female Full Voice

Category:

Price:

$44.95 MG point:224

On Sale:

Aug 6, 2021

Status:

In Stock

OS:

Windows 7, Windows 8, Windows 10

Reviews:

5.0 out of 5 (

1 reviews

)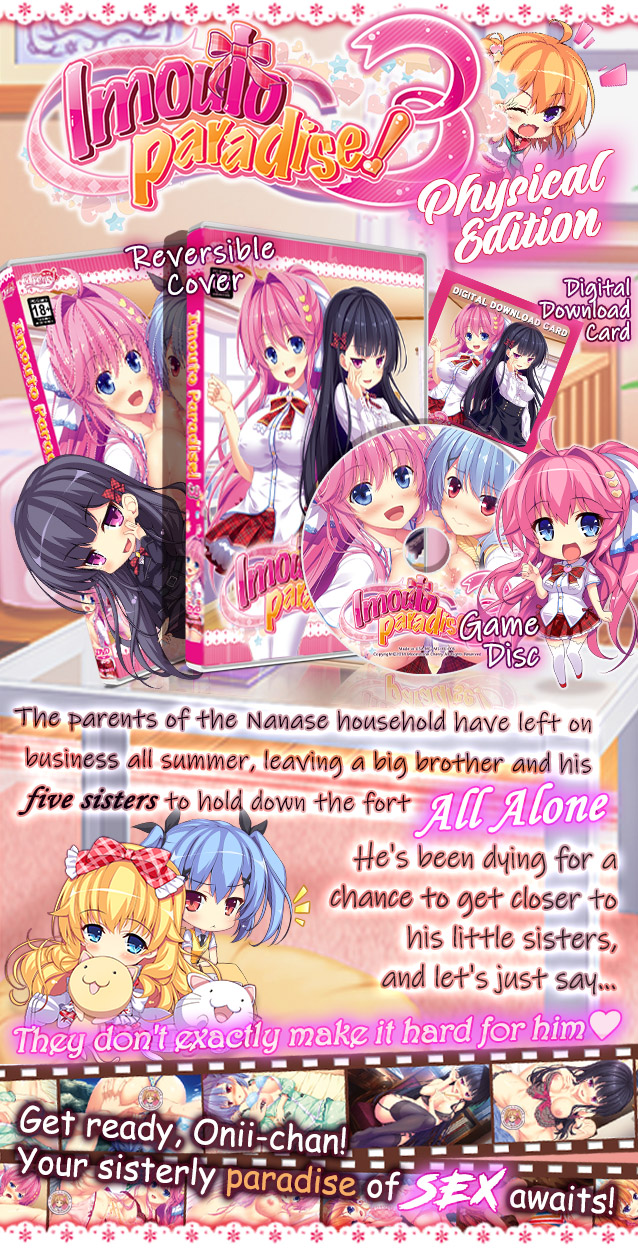 Sakura Nanase

The eldest daughter of the Nanase family. She always steps up to the plate, and does it with a smile. Cooking and cleaning are a given, however her true purpose is fulfilling her brother's wishes. Always forgiving, her easygoing nature is her weak point.

"Morning, Onii-chan. Breakfast is just about ready♥"

Rika Nanase

The second eldest Nanase daughter. Top grades and in the class council, she's a force to be reckoned with. As such, she's always on her older brother's case for being lazy. She's naturally strict with everyone, but we all know that deep down she loves her brother.

"Grrr, Nii-san! Stop with all that pervy stuff!!"

Hiharu Nanase

The second youngest of the Nanase family. She's spunky, and charges into anything with a grin. Although active in her tennis club, her only real hobbies are lounging around with games and comics. She's kind of a tomboy, but her cute side comes out when treated like a girl.

"Onii, let's play around♪ Or would you rather fool around?"

Hinata Nanase

The youngest of the Nanase household. Everyone adores her for her naive, clumsy charm, but she is wholly dedicated to everything she does. She tries her best to act grown-up, but only rarely succeeds.

"I'm very adult, okay, Onii-san?"

Zakuro Nanase

The middle-born of the Nanase sisters. A cool, sleek beauty on the outside, but has a devious and mysterious mind. With a unique swagger, she always walks to the beat of her own drum.

Still a student, she also earns money as a professional author (of erotic novels, that is).

"You belong entirely to me, Nii-sama... hmmhmm♥"
| | |
| --- | --- |
| Required CPU: | Core2Duo |
| Required Memory: | 512MB RAM |
| Required Resolution: | 1280 x 720 |
| Sounds: | PCM |
| Required Graphics: | 32MB VRAM |
| Required HDD Free Space: | 3.5GB |
| DirectX: | 9.0c |





Not My Sisters

Opeb

Simple but effective premise.
This is a nukige through and through, your day starts, you pick a sister's H-scene, you enjoy.
The art is great, the girls are all cute. The voices are great too, Zakuro's was my favorite.
Admittedly I'm easily entertained but I think it's worth checking out if you like siscon stuff.