Harukoi Otome ~Greetings from the Maidens' Garden~ (download)

Developer:

Genre:

Adventure

Specification:

Without Mosaics, Female Full Voice

Category:

Price:

$49.95 MG point:249

On Sale:

Aug 9, 2013

OS:

Windows 2000, Windows XP, Windows Vista, Windows 7, Windows 8

Text Lang:

English

Reviews:

3.8 out of 5 (

10 reviews

)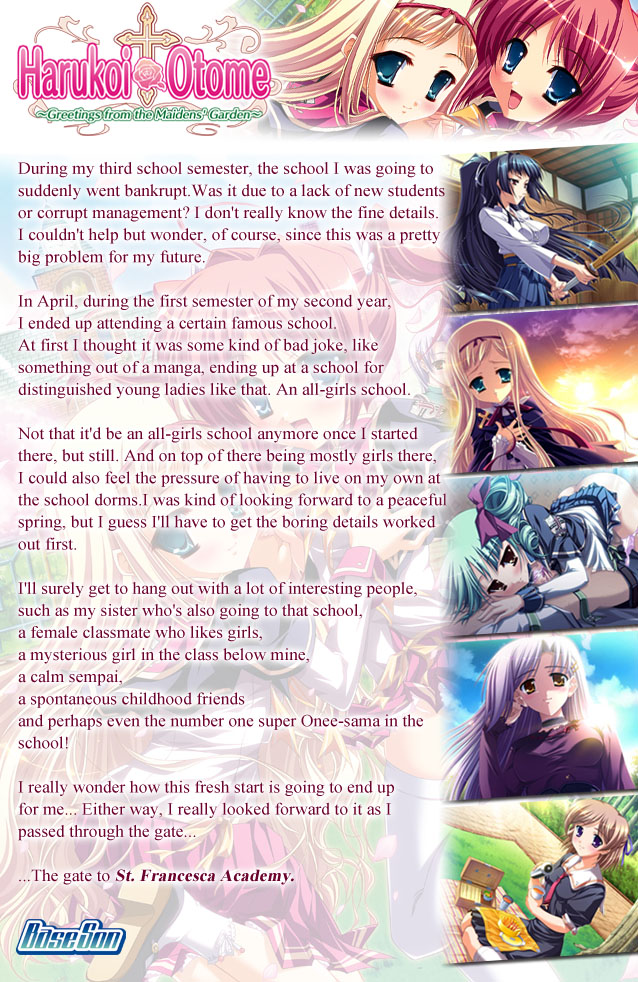 Hayasaka Umi

- The Fussy Younger Sister

Just like her older brother, she'll be attending the St. Francesca academy starting this spring.
Unlike her brother, she's very serious when it comes to studies and lifestyle choices, but the two of them still get along great when going shopping and stuff like that.
Used to be sensitive and obedient when she was younger, but is starting to get more complex now that she's older. She's quite girlish, but she also has a strange love for B-grade horror flicks.

Fuyurugi Kisaya

- The Academy's #1 Lady

Going unnoticed by no one at St. Francesca Academy, Fuyurugi is the sempai everyone looks up to. She uses an archaic style of speech, and carries herself in a cool and gracious way.
Due to her strict personality, she can sometimes be too serious about things, but she sometimes has trouble handling her finances.The head of the kendo club, she's pretty much at a genius level when it comes to kendo and hasn't lost a single match for several years.

Serizawa Yuika

- The Carefree Childhood Friend

Childhood friend of Akihito and Umi, she also went to the same junior high and high school as they did.
A spontaneous and easy-going girl, cheerful all year round and liked by everyone. Not very good at sports, but excellent at studying. From a rather rich family, but still likes to challenge herself and find new types of cooking to experiment with.
She was Akihito's first love, but his confession ended in disaster, and they ended up just staying friends instead. When Akihito meets her again, she's just the same as back then, and he still has no idea if she knows how he felt for her.

Kiryuu Sonya

- The Mysterious Church Sister

With skin so pale as to be pure white, bright blond hair, and blue eyes, Sonya is a girl with a mysterious atmosphere about her. She is docile, serious, kind and polite in both manners and speech. One could say she's a bit like an angel. She doesn't talk much about herself, however, and may seem a bit introverted. In particular, she avoids talking about her upbringing. She's good at listening to other people, though, and never complains about it. Not one to usually look anyone in the eye, possibly because she never really got into any kind of group of people. Perhaps that is why she hasn't had many friends up until now. She is also a nun in training, and thus spends a lot of time cleaning at the local church.

Orito Riru

- The Always Cheerful Classmate

She sits next to Akihito in class, and their relationship starts out as that of two friends who both think highly of themselves. She's got a bright personality and she's very energetic, plus she's a member of the swimming club. There are times when she's kind and times when she's cold, making her a rather moody person. Riru loves cute girls, and she often gets into arguments with Akihito when she talks about it. There are even times when she says mean things to Akihito or makes fun of him on purpose. She's from a hardworking family, and she does her best every day to improve her cooking and candy making skills.

Kusuhara Ayaka

- The Generous Onee-sama

A calm and gentle third-year student. She's a family-oriented girl who loves reading and cooking. She meets Akihito when he finds an abandoned puppy. Ayaka often reads books in the courtyard, and smiles when Akihito comes to talk to her. She's supposedly a member of the art club, but she usually doesn't attend the club's activities.
Akihito is charmed by her kindness when she brings him a homemade bento.
However, even Akihito gets perplexed when she gets overly sensitive about family matters and paintings.
| | |
| --- | --- |
| Required CPU: | PentiumII 400MHz |
| Recommended CPU: | PentiumII 500MHz |
| Required Memory: | 96MB |
| Recommended Memory: | 128MB |
| Required Resolution: | 800*600 |
| Required Colors: | 16bit colors |
| Recommended Colors: | 32bit colors |
| Sounds: | DirectSound |
| Required Graphics: | 2MB VRAM |
| Recommended Graphics: | 4MB VRAM |
| Required HDD Free Space: | 3.0GB |
| DirectX: | DirectX8.0 |



A Slice of Boredom

BaSF

I downloaded this title 4 times before finally forcing myself to complete it. The game do have some minor moments where it almost feels entertaining, but all in all this is a long winded and somewhat boring game wich ultimately fails to make itself interesting with its trite characters and uninspired drama revolving around non-issues.

If you are a huge slice-of-life and/or school-comedy fan you may find this less horrid than I did, and you should consider picking this up at a sale (It is just not worth $50) everybody else should look at one of Mangagamers many superior offerings.





Amazing

NefariousEvil

This game was and is amazing. The romance, drama, character development, and sex scenes are all good. My favorite route was Riru's. The drama in her route was not forced, it was instead natural. After completing the game I found myself sad there was not a fandisk because some of the routes needed a continuation because of how awesome they are. Riru for example, her route is to me really romantic when she gets in a relationship with the protag. The dialogue with her is great as well as her H scenes. I wanted her to get a continuation to her route the most because they were going to get married after they finish school and become independent but sadly the epilogue did not have them get married but only because they were still in school. Her ending was good too as well as the other heroines as well but not all may please you but in my case Riru's route is the best and just unbelievably romantic and awesome especially since she had no interest in males until she got to know the protag. It did take her time to realize that she loves him and when she does find out her true feelings she is in denial, refusing to believe her true feelings, tries to falsify it, and chooses to ignore it for some time. In the end she stops doing all of that, stops being a tsundere avoiding her true feelings, and confesses her true feelings and love for the protag. This vn will give you a mix range of emotions but it is well worth it. Buy this if you are looking for a vn with a good story and romance.



Mixed Bag

DarkFusion

Harukoi Otome is probably one of the best examples of the term "mixed bag" that I have encountered in a while. Of the six routes we have two good ones, a flawed strange one that's still worth a look, two routes that are second rate at best due to weak story elements and a one that is absolutely awful. There's enough good that I can't completely write this game off as terrible, but at the same time the bad stuff is such I can't give this much of a recommendation, especially at the current price of about fifty dollars. I advise waiting for a sale or price drop

For my full review, follow this link:

http://gamesforadultsandeveryone.blogspot.com/2015/07/normal-0-false-false-false-en-us-ja-x.html

Lazy Writing

Lolrider

I'm going to be frank, I don't think I played the same game as everyone else here. Maybe I'm spoiled for choice, but I found Harukoi Otome to be frustratingly mediocre when it wasn't being infuriatingly awful.

The game relies on cliches and uninspired, pre-packaged plot points, to the point where you basically know what is going to happen with each character before it actually happens. The few actual twists that actually managed to surprise me were ones that had no foreshadowing at all.

But even more than that, the writing is just... Honestly, I can't really find a way to describe it that will do it justice. It feels absent minded, or like a rough draft, and I don't mean in terms of editing and proofreading. It reads like a research paper before someone went back to add in sources and justification.

There were multiple times in the game where it seemed that the author just got bored of what they were writing and gave up halfway, or otherwise didn't know how to finish what they started. Harukoi Otome is the type of story that gives you the barest exposition possible, and then expects you to understand what it's trying to say, and fill in the blanks, on your own.

And, sure, I did know what it was trying to say. In fact, there was never an instance where I was confused about what direction the story was 'supposed' to be going. Problem is, there were multiple times where what the story was 'trying to say' and what the story was actually saying were completely out of sync.

Characters that I was supposed to like I simply found aggravating (I'm specifically calling out Oikawa here), emotional climaxes that were supposed to be compelling were instead contrived and tiresome, the plot itself was by the books and ham-fisted, victim blaming, accepting apologies that were never given in the first place, major conflicts that were actually a non-issue, people just being mindlessly stupid for no reason, etc. etc. etc.

Also, none of the best girls had routes so what even is the point?

Harukoi Otome is one of the only VNs to make me legitimately angry, and probably the only VN to do so on accident. It has promise, and it has some good points, but that is simply drowned out by all the missteps and dropped potential. Which is a shame, because I actually liked a lot of the heroines.





Beautiful

Obake

Gorgeous art and well-written despite some of the stereotypical characters and plotlines. I even enjoyed Yuika's route, even though I didn't like her as a character. The music was pretty boring, though not offensively bad.

This is the first game of its type I've enjoyed more than Kanon or Clannad.





Wonderful Game

kingofthegods117

I have always loved Baseson VNs. This game is just one in a list of many that I have fallen in love with. The Art, Story, Characters, and Audio is simply amazing. I found myself experiencing many emotions, from happiness to frustration. This game brought out a wide range of emotions, and I found myself dragged into a wild ride that was Harukoi Otome.





Nice

Dreco

If you like and play games like shuffle or kanon you will love this game to good story simple game no need for walkthrough great story lovely characters so go and play it


A long-drawn-out story

Eukanaria

First of all, I haven't finished the VN yet. So far I have played the Umi and Ruri routes and the story itself wasn't horrible, but the pacing was. Umi's story basically was melodrama about a non-issue and Ruri's route was pretty enjoyable, BUT playing/reading them was a real chore. The (style of) writing was tedious and drawn-out, you could've written the same plot with 50% less text easily. And that's the point the game really fails on, so much text the story loses its power.

Other than that... The characters stereotypes, the incredible dull music (some scenes had good music though), bad art during the sex scenes (why bother drawing something properly if it gets censored anyway). But that are minor complaints compared to the writing.

If the routes were 50% shorter, you could've had the same story with a decent/strong pacing which kept it interesting. So I can't recommend this VN if you want a good story. It isn't horrible, but it's far from a fun read.





great game

mav9882

i love this game and play it many times. A good assortment of girls from upperclassmen to juniors. It seams to hit almost all the different types of girls. the CG's are well drawn and i fine my-self looking through them constantly.Some part are emotional and some are just to clich, but it is a fun game.




Beautifully written

Oakator

I'm not one to cry while watching a movie or reading a book, but the first route I played brought me to tears. The characters are really fleshed out (albeit a little stereotypical; but that's not always a bad thing) and you find yourself connecting with them much more than you thought you would.

A major downside is the low amount of sex scenes (something I was hoping to get more of, considering how great Koihime Musou was.)

Overall, it's still a great eroge.
...More