Sexy Demon Transformation! (download)

Developer:

Genre:

Adventure

Specification:

Without Mosaics, Female Full Voice

Category:

Price:

$24.95$12.47 MG point:62

On Sale:

Sep 14, 2012

OS:

Windows 2000, Windows XP, Windows Vista, Windows 7, OS X, Linux

Text Lang:

English

Reviews:

2.7 out of 5 (

4 reviews

)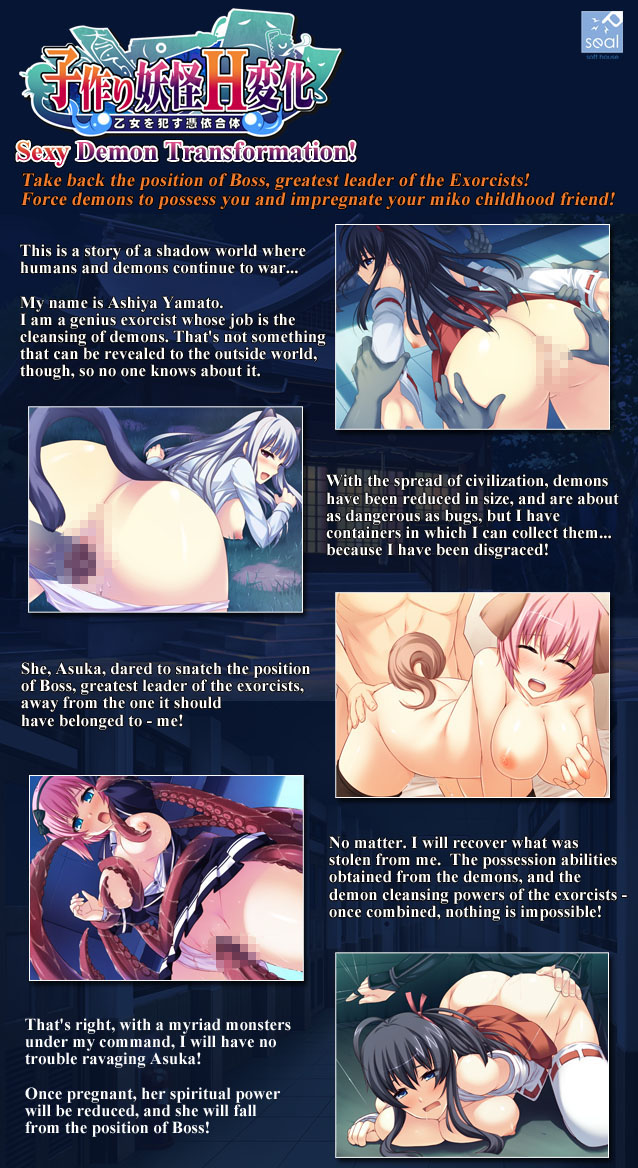 Abe Asuka

Childhood friend of the main character, born from a long line of exorcists.
She has been an exorcist along with the main character from a very young age.
As an exorcist she is not as powerful as the main character, but an unexpected development gave her the position of Boss, and unknown to her, earned her the hatred of the main character.
She has an honest, but simplistic personality, and she is one of the few characters that thinks of Yamato as a cool person.

She is inferior to Yamato in many points as an exorcist,
but in regular life she spares no effort to take care of him.

Usui Yukihi

A half-breed born from a Yuki-onna and a human.
Since she has human blood in her veins, she has not been miniaturized unlike other demons.
She attends school and hides her demon identity so that exorcists do not become aware of her.

She is an arrogant character that lives for her own whims, and toying with people is her reason to live.
A beautiful girl with a bewitching aura on her at all times, she has captured the heart of the boys in the school with her seductive smile.
Because of this, many boys have tried to ask her out, but Yukihi has no interest in them:
with words that pierce their hearts with deadly accuracy, they all have fallen.

Kuzuki Airi

A student that attends the same school as the main character and his friends, and his junior by one year.
A paparazzi belonging to the Newspaper Club.
A very curious girl, she is always on the look for interesting things - or rather, article material,
and she does not think twice of committing less-than-legal acts like sneaking into the school at night for a scoop.
She is known in school for prowling in many places in search of a story.

A bright, high spirited girl, she gets along with people without regard for their age,
and so she is popular with almost everyone.

She has been friends with Kusakabe Shiori since they were children, and drags her along everywhere.

Kusakabe Shiori

A student that attends the same school as the main character and his friends, and his junior by one year.
She is a shy, bashful girl, of the type that makes one want to protect her with bravery and courage.
She relies on those people she is used to, but she is so anxious about strangers she can barely talk with people she does not know well.
She has trouble saying what she means, but she has a good grip on her thoughts and ponders things thoroughly.
She loves books and is a fountain of knowledge, having read everything from light novels to the Kojien itself.

She looks young, but her breasts are large, and still manages to attract the gaze of men.
Because of this, she loves to imagine she is something like a princess from a fairy tale, who has a hard time dealing with men.

She has been close friends with Airi since they were young, so she can speak with her in a friendly tone.
She usually ends up entangled in Airi's reckless schemes.
| | |
| --- | --- |
| Required CPU: | Intel Celeron/Pentium4 1.2GHz or more |
| Required Memory: | 256MB (512MB or more for Vista) |
| Recommended Memory: | 512MB or more (1GB or more for Vista) |
| Required Resolution: | 800x600 |
| Recommended Resolution: | 1024x768 or greater |
| Required Colors: | 32bit colors |
| Sounds: | DirectSound-compatible sound environment |
| Required Graphics: | 32MB VRAM |
| Required HDD Free Space: | 700MB or more |
| DirectX: | DirectX 8.0a or better |




Amazingly creative

tfcharge

There is a segment in the game where you get to take your mind over into a girl's body, as well as sex with girls as an octopus (you can probably imagine what trope is involved) & as an umbrella (no joke). Tell me this isn't creative!

Only complain is that the other 2/3 route of this game is rather bland in comparison; as well as dialogues being a bit confusing at times.

Meh

meece

1) They don't tell you anywhere, but this game requires you to download and install a random program before it'll run. I assume this is the developers own drm, which they expect you as a valid customer to install. Because apparently a customer clearly cannot be trusted to not be running pirate versions of their games, or something. Not impressed either way and I certainly won't be buying anything from them ever again.

2) The game itself is very short, very short of content and not worth the price. As a game it's...not a game, not really. As a story it has some nice ideas, then doesn't do anything with them.

Overall: Meh, not worth money and certainly not at this price.



Surprisingly creative

ChaosRaven

Since I bashed another SHS title (Greatest Inventions) I think it's just fair that I give another SHS title I actually liked an upvote.
First, the description of the title is very misleading, the 'serious conflict' between the protagonist and Asuka is actually more a lovers quarrel which comes from a simple misunderstanding.
Second, I really dislike titles with tentacles and rape. Therefore, me recommending this titles is saying something. It's a very lighthearted title with likable characters and 3 stars is pretty much the maximum I can give for a SHS title since they are rather pricy for the content.
While the stories of most other SHS titles are just silly, SDT has a surprisingly creative though still light hearted plot. The protagonist is actually a good guy who tries to protect his innocent demon friends from the 'fanatical' branch of exorcists. And the way to do that is getting Asuka pregnant so she has to resign as leader so that the protagonist can step in. Well, I suppose it makes sense in a Nukige. :-)
Anyway, with the exception of Airi, you can go for each girl and even get a harem ending with Asuka and Yukihi. There's also a believable development of the relationships with the girls and the protagonist.



An amusing little comedy

DarkFusion

Sexy Demon Transformation was a game I had pretty low expectations for, but it surprised me with its surprisingly likable and funny cast of characters, its good artwork and voice acting, and how well it managed to tell a short and funny story. Don't be fooled by the stoy summary, as this game is actually a clever parody of a rape eroge rather than an actual one.

My full review can be viewed here:
http://gamesforadultsandeveryone.blogspot.com/2012/10/games-for-adults-halloween-sexy-demon.html
...More