SSSS: Super Secret Sexy Spy (download)

Developer:

Genre:

Adventure

Specification:

Without Mosaics, Female Full Voice

Category:

Price:

$24.95 MG point:124

On Sale:

Apr 1, 2013

OS:

Windows 2000, Windows XP, Windows Vista, Windows 7, OS X, Linux

Text Lang:

English

Reviews:

3.1 out of 5 (

6 reviews

)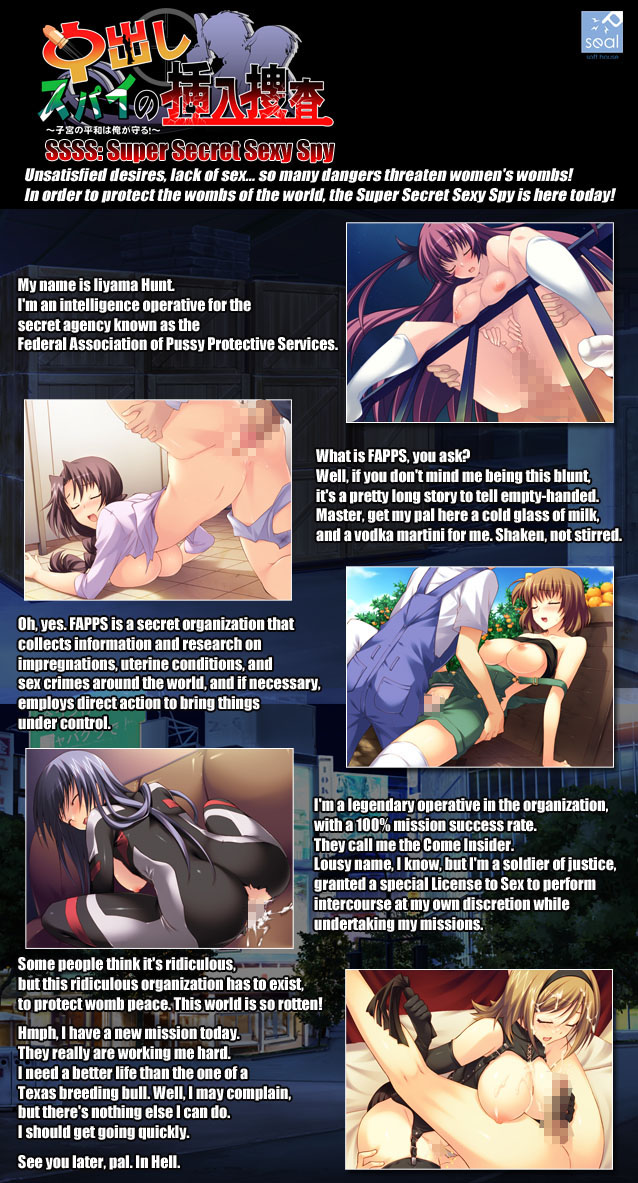 Nanao Nana

A member of a resistance organization called the "Committee for Uterine Maintenance and Doctrine in Unvarying Mammary Protection", which considers FAPPS to be an enemy to women.

She meets the main character during an investigation and attempts to obstruct him, but being a total newbie within the group, she is inexperienced and easily manipulated.

She has no knowledge of or experience with sex because of her stubborn personality. She does not get along with the main character, who is a shagging specialist.

She has a strong sense of justice and had initially decided to become a police officer, but once she learned of this secret government organization, she realized she could not keep watch over an agency hidden by the government as a regular police officer, so she decided to join the resistance.

She's also a very sore loser that will always try to get revenge, no matter how many times the tables are turned on her.

Iiyama Maimi

The main character's sister.

She and the main character have lived alone since they were children, having before coming of age and lacking any other relatives.

Since the main character returns home late due to his job, she took over domestic duties from a young age. Maimi is a fundamentally level-headed person, and thus fusses a lot over the undisciplined Hunt. She's also particularly annoying whenever he expresses interest in other women, due to her strong desire to have him to herself.

As far as Maimi knows, brother has a job as a salaryman, but after secretly digging around due to the vagueness of his work, she realized his occupation was anything but ordinary. However, since he's working hard for her sake, she hasn't brought it up despite her concerns.

Kusakabe Saki

Heiress to a respectable family, sister to Kusakabe Ruri.

Raised from a young age in the bosom of a rich family, Saki has learned hard lessons in etiquette and other subjects to survive within high society.

She feels the expectations of her parents weighing heavily upon her, and also owes a debt to her abandoned sister, Ruri, so she accepts these lessons without complaint.

However, because of that upbringing, she has taken to sadomasochism to relieve her stress. At this moment, she has no partner and so surrounds herself with adult toys.

She is generally a good person, so she uses a different attitude when in public than when she is alone and able to relax.

Kominase Aki

A beautiful lady, and the main character's target. After marrying, her husband was transferred overseas, and she has lived alone ever since.

Her husband shows no signs of coming back and she has had no sexual relations in many years, so she spends her days obsessed with masturbation.

She is somewhat thick-headed, but fundamentally a steady person.

Lestie Heim Skringla

A woman working for the same organization as the main character.

Trained in close combat since an early age, she can do everything from smuggling to infiltration. However, she only worked alone before being partnered with Hunt, so she is somewhat shy.

Lestie doesn't talk much so she is hard to understand at first meeting, but the main character, who knows her well, cares a lot about her and believes her to be a diligent, good-natured person.

She dislikes thinking about things and often reacts instinctively, performing impressive feats with surprising ease.

She has worked many times along with the main character, and envies his ease with words. Since she has worked with him for so long, she can make frivolous small talk with him. During her free time, she entertains herself alone with the video games and books she couldn't have as a child, trying to recover lost time.

| | |
| --- | --- |
| Required CPU: | Intel Celeron/Pentium 4 1.2+GHz or better |
| Required Memory: | 256MB or more (512MB or more for Vista) |
| Recommended Memory: | 512 MB (1GB or more for Vista) |
| Required Resolution: | 800x600 |
| Recommended Resolution: | 1024x768+ |
| Required Colors: | 32bit colors |
| Sounds: | DirectSound-compatible sound environment |
| Required Graphics: | VRAM 32MB |
| Required HDD Free Space: | 700MB |
| DirectX: | DirectX 8.0a or better |
| OpenGL: | Not required |



Average

Valas

In my opinion it has a weak story, average to good adult scenes and i don't like my own charakter.


Weak

pyrpoi

There are plenty of good Nukige here, this is not one. There are plenty of good comedies here, this is not one either. I'm honestly okay with a little rape in my games, it's not the best, but in hentai it's everywhere. This game is all about it, and with weak writing. Some of the art is alright, but there are better titles to spend your money on.


Crap

DarkFusion

Super Secret Sexy Spy is a comedy eroge that fails at parodying the spy genre, let alone telling jokes. There's plenty of other comedy eroge in MG's library and I reccomend skipping over this one for any of those.

Read my full review here:

http://gamesforadultsandeveryone.blogspot.com/2013/06/games-for-adults-super-secret-sexy-spy.html



Solid Nukige

Eukanaria

Despite only giving it 3 stars I definitely had fun with the game. The game starts a bit rough like every softhouse-seal game with some minor/comedy-rape, however further in the heroine routes the story and the plot turns out to be quite decent and funny. The art is overall decent, and the sounds reasonable as well aside sometimes reused from other softhouse-seal titles.

The sex scenes were nice with 3 animated scenes, and if you love talk about pregnancy from the girls during sex, this is definitely a game you should like.




Quick Game

xRyuuji

I loved the characters and the animation that came with some scenes but I finished this game in about 4 hours. I was debating on getting this game and Boob Wars..I should of gone with Boob Wars. ;x Still though, like it was mentioned it was a funny game and I enjoyed it.





Funny

Ryuushima

This looks to be a funny game, I'm normally not into Nukige titles but I'm pretty sure that I'll try this one out. :D
...More