Otoboku: Maidens Are Falling For Me (download)

Developer:

Genre:

Adventure

Specification:

Without Mosaics, Full Voice

Category:

Price:

$44.95 MG point:224

On Sale:

Nov 23, 2012

OS:

Windows XP, Windows Vista, Windows 7

Text Lang:

English

Reviews:

4.9 out of 5 (

14 reviews

)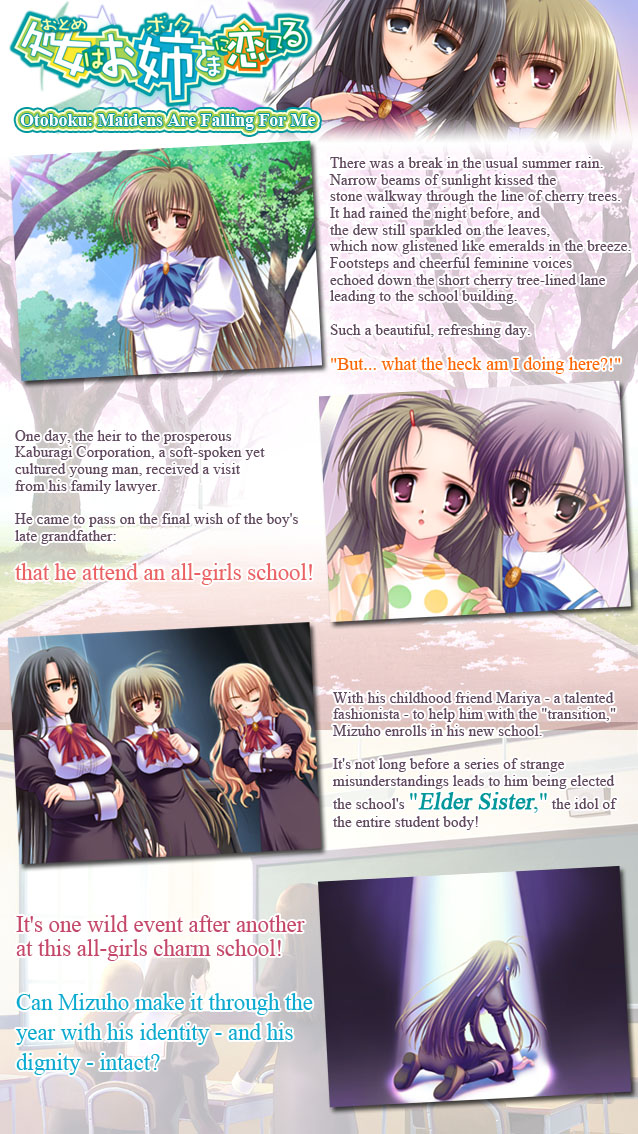 Miyanokouji Mizuho

The protagonist of our story, Mizuho has very feminine features and a soft-spoken, weak-willed demeanor. Born into old money, he is well-educated in manners and the traditional arts, including self-defense. His beauty and refinement lead to his quickly becoming elected the school's "Onee-sama"... an honor which, as a man, he is not terribly happy to receive.

Juujou Shion

Shion is a refined young woman from an aristocratic household, and one of Mizuho's classmates. She seems to hold no pretensions about her family background, and while she can seem detached and mysterious at times, she can also be shockingly forward, with a bit of a mean streak. Her unflappable demeanor makes her a great help to Mizuho in times of great stress.

Mikado Mariya

Mizuho's friend since childhood, Mariya has never missed a chance to dress Mizuho as a girl. When she learns about his grandfather's will, she is the driving force behind the plan to get him successfully integrated at Seio. Stubborn, silly, and capricious, Mariya's main calling is the track team... when she's not dragging Mizuho into one zany scheme after another. While her actions may seem impulsive and random, she actually knows Mizuho very well, and truly has his best interests at heart.

Suouin Kana

Kana is a petite, introverted underclassman who lives in Mizuho's dorm. She loves books, theater, and movies, and joins the drama club despite suffering from severe stage fright. She has developed an extremely ingratiating personality due to insecurity about being wanted by others. When Mizuho moves into the dorm, Kana is happy to wait on "her," thinking of Mizuho as her "big sister." She has a curious speech pattern and always wears an oversized ribbon in her hair.

Kamioka Yukari

The cheerful, optimistic Yukari is Mariya's junior in the track club, and lives in the dorm as an underclassman. She comes from a middle-class family out in the country, and while she admires the elegance of the students at Seio, she also feels a sense of alienation. Even so, she shows traces, deep down, for great potential in many of the feminine arts.

Itsukushima Takako

An upper-crust society girl, Takako serves as student council president. She ends up playing antagonist to Mizuho after behind overshadowed by the latter's arrival. Certain circumstances within her family have given her a hatred of men, and this may subconsciously lead to some of her resentment towards him. She also has a bit of a persecution complex, which occasionally slides into self-loathing. She and Mariya have shared a bitter, complicated rivalry since they were young children.

Takashima Ichiko

Ichiko is a cute girl with an energetic personality that sometimes descends into mania. Overly imaginative and impulsive, she often finds herself off in her own little world, babbling about things of little relevance to the situation at hand. Beneath all this, however, she is a true romantic, with great empathy for others, and her overreactions on others' behalf are merely part of her charm. She comes to stay in Mizuho's dorm by a curious set of circumstances...

Kajiura Hisako

Hisako is a teacher of classic literature who is entrusted with looking after Mizuho during his time at Seio. Cheerful to the point of air-headedness, she sometimes has trouble properly filtering the things she says. As a teacher, though, she's able to take a more objective view of many of the situations Mizuho finds himself in, and acts as a calming force and counselor to him. Behind it all, though, she appears to harbor a troubling past.
| | |
| --- | --- |
| Required CPU: | Pentium 3 500Mhz or better |
| Required Memory: | 128MB or more |
| Recommended Memory: | 256MB or more |
| Required Resolution: | 800x600 |
| Recommended Resolution: | 1024x768 |
| Required Colors: | 16bit colors |
| Recommended Colors: | 32bit colors |
| Sounds: | PCM |
| Required HDD Free Space: | 3GB |
| DirectX: | DirectX 8.0 or later |





Awesome Game

NeoJax

My, been a long time since i played such a good vn, My favorite part of the game is the protagonist, Mizuho; Dude Knows how to handle most of the situations and he's pretty straightforward when it comes to his feelings something that completely lack a lot of the MC's of animes and stuff. I recommend! and i also wish they would translate the other Vn's of these series. I would buy them right away. They're really interesting.





Good game

Sylphon

Very underrated game, an easy classic. Shame the sequel isn't ever getting translated at this point.





Nice romantic comedy

Yati

Fun characters. Great atmosphere. Not to light, not to heavy. It is easy to connect to all the characters.





Great title for yuri fans

Vistani

The MC is a guy but acts, sounds and everything like a girl so thats why I think this should not be overlooked by yuri fans.

I had seen the anime years ago and didn't realize there was a VN until this MG sale. Lots of great things about this one. The story is exciting, you will prolly get feels and its very lengthy. The weakest part of this game is the H-scenes since they are over quickly and feel rushed and under-drawn but this VN still made it into my top 5 list for everything else it does wonderfully.





A story worth your time

reyminos

This game is long. It takes time to set up and you'll enjoy it most of the time and then suddenly you'll get an ero payoff that is worth it each time. If you like slice of life, give it a try! If you like traps, give it a try! If you finish the story you also get some nice side stories featuring other characters in case you got attached to some, so please give this game a try if you can.





Funny and sweet

ghost

Great game overall. Has me coming back several times for the humour and cute characters.





one of my Faves

Spazz00

I can't count how many times I have played thru this VN I have lost count. I highly recommend it to anyone who wants a great story with their "fun" scenes





Fantastic game

Hund

I have not seen the anime, but the game is fantastic. Perfect for brunys. Too few sex-scenes, but those who are there are fantastic.

Sex-secens: 5 Star
Story: 5 Star
Persons you fuck: 4 Star
The game self: 5 Star





Great story

Rakurai_Amatsu

I am not great with writing these but if you have ever watched the anime and loved it like I had then you can't do anything but but this VN.

Like most Anime based of VN's the story either follows one route or will leave you wanting more, the same could be said about the manga as well.

Take my word for it although it tends to act more like yuri borderline futanari then the protagonist being male this is a great story where you can just relax and enjoy the story and its progression.

Only disappointment you will get from this is not being able to play the sequel





allready waiting the sequel

yamato8125

this game as a good story, funny situations, and heartbreaking scenes, so me too, love this game, so now, i'm waiting the sequel: Otome wa Boku ni Koishiteru ~Futari no Elder~





Fun relaxing game

restricted12345

One notable thing I should point out is that most of the time, it really felt like a yuri visual novel. During the sex scenes, it's more like the protagonist is a flat chested futanari than an actual guy. As a yuri fan, this biased me a bit.

Anyways, this visual novel is very slice of life and had plenty of Catholic school antics. There is some drama, but it's not quite the primary appeal of this VN and the bulk of it happens in the specific character routes rather in the common route. All of the characters were entertaining and charming, and almost all of the routes were good in my opinion, except Ichiko's which is simply the route you get if you romance no one.

I recommend that anyone who likes school life VN's to at least try it, especially if you happen to also be a fan of yuri manga. Route order mostly doesn't matter, though Shion's route is probably somewhat better understood if you played Takako's beforehand.





incredible!!

vinc707

i wonder why it dont have the romance tag on the description cause the romance is overflowing in this captivating and hearthwarming VN a must buy if you feel romantic,you wont be deceive




Superb

DarkFusion

Otoboku is a game that provides you with an overall excellent and funny story wth a cast of characters you'll quickly grow attached to. I highly reccmend this game for anyone who can appreciate a story that can show just how good romantic comedies can be.

For my full review follow this link:
http://gamesforadultsandeveryone.blogspot.com/2013/07/games-for-adults-otome-wa-boku-ni.html





fun game must buy

GJbindels

this game I had really fun playing, it had a good story, and had nice looking sex senes, the game had intresting love intrests and was fun to replay aswell, I really hope they will release more of these kind of games
...More