Conquering the Queen (download)

Developer:

Genre:

Adventure

Specification:

Without Mosaics, Female Full Voice

Category:

Price:

$24.95 MG point:124

On Sale:

Oct 28, 2011

OS:

Windows 2000, Windows XP, Windows Vista, Windows 7

Text Lang:

English

Reviews:

4.2 out of 5 (

4 reviews

)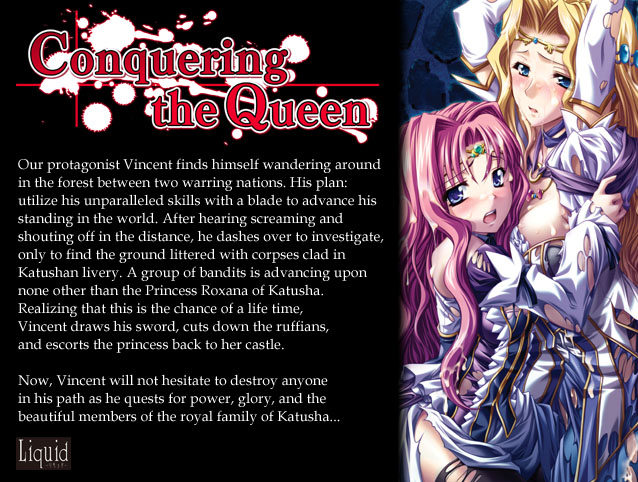 Sarah Katusha

Sarah is the Queen of Katusha.
Ever since the previous King passed away, she has been standing on the sidelines helping her son, the young King Eric, rule the country.
Sarah is a caring, magnanimous Queen with a gentle disposition, which makes her beloved by the common people. She embodies the ideal image of a fair ruler that treats people of all social classes equally.
After her husband's death, Sarah opted to remain single, depriving herself of all pleasures of the flesh.
Due to her voluptuous figure, many of the soldiers and citizens in Katusha secretly lust for her body.

Roxana Katusha

Roxana is the Princess of Katusha Kingdom, and goes by the nickname Sana.
Her pure, innocent behaviour brings a breath of fresh air to the kingdom of Katusha and many of the citizens idolize her.
She was rescued by Vincent Conquer when hired goons from Eclipse attempted to abduct her.
She's had a one-sided crush on him ever since. Due to her naivete, she's oblivious to Vincent's secret desires.
Although she's still young, she's beginning to blossom into an attractive lady.

Emely Gwendolyn

Emely serves the King of Eclipse as his Oracle, though she's the one actually running the country.
She's a sorceress that uses the ambitious King as her puppet.
An expert in the dark arts and summoning magic.
Wears revealing clothing that exposes her sexy body;
anybody who sees her is immediately captivated by her figure.
Bisexual; doesn't discriminate between men or women when it comes down to sex.

Matilda Cashew

Matilda is the Captain of the Guard in Katusha, commanding all levels of national defence within its borders.
She is disciplined, noble, and has an icy personality, but maintains strong senses of justice and loyalty to the Queen and her family.
She's an expert with the spear.
Stationed at a fortress that sits on the border between Katusha and Eclipse.
Because of her chaste personality, no man has made advances towards her, and she remains a virgin.
Her lithe, well-toned body is secretly admired among the knights.

Remmy Fennel

A swordswoman hired by Katusha.
A very independent and strong-minded tomboy.
Though she's not as skilled as Vincent, Remmy is a very capable swordfighter in her own right.
Possesses a very laid-back personality, and considers herself just one of the guys.
Surrendered herself to Vincent and became his first sexual conquest.
Her firm body turns into a sex machine when you pleasure her the right way.

Alfia Flux

Alfia is one of many military commanders serving Eclipse.
An excellent strategist, she's extremely knowledgeable and intelligent.
Her nickname is 'Fia.
Typically takes charge of Eclipse's supply lines and rarely appears on the front lines of battle.
A reserved, cautious person, Alfia likes to maintain a low profile.
Her tall, slender body and exotic looks turn heads all across the nation of Eclipse.

Rachel Clove

Rachel is an expert in the dark arts; she belongs to Eclipse's assassination squad.
She possesses strong magical powers, but her clumsiness often causes her to screw up.
She managed to sneak into Katusha Castle to murder the King, but her idiocy coupled with Vincent's intervention caused her plans to go hopelessly awry.
Her mental and physical ages seem to be the inverse of what they actually are.
She's flat as a board and hopelessly unattractive, but some men in Eclipse still adore her figure.
| | |
| --- | --- |
| Required CPU: | Pentium233MHz |
| Recommended CPU: | PentiumII400MHz |
| Required Memory: | 32MB |
| Recommended Memory: | 64MB |
| Required Resolution: | 640*480 |
| Required Colors: | 16bit colors |
| Recommended Colors: | 32bit colors |
| Sounds: | DirectSound |
| Required Graphics: | 2MB VRAM |
| Recommended Graphics: | 4MB VRAM |
| Required HDD Free Space: | 500MB |
| DirectX: | DirectX8.0 |





One of my favorites!

pyrpoi

This game is great.
Really good variety in branching of the narrative.
Great pacing. Longer than expected.
The art is solid all the way through.
This game knocks it out of the park.




awesome

AnimeMasterOkarin

So this game is how the feminist movement was made, but seriously if you like rape or humiliation scenes this games got you covered, so dont come here for a slice of life kind of game because you wont find it. Other than finding out how sick in the head you are this games quite enjoyable.




Pretty good

darkenai00

for the most part good (especially if you like rape/humiliation), but far too many gang bang scenes, and for the most part they aren't all that great of gang bang scenes (mostly mindless guys' screwing unwilling woman). if there were far fewer of those scenes and more of (you) the protagonist i would have enjoyed it far more




Good quality

Zemann2010

While the storyline for this game is not complicated (as the main character constantly tells you what his plans are) and moderately short, there are many, many ecchi scenes to enjoy.

These scenes are, however, mainly rape/humiliation. If you are looking for a VN where characters fall in love, this really isn't the one for you. Though the title "Conquering" may have tipped you off.

The artwork is very good, and the twist near the end is quite amusing.
...More