"Kira Kira" & "Kira Kira Curtain Call" Bundle Pack (download)

Developer:

Genre:

Adventure

Specification:

Without Mosaics, Full Voice

Category:

Price:

$39.95 MG point:199

On Sale:

Apr 30, 2010

OS:

Windows XP, Windows Vista

Text Lang:

English

Reviews:

3.0 out of 5 (

1 reviews

)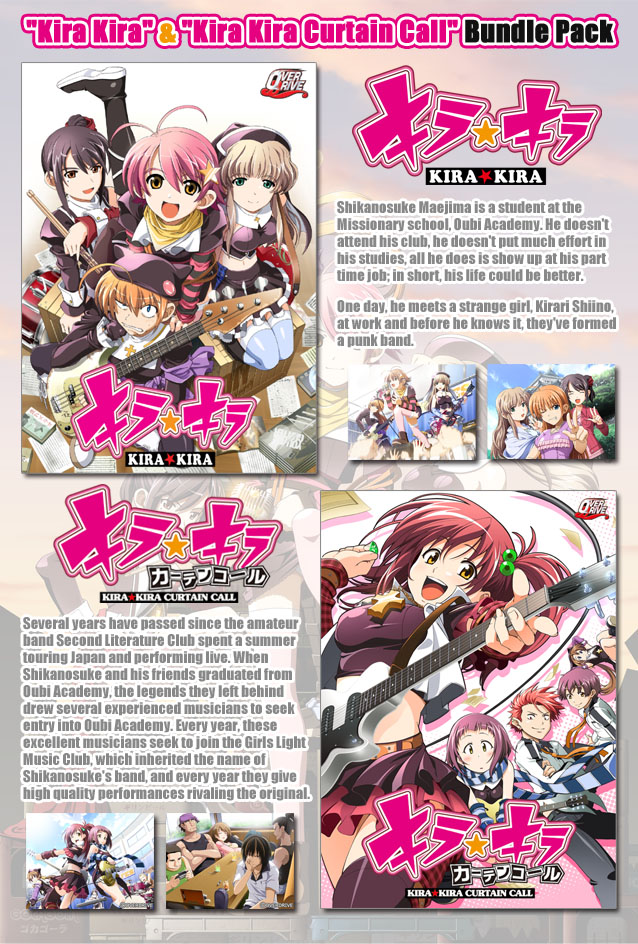 Kirari Shiino

Kirari is the vocalist of the band.

She meets Shikanosuke when she begins working at the restaurant where he works. Her family is very poor, so she works mornings and evenings to make ends meet. However, her cheerful, spontaneous attitude normally masks this hardship. Her disheveled hair and her bright smile are her trademark features.

Sarina Kashiwara

Sarina is the guitarist.

She comes from a wealthy family who funds the academy. Because of her weak constitution and her grandfather's strict upbringing, she has very few friends. As a refined young lady, her behavior is graceful and she possesses a calm demeanor, but her will is strong. She is very good friends with Kirari and considers her irreplaceable.

Chie Isurugi

Chie is Shikanosuke's childhood friend. She plays the drums.

She is a year older than Shikanosuke, but for family reasons she had to repeat a grade. She is also the president of the Second Literature Club, which Shikanosuke and Sarina are part of. Possibly because of what she has went through, Chie is mature, thoughtful, and acts as the voice of reason for the band. However, she also keeps a tight leash on herself, disguising her laid-back and timid nature.


Shikanosuke Maejima

Shikanosuke plays the bass.

Although he had no interest whatsoever in the band, he got caught up in the string of events and wound up a member. He used to be a member of the Tennis club, but he was forced to withdraw for various reasons. At the same time, he was dumped by his girlfriend and now lives a dejected life.
| | |
| --- | --- |
| Required CPU: | Pentium III 800MHz |
| Recommended CPU: | Pentium 4 1.4GHz |
| Required Memory: | 256MB |
| Recommended Memory: | 384MB |
| Required Resolution: | 800x600 |
| Required Colors: | 16bit colors |
| Recommended Colors: | 24bit colors |
| Required Graphics: | 4MB VRAM |
| Recommended Graphics: | 32MB VRAM |
| Required HDD Free Space: | 2.5GB |
| DirectX: | DirectX 8.1, Direct3D |



He smiled bitterly

stpaul

This is a pretty good VN. The story is interesting and all the girls are different so it's interesting hearing their stories and pursuing them. The main character, (that's you) is a bit of a selfish idiot and he's the hardest person to get a handle on. Despite this, the game is good with 3 main "good" routes plus a "true" route that unlocks after you play through the first three. There are a couple of issues that drove me nuts with this game. First, they must have used the phrase "smiled bitterly" a hundred or more times in Kira Kira and I'm not exaggerating. It appears in just about every other screen. Couldn't you find a new phrase in translation, folks? Second and far worse, this game is riddled with spelling and grammar errors. Every page has them and even one of the main characters' names is misspelled several times in one section (Kashiwara was "Kahiwara" and "Kahihara"). This honestly felt like a fan-sub, the translation was so lax. Bottom line I can recommend this for the story but if grammar issues and misspellings bother you, steer clear.