Milles, Knight of Anal Tyranny (download)

Developer:

Genre:

Adventure

Specification:

Without Mosaics, Female Full Voice

Category:

Price:

$24.95 MG point:124

On Sale:

Apr 25, 2014

OS:

Windows XP, Windows Vista, Windows 7, OS X, Linux

Reviews:

5.0 out of 5 (

1 reviews

)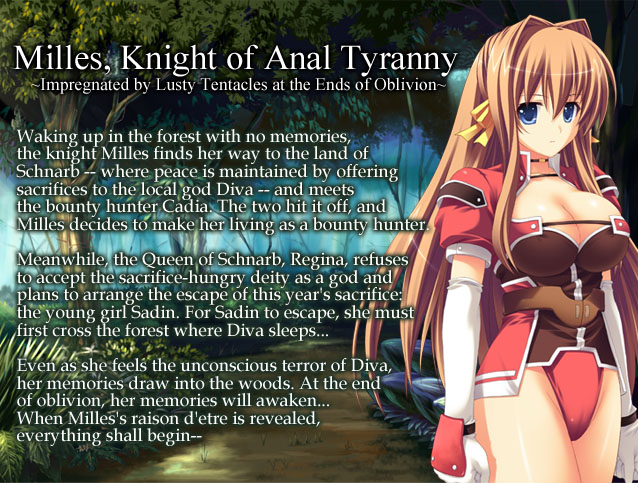 Milles

A knight who awoke in the woods with no memories.
Having lost all her memories, she named herself 'Milles,' which means 'nameless' in this world. She carries a deep darkness in her eyes.

Because she has lost her memories, her original personality is unknown.
Milles as she is now has a gentle, straightforward personality.

When the darkness she carries is awakened, along with her memories, even greater darkness will be called forth.

Cadia

A female bounty hunter who makes her living slaying demons. Before she became a bounty hunter, she supported herself by selling flowers.

When she was surrounded by a group of ruffians and nearly raped one day, she was saved by the fact that she is a futanari, and got through the situation suffering only verbal abuse. Still, the fear and humiliation she felt at that time lead her to become a bounty hunter.

She has an energetic personality and is quite confident, but she has a complex about being a futanari, and it embarrasses her to death.


Sadin

The young girl chosen as this year's sacrifice to the local god. Accepting her cursed fate, she had resigned herself to becoming a sacrifice -- but with some persuasion from Regina, she is now determined to flee to the neighboring country.

She is quiet and introverted, but as pain becomes pleasure at the end of her violation, she awakens to her masochistic side.

Regina

The Queen of Schnarb.
Unable to accept a sacrifice-hungry deity as her god, she raises the flag of rebellion against Diva.

Strong but gentle, she overflows with the elegance of a Queen.

Due to her status as Queen, she knows little of sex but is aroused by having others watch her.
| | |
| --- | --- |
| Required CPU: | Intel Celeron/Pentium4 1.2 GHz or better |
| Required Memory: | 256MB (On Vista 512MB or better) |
| Recommended Memory: | 512MB (On Vista 1GB or better) |
| Required Resolution: | 800x600 |
| Recommended Resolution: | 1024x768 or better |
| Required Colors: | 32bit colors |
| Sounds: | A sound environment that supports Direct Sound |
| Required Graphics: | VRAM 32MB |
| Required HDD Free Space: | 700MB |
| DirectX: | DirectX 8.0a or later |
| OpenGL: | Not necessary |





really good

Th23

Initially I didn't expect too much, but i was positivly surprised how good it turned out.

* very good voice acting
* i like the art
* a lot of great h-scenes, some even animated, good variety
* medium lengthy sized story which you can delve into; quite interesting although later its more about sex, which is ok
* as for 2019 technical a bit outdated, but it's still ok, if you don't mind it too much
* the interface is just basic and nothing special; could be a bit more, even back in 2014
* 4 routes for every character
* fair price

If you like hentai with monsters, then it's a nice game. I would rate it between 4 and 5 stars, slightly in favor of 5. It's not super outstanding, but really good.