Guilty _TheSiN_ (download)

Developer:

Genre:

Adventure

Specification:

Without Mosaics, Female Full Voice

Category:

Price:

$29.95 MG point:149

On Sale:

Mar 14, 2011

OS:

Windows 2000, Windows XP, Windows Vista, Windows 7

Text Lang:

English

Reviews:

4.5 out of 5 (

4 reviews

)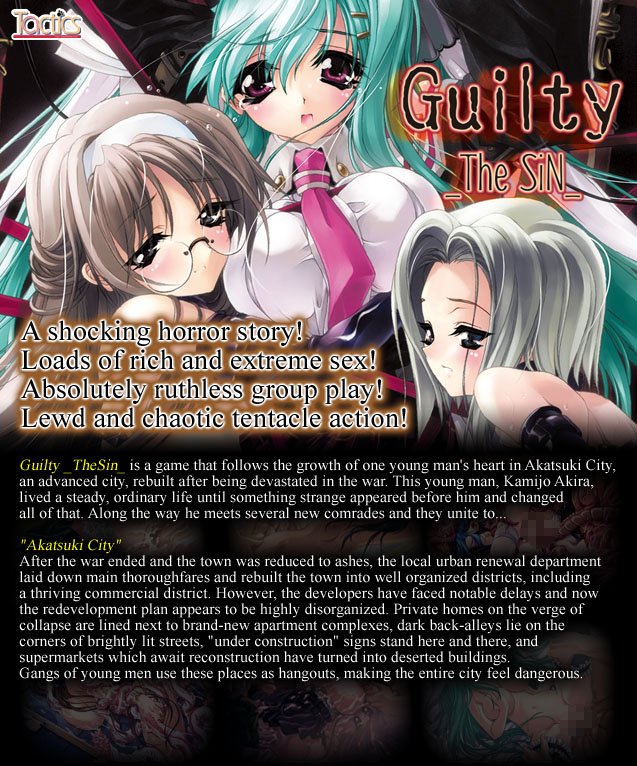 Kamijo Aya

Kamijo Aya is Akira's younger sister. Her faint, pale green hair and her white skin are a result of her albinism. When she was young, she was often teased for being an albino, but Akira also stepped in to protect her. As a result, she is highly dependent on her brother, but she thinks she's hiding this fact. After losing their parents, Aya and Akira moved in with their uncle. She is two years younger than Akira, but since Akira missed school for a whole year after an accident in elementary school they're only one grade apart.

"I don't regret it... No, that isn't something that should be regretted. I fully accept the fact that it happened."

Okitsu Nagi

Okitsu Nagi appears before Akira when he's being attacked by strange people. This causes Akira to suspect that she has some kind of involvement with them. She wears the uniform of a rich, all-girls school which is close to Ohguro Akatsuki Academy, the academy which Akira and the others attend, but their frequent sightings of her during the middle of the day suggest that she isn't a very good student. She seems to be calm, cool and collected, but perhaps calling her apathetic would be a better fit. Just like Akira, she has a tendency to push others away.

"...You shouldn't pry too deep."

Shindo Mayuki

Shindo Mayuki is one grade higher than Akira and president of the Art Club. Her current worry is the fact that Akira and the others don't take the club seriously. At least that's her outward worry. Her real worry is her own love life: it's growing harder for her to hide her feelings towards Akira. Since Aya is always hanging so close to Akira, she feels antagonism --or perhaps jealousy-- towards Aya. This is yet another reason she finds herself so deeply troubled over her love for Akira. They used to be in the same grade before Akira's accident and she's held her feelings of love towards him this whole time.

"E-excuse me! W-would you like to go to a hotel?!"

Kusakabe Yukari

Since Akira's teacher took maternity leave, Kusakabe Yukari was appointed to fill the role in her absence. She was also placed in charge of the Art Club for that period as well. Her speech often contains a hint of hidden meaning towards something and the way she acts, purposely mysterious, constantly irritates Akira, but for some reason she still seems trustworthy.

"Even I wouldn't go so far as to recommend having sex."

Omi Atsumi

Omi Atsumi is one of Aya's classmates and one of the few people who aren't afraid to approach either Aya or Akira with a smile despite his tendency to push others away. Her ability to take action has made her the hope of the Newspaper Club. However, her motivation often goes overboard and many students tremble with fear to see a camera in her hands.

"Uwah?! Now stand there!! I'll take your twisted personality and make it as straight as a metal plate!!"

Cassaca

Cassaca is a strange girl with a real tail who seems to live near the Kamijo house. Her left and right eyes are different colors and she easily picks up the phrases she reads in manga or hears on TV. As a result, her speech is a mess and she may speak in a dialect one day, like an Edo-period prostitute the next, or like a guy some other day.

"A spoon? Oh, yeah, yer right! I fergot I'm not a dog right now."
| | |
| --- | --- |
| Required CPU: | Pentium 233MHz |
| Recommended CPU: | Pentium 400MHz |
| Required Memory: | 32MB |
| Recommended Memory: | 64MB |
| Required Resolution: | 640*480 |
| Required Colors: | 16bit colors |
| Recommended Colors: | 24bit colors |
| Sounds: | PCM |
| Required Graphics: | VRAM 4MB |
| Recommended Graphics: | VRAM 32MB |
| Required HDD Free Space: | 600MB |
| DirectX: | DirectX8.0 |





Good, but shy of great

pyrpoi

This game was more fun than I expected. More plot heavy than expected, better written plot than expected, liked Aya's writing more than expected. I had expected something close to average and it just outperformed in every aspect. The story branching could have gone a bit wider, that's reflected in the end, where you'll see the same sections quite a bit to see the endings. But, I wish more games surpassed expectations the way this one did.





Excellent

Wanderer

Story based, like Fate Stay Night. Not quite as good as FSN but worthy of 5 stars.



Misleading pictures

Clear Dream

The pictures for this game are quite misleading, it makes it look like a "sexfest" game. When in reality, it's a story-oriented game with just a few H-scenes per playthrough. Fewer than Soul Link even I believe, and that's definitely a story related game.

The storyline isn't anything special, but I do love the dark atmosphere of the game.





Quite good

Zemann2010

I was surprised at how interesting and engaging the story is with this game. Very dark and depressing at times, but keeps your interest.

Getting to all of the endings can be quite tedious, as there are a few "bad" endings that are really depressing, but aren't always obvious to get to.

All in all, you will get your money's worth out of this one with the amount of time spent and endings to unlock.
...More