Fashioning Little Miss Lonesome (download)

Developer:

Genre:

Adventure

Specification:

Without Mosaics, Full Voice

Category:

Price:

$24.95 MG point:124

On Sale:

Sep 8, 2017

OS:

Windows 7, Windows 8, Windows 10

Reviews:

5.0 out of 5 (

13 reviews

)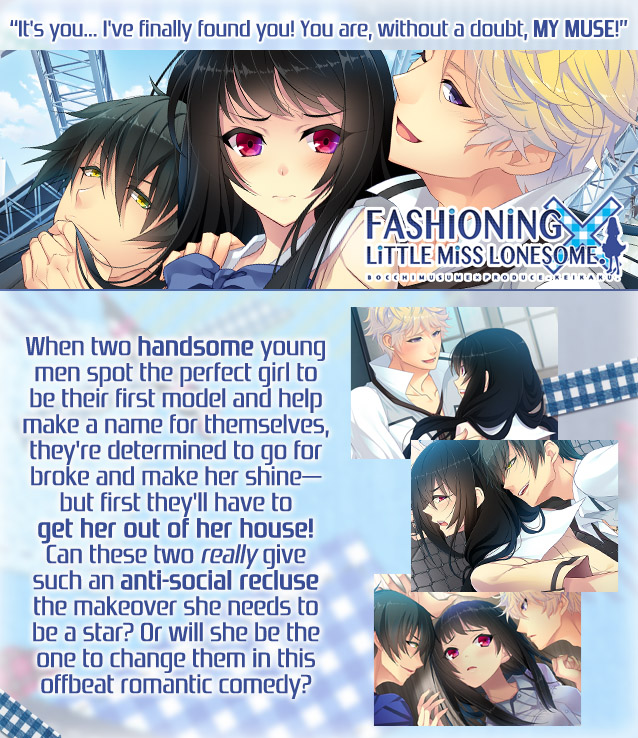 Ema Tachibana

A Lazy Girl Who's Perpetually Pessimistic

Personality: Gloomy Ditz
Height: 173cm (5'8") (Still Growing)
Likes: All Non-Human Animals
Dislikes: Monsters, Her Appearance

At 173cm, Ema is taller than any other girl her age. She's rather mild-mannered in personality, but because of her gloomy aura and resting bitch-face, she makes other people uncomfortable. Thus, she has no friends.

Quotes:
"No thanks!"
"S-So what? Who cares if I run? I'm going to keep running as much as I can! From you guys... and from reality!"


Miki Hiraizumi

A Talented Tailor (and Hopeless Idiot)
Back From America

Personality: Earnest (Masochist?) Gentleman
Height: 185cm (6'1")
Likes: Dolls, Fashion
Dislikes: Sycophants

From an early age, Miki has always loved making clothes. However, growing up in America, he was bullied by the jocks for having a "girly" hobby. To make matters worse, his father constantly shamed him for it. Eventually, Miki got fed up and returned to Japan on his own... but without a muse to stimulate his creativity, he's been stagnating. However, his chance encounter with the protagonist sets off a spark inside him!

Quotes:
"I knew it. It was you all along! You're the one I've been searching for!"
"You're my MUSE!"
"This is the physical embodiment of my desire to keep my muse at my side, even if it means I have to tie her up!"

Saito Shinjou

A "Talented" (?) Producer
and Team Leader

Personality: Perfectionist (Sadist?) Negotiator
Height: 170cm (5'7") (Allegedly)
Likes: Cameras, Other People's Misery, Idols (JUST ADMIT IT)
Dislikes: Bugs, Wasteful Spending

Saito is the perfect student, the type who can master anything he tries. He has top-level grades, exceptional athletic ability, loads of friends, and has always been popular with the ladies. But this cushy life has led him to stop bothering to put actual effort into anything. Then he learns about the protagonist and hatches an ambitious plan...

Quotes:
"Oh shit... The second I said 'sow', I got chills. Man, I can't get enough of your pain and misery."
"You have no say in this."
"Damn you... Don't think you can escape me! I'll chase you to the ends of the goddamn earth!!!"
| | |
| --- | --- |
| Required CPU: | 1.3GHz or better |
| Required Memory: | 1GB |
| Required HDD Free Space: | 3GB |
| DirectX: | DirectX 9 |





love it

Juululu

make more games like this





Perfection

Lee

It's funny. Has great art. Has great xxx scenes. And it's refreshing! Recommended!





Great

silvers8

Very funny and entertaining. I'd definitely recommend this if you're a fan of the genre. I'd love to see more games like this one.





Fantastic!!

TwintailHellcat

I am not a "hard core" VN player. Rarely do I ever read one where I actually WANT to do every route. I did it for Little Miss Lonesome! The characters are lovable, RELATABLE, flawed and hilarious. There was well paced comedy here, great moments of personal exploration for the MC and also somber reality for everyone that humanized each character. I've played close to a dozen otome now from the very limited pool available to the US. I decided I was going to buy it before I even read the description because as an otome with H scenes it meant it would be erotica focused for a FEMALE reader - which is so flipping rare here. I used my money to cast my vote for content! Reading the plot description sealed the deal and boy , NEVER regretting a second I invested. The transitions to the H-scenes were smooth. None of them felt forced or out of place. Manga Gamer, please bring us more Otome!





Bruh

T.Bean

Bruh. I own a lot of games on this (godforsaken-- it's taken all my money) website, and I've NEVER LOVED A GAME MORE. It's literally the FIRST game i've ever played every route. I need more like this. Super hilarious, charming, cute, relatable, and sexy. I NEED MORE MG.





Absolutely A Must-Play

Takopara

A heroine we can all finally relate to. The translation is hilarious, and the game made me laugh out loud almost every chapter. The game doesn't take itself too seriously and I enjoyed that a lot. Mangagamer, please please please bring more otome games to us!





FINALLY

Lexi

Please do more slutty otome games, oh my god





NEED MORE

coffeesenpai

I'VE WAITED NEARLY A DECADE FOR A R18 OTOME GAME TO BE OFFICIALLY TRANSLATED IN ENGLISH. YOU HAVE NO IDEA HOW MUCH I LOVED THIS HILARIOUS, SEXY GAME AHHHH. PLEASE MG, LOCALIZE MORE OF THESE R18 OTOME GAMES. I THINK KAMLIA8 IS COMING OUT WITH ANOTHER ONE IN MARCH AND IT WOULD BE AMAZING TO HAVE THAT TRANSLATED, TOO. 10/10 WOULD THROW MONEY AT YOU FOR MORE OF THESE GAMES.





Fantastic

sheebs

A friend recommended this game ages ago, but I waited for the English translation. It was worth the wait! The story is sweet and funny... and hot. I hope it doesn't take another decade for another jewel like this to come out!





Awesome!

Shizzam

I love this game! I'm so happy I was randomly searching the web and stumbled across this! I need to find more like this





Such a great game!

Shizzy

And, I'm not just saying that, because of the steamy love scenes! lol The writing, of this game, was really funny and clever. And, the art/graphics are really great (sometimes cute)! I really hope we see more, from this developer, and a lot more 18+ otome games like this!





Loved it

memii

I don't know if I will ever be able to find another VN that'll make me laugh as much as this one.

10/10, would get bullied again.





YES

auronova

I cannot tell how long I have waited for an R-18 otome game featuring a girl this is a dream come true!!!!! It's so good. IT'S SO FUCKING GOOOOOOOOOOOOOOOOD TT A TT I WANT MOREEEEEEEE
...More