Love Sweets (download)

Developer:

Genre:

Adventure

Specification:

Without Mosaics, Voiced Except Main Character

Category:

Price:

$44.95 MG point:224

On Sale:

Oct 28, 2021

OS:

Windows 7, Windows 8, Windows 10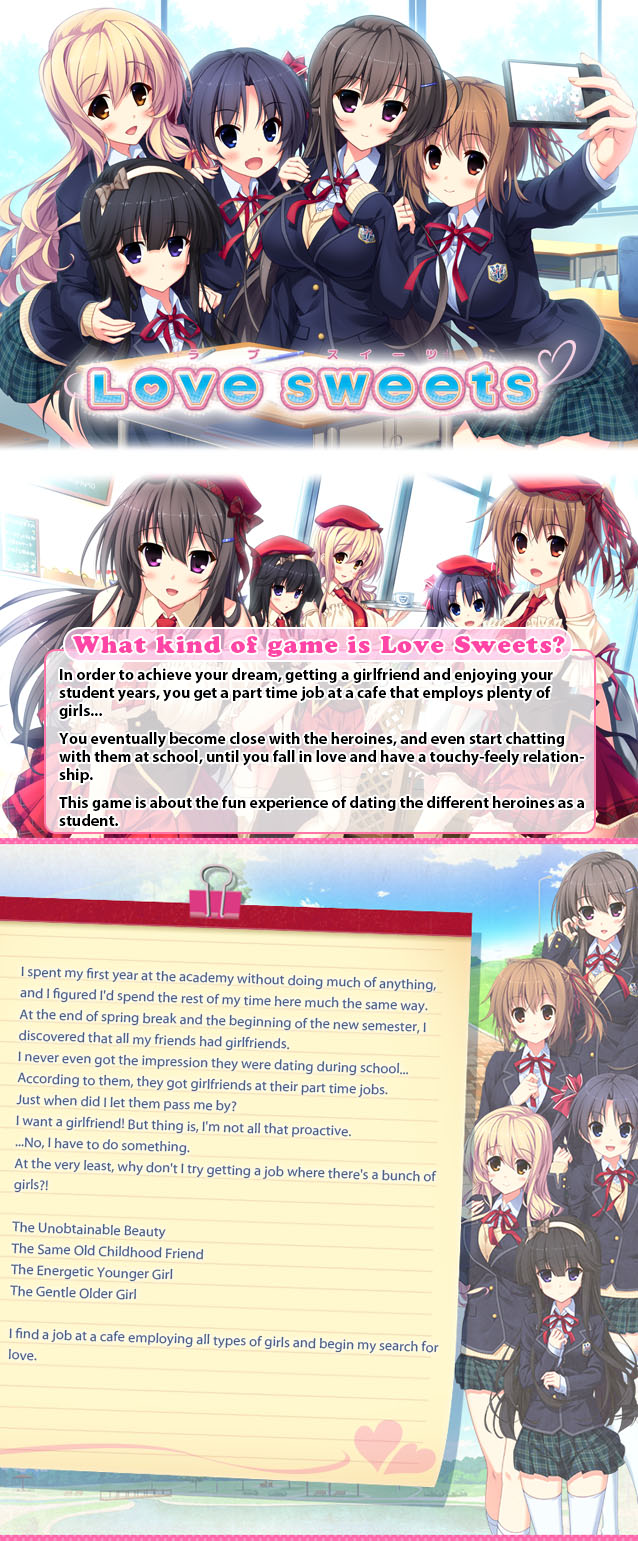 Kanae Otonashi

A widely admired honor student from the academy. Her outstanding grades and beauty garner the envy and attention of all, which has the unfortunate effect of making her appear unapproachable. She's frequently alone as a result, but there are some girls like Kushina who she's friendly with.

Becoming a pattisier is her dream, and she wanted to save up money while getting some experience in the process, so she got a part time job at Cafe Hot Chocolat about a year ago.

Yui Ichinose

Thanks to having known her since childhood, she's the closest of companions.

Everyone seems to think she's dating the protagonist, but they simply view each other as longtime friends. About 80% of what's preventing the protagonist from getting a girlfriend can actually be attributed to her, but neither of them have realized that in the slightest.

Kushina Otonashi

A girl who's constantly bright and cheery. Her home's far away, so she's currently living in the school dorms. On occasions where she gets mad or upset, she'll sometimes revert to her native dialect.

Presumably thanks to being Kanae Otonashi's cousin, they get along well. Her love for manga and anime also seems to have made her friendly with Iori. For some reason, she trusts the protagonist to an unusual extent.

Minamo Enjou

A girl I first met at work.

She's in charge of training other employees at Hot Chocolat. Apparently intent to act like the mature adult, she wants to help everyone else whenever she sees the opportunity, but outside of work, she's often the one who needs assistance.

Not only does she not seem to think much of how she has a figure that makes other girls jealous, but she's unfazed by the protagonist's distressed reactions to physical contact.

Iori Futami

The protagonist's sister, a meek girl of few words.

Due to frequently absent parents, the protagonist usually looked after and spoiled her, accidentally turning her into a sister who has romantic feelings toward her brother.

She loves anime and manga, and hit it off with Kushina for having the same hobby. They've been frequently hanging out together ever since.

Recently, she's been bothered by all the cute girls surrounding the protagonist.

| | |
| --- | --- |
| Required CPU: | Core2Duo |
| Required Memory: | 512GB |
| Recommended Memory: | 1GB |
| Required Resolution: | 1280x720 |
| Recommended Resolution: | 1920x1080 |
| Sounds: | PCM |
| Required Graphics: | 32MB VRAM |
| Recommended Graphics: | 128MB VRAM |
| Required HDD Free Space: | 3GB |
| DirectX: | 9.0c |