euphoria (download)

Developer:

Genre:

Adventure

Specification:

Without Mosaics, Female Full Voice

Category:

Price:

$44.95 MG point:224

On Sale:

Nov 27, 2015

OS:

Windows XP, Windows Vista, Windows 7, Windows 8

Reviews:

4.9 out of 5 (

33 reviews

)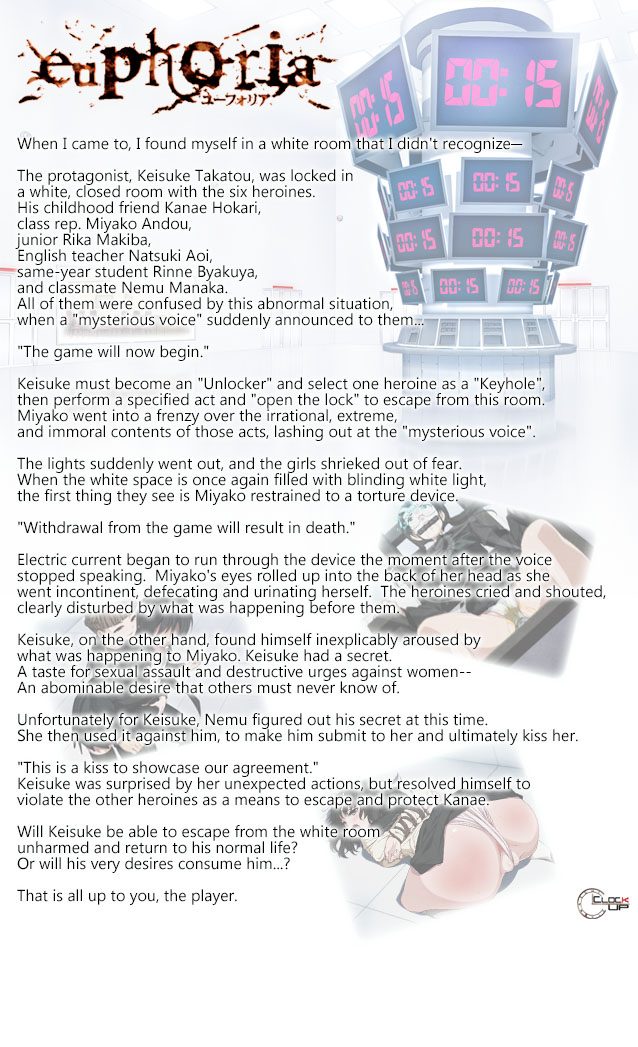 Nemu Manaka

"You're such a cutie."
"...But I have to say, I prefer more vicious men."

Second year student at Rokukeikan Academy. Keisuke's classmate.

A beauty beyond everyone's reach who's always by herself in class. Despite being classmates with Keisuke and Kanae, she has hardly interacted with them.

Observant, quick-witted, and physically fit.
Even in this extreme situation she keeps her cool, as she quickly figures out Keisuke's hidden lusts, and then gently persuades him to unleash them.

She confuses and toys with Keisuke with her capricious nature and suggestive actions.
Her true intentions are unknown.


Kanae Hokari

"I'm... your ally...
No matter what happens, or what happens to me...
I'll be fine..."

Second year student at Rokukeikan Academy.
Keisuke's childhood friend and classmate.
She and Keisuke trust one another.

A kind girl, always caring for those around her and never losing her smile. Not only is she kind, but she's also capable of expressing her opinion when the situation demands it.

Typically viewed as an underclassman due to her baby face and short height. Secretly has a complex about this. On the other hand, her breasts continue to develop, causing her grief as the size of her uniform constantly changes.

Rinne Byakuya

"If those are the rules, then we have to abide by them.
No matter how absurd they may be."

Second year student at Rokukeikan Academy. A member of the discipline committee.

A frigid beauty with long, black hair. Her methodical nature and strictness often causes discomfort to the people around her. She values order and control with a tendency to be hard on those that don't follow the rules.

She's often thought to prefer to be left alone, but she frequently participates in readings and volunteers to clean. Tries to be a good member of society.

Rika Makiba

"Senpai won't do anything to hurt Rika, right?
Because Rika likes..."

First year student at Rokukeikan Academy.
Belongs to the same astronomy club as Keisuke and Kanae.

Follows Keisuke around like a puppy, and often comes to invite him to the club after class is over.

Somewhat spoiled, a cry-baby, and sociable, she's viewed as something like a mascot and beloved by her fellow classmates. Has a lovable nature to her that lets her get off the hook even when she screws up.


Natsuki Aoi

"Don't worry about it.
I couldn't let the others take part in this.
This is my duty as a teacher."

Newly appointed English teacher at Rokukeikan Academy this year.In charge of the third year students.

Very popular among students for her beauty, kindness, and gentle nature.

Other teachers sometimes view her as lacking in strictness as a teacher, thus allowing her students to walk all over her, but she doesn't take it personally.

An optimist that believes things will always work out.

Miyako Andou

"Cut the crap and let us out of here already!
This is a crime! Got it?!"

Second year student at Rokukeikan Academy.
Keisuke's classmate and also serves as the class rep.

A very serious girl of firm character.
Often shunned by the slacker students, but no one truly dislikes her.Everyone relies on her as class rep.

Consequently, her personality is disastrous in this extreme situation. Forfeits the game and is eliminated as a result.
| | |
| --- | --- |
| Required CPU: | Pentium 4 1.5GHz |
| Recommended CPU: | Core2 Duo |
| Required Memory: | 1GB |
| Recommended Memory: | 2GB |
| Required Resolution: | 1024 x 768 |
| Required Colors: | 16bit |
| Recommended Colors: | 32bit |
| Required Graphics: | VRAM 32MB |
| Recommended Graphics: | VRAM 64MB |
| Required HDD Free Space: | 2.5GB |





Not What it Seems

Sonjay

After years of playing BL games, I finally wanted to switch things up by playing a hentai game and decided to give euphoria a try. I have known about this game forever,and after learning about what's in it, and thought that I would never touch it. But low and behold, I caved in. It's true that there are brutal and disgusting sex scenes, and plenty of fetishes, but to be honest it's one of the reasons I've come to love this game. The only thing now is that I may never play a visual novel as brutal and disturbing. However despite the sex scenes, the story is what puts it all together. Just when I think one thing is going to happen, something else happens. Definitely had me on the edge of my seat, even though the true ending ended on a semisweet note. The music is just amazing, and it almost feels like I've heard it before, especially the main theme that plays on the menu. The art is very well done as well.





Great game!

Aiden747

There's really nothing like it out there!





Awesome game!

MxS7HGS

Awesome game! I really enjoyed it.





really good

ants

ive been wanting to get this game for years and now that ive finished it, ive got to say that the 4 year long wait was 100% worth it! from everything to the characters, their development, every route, how well written the game is, its all so good! the ost is amazaing and holyy my god i cant put it into words every single route in the game is worth the playthrough and the h scenes are so morbidly interesting i couldnt help but not be engaged i cried really hard i definitely recommend





I really enjoy this game

Phil

Silent Hill 2 is my favorite video game of all time and I consider it my Number 1 game. No other game might surpassed it. Euphoria, on the other hand, really surprise me. I really enjoy the story and the characters. It as become my 2e favorite game of all time and was very close to surpassed or be equal to Silent Hill 2 in my Top 10. I didn't expected that.

I really enjoy the game and I recommend it.







My first R18 VN

mariannep

Even years after playing more R18 VNs than euphoria it is still the best one out there. You won't regret it, buy it.





incredible

ScottPilgrim90

simply incredible. This . is . art.





very good

agentpg13

honestly not a fan of this kind of stuff but the story was written very well, true ending was worth going for, over all best VN I have purchased and remember not a fan of this kind of stuff so if I'm recommending that means the story was a masterpiece and I overlooked all the stuff I'm not fond of





A hidden gem

Vinc

The themes and artwork far exceeded my initial expectations. Absolute must read for us degens.





Worth it

TeerapatGT

Very intense and emotional. You won't be disappointed.





So interesting.

seswrt

With twists and turns like the show itself with the story making 100% more sense than the show, combined with great music makes reading through pages of words not so much of a blue balls test.





Very Intense

Luciola

The art, voice acting, and OST are notably quality, especially for a visual novel of its type. There are many kinks presented in this visual novel that are likely to squick out quite a few viewers outside of its central theme of rape and humiliation, so I'd recommend doing research beforehand or treading carefully. It had a surprisingly in-depth plot for what I was expecting. I'd recommend it, but only to those who are very confident in their stomachs and ability to handle greatly messed up content.





It's Good

MayoiSnail

It's very good. It has a great story despite seeming to be just about sex. Unfortunately, it is hard to explain any more about the story without spoiling it, so there isn't much more for me to say.





Es la mejor VN que he leido

Roycpr22

Si lo sé, este comentario está en español. Pero no importa, porque estamos ante un juegazo





Stupid but Great

aika092

I'm not sure I agree with others who seem to be claiming this is the best storyline ever written in an adult VN. Yes it's good, but let's not get carried away. I'm not saying you shouldn't get this game, because you should, especially if you like extreme stuff, I'm just saying it's no Code Geass. Because while it is entertaining, and there are some cool twists, I'm very hesitant to call the storyline smart. I can't really go into detail without giving away spoilers, but in general a SMART storyline gives you a chance to guess the ending, and any twists along the way, before you reach it. Now there is one very cool twist which they do pretty well, in my opinion, and I guess lots of people would call it the main or at least most important one, but this barely makes up for all the other explanations for everything they give towards the end, of which there was absolutely no possibility of working out or even many hints and foreshadowing to notice the second time you play it.

Now I've been overly negative there with my main criticism so let me back up a little bit. This is the best adult VN I've ever played. Easily. Let's go into the usual categories...

==Story & Writing: (8/10)==
This story is really good, it's engaging and you want to understand everything that's going on, which makes you keep going. The final explanation is interesting and logical. Not smart, realistic (even if you assume the technology is possible) or guessable, but logical. The characters are all caricatures and one dimensional but still lovable and you're invested in at least some of them. 8 out of 10 is a really good score for an adult VN, because let's be honest it's not the main reason you're here, if it was you'd be reading Tolkein or Shakespeare or whatever you're into.

In classic Japanese fashion, the girls all commentate what's happening to them in high pitched voices during the H-scenes. Even the shy ones, and even when they're supposed to be experiencing something for the first time. I understand this is because it's a story and this helps immerse the player in the experience, but it's all the same and really tires me out when every single scene happens this way. Personally I think the shy people should stay shy and quiet even during sex.

==Translation: (10/10)==
Translation is perfect. Enough said.

==Music: (9/10)==
Music that exists is great but for such a long game it could have had a little more variety.

=Graphics: (7/10)==
I'm not sure what you're expecting me to be able to tell you here, look at the preview art and as long as you like the style, you'll like the game. In terms of H-scenes, they have sufficient images for each scene but no animation or anything. Backgrounds are extremely repetitive, partly because so many rooms in the story are the same, i.e. four white walls.

==Sex: (10/10)==
Obviously this is personal opinion but they really push the boat out here and have a great mix of consensual and non-consensual scenes. If you don't like non-consensual stuff, this game is not for you.

==Overall: (4.5/5)==
If you can afford to, buy this game. It's one of a kind and should go down in history as one of the greats. It is a masterpiece but it's still an H-game, not an Oscar winning movie.




honest opinion

Deathgaze

i have seen all these 5 stars reviews but i don't see anyone talking about the flaws it has so here is my non bias review that will hopefully help people on the fence to get the game.

~~~SEX~~~

first anyone that has heard about euphoria knows it has fetishes and it supposed to be hardcore but honestly is not that bad like everyone makes it look like. The game has around 3 scat scenes (poop) so if you are not into that you wont have to suffer too much.

the VN divides its fetishes in 5 ways, what i mean is at the beginning you choose who to rape so the scenes with fetishes are divided by heroines (5) so you will only see some scenes if you choose certain girls, you don't have to worry about watching disturbing stuff all the time that's pretty much the first arc of the VN.

The second arc will reveal some of the story and will have vanilla sex so if you were scared about not enjoying the game because of it being "hardcore" you don't have to worry about it.


~~~STORY~~~~

While playing the game you will be confused all the time (that's on purpose) each ending will not talk about whats really going on until you decide to play the true ending however that doesn't mean you will waste your time if you decide to play the other routes since you will learn the backstory of each character by doing so.

Mangagamer said that the correct way to play the game is using the following order "Rika, Aoi, Rinne, Nemu and Kanae"
i personally have to say that only 3 routes are important and 2 are not, this is my recommendation "Rinne, Nemu and Kanae after thinking too much about it the other two routes don't offer enough info to be considered important into the true ending. That doesn't mean the routes are bad or not worth the time however when it comes to unveiling the true story these routes are meaningless but are good fap material if you want to clear them.

The reason i'm recommending the 3 important routes first vs all 5 is because repeating the first arc 5 times will get to you and will start to feel like a chore then again you might enjoy all the sex scenes and fetishes being showed but it still feels like the first arc drags on too long to be replayed five times.


~~~GORE AND DISTURBING IMAGES~~~

When it comes to gore the game doesn't have too much of it, don't get me wrong there are torture scenes but not blood and when there is blood is not as much so don't worry about having to look away.

as for disturbing images there are a few wtf worthy moment mostly towards true end and well there is one particular ending named (at least in the guide i followed) brute/devil ending that will disturb you is some ways...... well i rather not talk about it because i want it to be a surprise so if you want some of that weird stuff get this ending or don't HAHAHAHAH!


~~~MUSIC~~~
There is not too much to say about it other than phenomenal!

~~~FINAL VERDICT~~~

I can't give this game a 5 because of the true ending once you reach it you will understand, that being said it has an interesting story, the music is awesome and the art is gorgeous.

One last warning i would recommend this game to someone curious about some of these fetishes otherwise "regular people" will not find it as attractive so hopefully i persuaded someone to reconsider getting the game.

i would recommend watching the hentai version of the game but only episode 5 after doing the true ending since the hentai version added something the true ending is missing in the VN so watch the last 6 minutes of the episode if i remember correctly, you will feel better i promise i'm sure the team knew something was missing on the VN so they redeemed themselves with the hentai version.





Best scenario ever.

tachikoma01

At first, it looks like a very well made nukige. It's so much more, and more AND EVEN MORE.

Seriously, the scenario, especially the second part is awesome. When you finally think you get a grasp on the situation you soon realize, you're not even close, and yet you gathered a new detail. As said by someone else it is really recommended to follow this order if you don't want to discover too much too soon : Rika, Natsuki (if you feel like it, you won't discover too much by ending the game with those routes), Rinne, Nemu, Kanae (don't miss all the different endings for Kanae's route).






Very promising

audinobutt

When i first started this game. I was expecting it to be really mild and light with the things mentioned in the above tags. At first it really was too. Back before I finished all routes I was just playing because i was like: "yes I get to torture lil girls~ in this one!" But as I continued to read the story line and weave through this insane plot and learn more about Keisuke I realized oh man this game is really messing me up emotionally.

All in all, if you have an open mind or want to, play this game. I was actually proud of myself when I finished it, because I am an emetophobic. Some of the scenes are really triggering and shocking but I managed to get through and not hate this game.

I even found myself sympathizing with the Protagonist on several occasions. If you get attached to 2-D characters after backstories, I hope will too!

Anyway, This game is worth its price. I bought it while it was on sale, but I doesn't matter now, I know I would have been happy to have gotten it even if it wasn't. I cant wait for more games like this from CLOCKUP. c: Enjoy guys.





Just Do It...

Brock420

Just get this game, there is a reason it has a flawless 5 star rating. I am not one to shy away from the extreme stuff like rape, scat and gore, but I was pretty skeptical looking at this because it they seemed pretty much like the main focus of the game and I didn't feel like spending $45 on a messed up game.(I also watched a couple hentai episodes and wasn't very pleased)

Alas, in the end the flawless reviews and my curiosity got the better of me and I purchased it and never looked back. And I am damn happy I did. Is it messed up? Yes. Creepy? Yes. Tragic? Yes. Does it mess with your head? Yes. I was questioning everything that was happening and the way it all came together was, well... euphoric.

If scat and gore isn't your thing, there are options to turn them off. If rape isn't your thing, good news, not all the X-scenes feature rape and you can speed through ones you don't want to see.

The way the story builds is simply mind blowing, following the route for the best story (recommended by the writers) is Rika, Natsuki, Rinne, Nemu, then Kanae. Follow that and you will not be dissapointed as some routes cross paths later on and certain things are discovered about certain characters.
TL;DR - Great story, Shed many tears, Get it, Worth it.





Nothing more needs to be said

Treima

This game stuck with me for a long time after the read. Just trust everyone that is saying it's great. It absolutely is. This is not a nukige, and if you play it as such, you will miss the point entirely. Despite the massive amounts of trauma and torment you will witness throughout this debauched journey into sadism, once you see it through to the end, your patience will be well-rewarded. $44.99 was a small price to pay to have this experience, and I will have many of the moments from this novel seared into my subconscious for years to come (and I mean that in a good way).





More than meets the eye

teamsonic

Despite not being a fan of hentai and being terrified after seeing a few of Euphoria's CGs, I admittedly was too curious to pass it up. I had to know how a game like this could receive so many stellar reviews, and on account of its story no less.

Having now powered through it in less than a week -- sacrificing precious sleep and frightening my co-workers in the morning with my disheveled appearance and bloodshot eyes -- I can definitively add my voice to those that assert that Euphoria truly is an experience unlike any other.

That being said, Euphoria's premise is extreme. If you cannot tolerate rape and torture then this is not for you, story notwithstanding. However, even if all you can do is suffer through them like myself, you'll witness the unfolding of a complex and emotive narrative that somehow managed to have me in tears at its conclusion.

To expound on how Euphoria manages to pull this off is to spoil the very core of the experience. Trust myself and the other reviews here who have unanimously rated this game 5 stars that this is a game worth your money.





Easily in my top 3

Ravenleaf182

This game is going to be sick, make you twist and churn your stomach at times. If you're looking for a nukage or quick fap, this is NOT your game. If you however love a deep story, not afraid to step into a dark world with psychological twists and horror, this is beautiful. It may seem like nothing more than a sick and disgusting all-you-can-eat fetish game at first with only dark and terrible things, but I assure you, it's titled Euphoria for a reason, and for all people who want good things, you must truly be willing to earn it.





Intense

drcraze

The premise is extreme & is absolutely not for all audiences. That being said, the situations that play out through out the course of the game are mind blowing and perversely perfect.





Absolutely Amazing

TittyPotato

The story being this will blow your mind. No, seriously! I bought this because it was an interesting concept but I didn't assume much else beyond "Saw meets Hentai". Turns out there is more, MUCH more!

The writing is fantastic (the true ending is the best in ages, honestly, despite how long it dragged on for) and the artwork is very nice. You even get a Bonus feature to the Main Menu once you complete a route and each voice actress (and staff) gets their own message to the reader. They're all rather interesting and quirky people and that translated perfectly into the game.

MangaGamer is at its best when it has titles like Kara no Shoujo & Kara no Shoujo 2 to show for itself, and I am not joking when I say Euphoria far and away surpasses expectations. Euphoria is one for the portfolio and a MUST HAVE for VN readers who want more than just porn and anime archetypes.





Amazing.

haerts

Worth the price, a great read. Took me a few days to finish it 100%. Really enjoyed how the story mindfucks you and twists things and then when you read through the true end everything just makes sense. The staff interviews were great and fun to read. It's not as extreme/hardcore as people make it out to be I think. There are some vanilla sex scenes which are pretty nice. One of the best visual novels I've read in a while. I just couldn't put it down whenever I had free time. Looking forward to more Clockup titles from Mangagamer.





Excellent

Wampopo

Fantastic game, way better than what I was expecting.

This game as an extreme reputation, but even that would wear off over time if the story is not very good. Fortunately, this story does a good job of keeping you invested until the end because it has a couple of very basic questions - "Why are they there, and what the hell is going on". This game did a good job in reminding me that visual novels have a unique way of storytelling that would be tougher in other mediums, such as what is exactly going on in this MC's head.

I was a little wary of buying this at first, but it ended up being well worth it.





Awesome Horror Experience

Minase

Basically any review you'll ever find for this game will say "this game is so messed up but the story is amazing". They're the reason I decided to give Euphoria a try, and it was more than worth the price.
If you're worried about the content, there are an incredible amount of options to tweak your experience. Nothing removes the sexual violence entirely, but if you can stomach that, you can turn off pretty much everything else (and use the CTRL key to skip through unread text).
As for the translation, it's good. There are more than a handful of typos as of the current release, but for the sheer amount of text, it's not bad. Give Mangagamer your money for this. Seriously.





The hype is real

zaldar

Is the game disgusting yes but it is also moving and tragic and amazing. First playthrough left me ready for a second to get revenge on hidden evil character only for the game to reveal another layer and make me feel all sad and conflicted again. A++ Up there with rance games as some of the best hentai games ever made.





Far better than expected

Gluborkinox

I'm not good at writing so i'll make it short.
I knew a little about Euphoria thanks to the hentai anime.
I tought the game would be the same... How foolish, it was just a mere introduction !!
Not only did this first part far exceed my expectations, but i discovered a very deep (and dark) story that kept me glued to my screen.
After finishing one of the different paths, I only want to start again with another part to understand some of the many mysteries still undiscovered.

As Zecknor said above, it's a Must Buy !





Near perfect game

ThePirateChamp

I went into this game expecting a game like 999 with random fetishes thrown into it. I was absolutely wrong. If you're turned off from this game because of certain fetishes or types of scenes, you have nothing to worry about. Most scenes are short, so skipping the ones you feel uncomfortable over have no real impact to the story whatsoever. You also have the option to remove Scat and Guro, so you'll never feel like you're forced to deal with them.

This game has an incredible plot, with each character filling their roles as you would expect. Sensei acting like a teacher, Rika acting like a spoiled innocent little girl, Rinne being cold but still has some emotions, and the stereotypical childhood friend that Kanae was; but Nemu, Jesus, Nemu. I won't go into too much, but Nemu is a constant force keeping the tension and driving forward the plot. Her character is constantly keeping you guessing, not only about the situation, but also about her as well. By the end of the game, you'll be rethinking your opinion of each girl. Playing order is Nemu, Rika, Sensei, Rinne, Childhood friend.

The music always fits well with the scenes, but is constantly recycled and you'll be hearing the same music each time a game occurs, a startling revelations occurs, or when an emotional moment happens. It's not a bad thing, since the music is great, and matches perfectly to the scenes they're playing to.

I bought this game only because it was a game by Clock-up, and I knew it had some features and content that I usually didn't like. I'm glad MG translated a game like this. I consider this to be the best english VN this year so far. Great work MG, I hope you guys translate more of Clockups stuff. Maggot Baits looks absolutely horrific, and EroManga seems like it would be great. If you like VN's with great stories, fantastic art, good music, and/or just have certain fetishes, this game is for you. Thanks MG and Clockup.





So..

R0roZ

Good and all but I already knew the story a bit because of the hentai





Do not watch the OVA

ssgja

DO NOT WATCH THE OVA IF YOU PLAN ON PLAYING THIS GAME.
Euphoria has been praised for its storyline and watching the OVA will ruin it for you. Also do not look for spoilers on the internet. I made the mistake of viewing spoiler and I regret thoroughly.





Must buy

zecknor

I played this before in Chinese and I bought it again now in English. Definitely one of the most insane yet great VN's you will ever play. It's not just about the insane elements, but the story is kind of a mind **** for those that bare through the initial story to the end. Well worth the price and more. Would be even better if we got the original sound track as an added on bonus for buying the game cause it's amazing!
...More