Sweet Sweat in Summer: The Naughty Girl and Her Ripe Scent (download)

Developer:

Genre:

Adventure

Specification:

with Mosaics, Female Full Voice

Category:

Price:

$14.95 MG point:74

On Sale:

Jul 31, 2015

OS:

Windows XP, Windows Vista, Windows 7

Reviews:

4.4 out of 5 (

5 reviews

)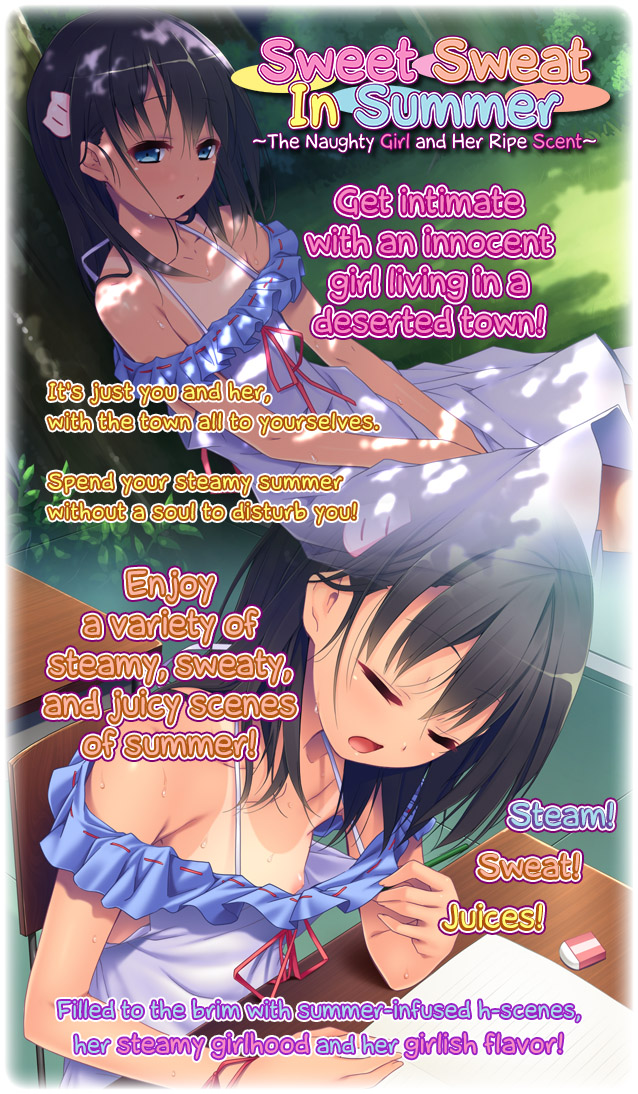 Karin Nekodou

The only girl living in the town the protagonist, Kouhei, visited. A bright, innocent, and mischievous girl.

She was alone in that town, but she apparently used to live there with her "Sensei" at one point. She asks Kouhei to be her new "Sensei" until her old one returns.

Despite being a virgin, she seems very knowledgeable about sex and erotic activities.

| | |
| --- | --- |
| Required CPU: | Pentium III 800 MHz |
| Recommended CPU: | Pentium 4 1.30 GHz |
| Required Memory: | XP; 512MB / Vista-7; 1GB |
| Recommended Memory: | XP; 1GB / Vista-7; 2GB |
| Required Resolution: | 800 X 600 or Higher |
| Recommended Resolution: | 800 X 600 or Higher |
| Required Colors: | HighColor(16bit) |
| Recommended Colors: | TrueColor(32bit) or Higher |
| Sounds: | DirectSound |
| Required Graphics: | VRAM 16MB+ |
| Recommended Graphics: | VRAM 32MB+ |
| Required HDD Free Space: | 750MB+ |
| Recommended HDD Free Space: | 1GB+ |
| DirectX: | DirectX 9+ |





Flat is justice

ojiisan

Karin is super cute. More games with flat characters, please.




I like the game but...

Equ3strianGam3r

I enjoyed this game but the mosaics bother me a little bit. I know I shouldn't let that affect the score but that's not the only thing. I finished the game in just under 3 hours. I got all 3 endings and all the CG's and I just wanted there to be more to it. I thought it was too short. However, I really enjoyed the variety of h-scenes. Karin was a great character, though I don't really know if I would consider her a loli or not. I liked the voice over for Karin too. I guess all I can really say is give this a try for yourself.



Good game

Fidoud

It is a good game with great graphics and cool sounds ... But the game gets repetitive to as you go along.





Great game!

Httastt

It's a hot summer day when a man enters a town he used to live in. He came to this town in such of lost memories, but what he found was an abandon town with no one, well that is on one except a mischievous girl named Karin. what would you do if you where all alone with this cute girl. Maybe she's just looking for someone to "play" with her. there might be even more to her then you fist though.





She is soo kawaiiii

Bosswhite

Great drawing and such a cuuut girl:)
I love to see her :3
The voices are great 2.

5+ Stars !!!
...More