Imouto Paradise! (download)

Developer:

Genre:

Adventure

Specification:

Without Mosaics, Female Full Voice

Category:

Price:

$44.95 MG point:224

On Sale:

Aug 22, 2014

OS:

Windows XP, Windows Vista, Windows 7, Windows 8

Reviews:

4.7 out of 5 (

17 reviews

)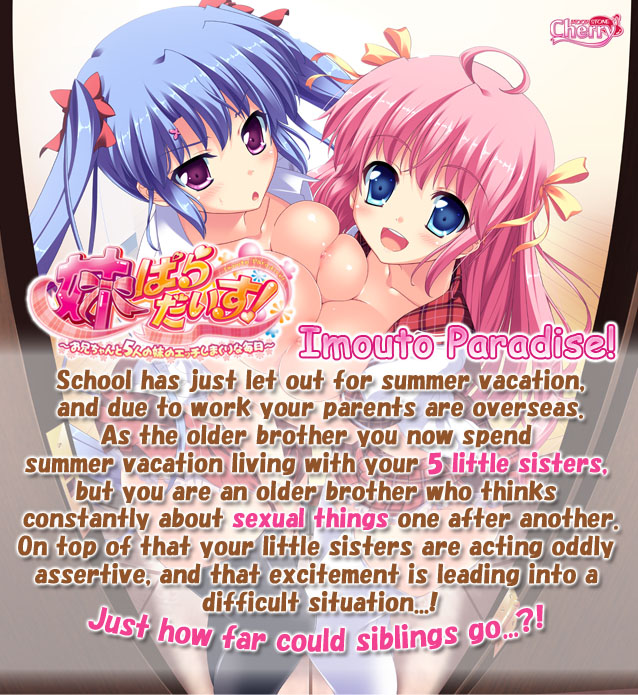 Nanase Aya

A cheerful, always smiling, gentle little sister.

She enjoys cooking, doing the laundry, cleaning, and other household chores. With both parents away, she looks after everyone.

She's always loved her older brother as another guy, and thinking about how she'd want to be lovers with him, it appears that she's interested in sex.

"But I'm his blood-related little sister!" as she takes a step back while worrying about that every day.

Nanase Rio

She is the stern little sister who watches after the studies of the others.

Completely unaccustomed to anything related to sex, she's a late bloomer in that subject matter.
Whenever her female siblings start to talk about anything lewd, she totally gets red in the face.

Whenever her older brother is in front of her somehow or another she's always angry at him.
... Though that is the attitude she takes, she actually really likes her older brother.
She tries her best to show those feelings of love towards him, but before anyone knows it, she hits him with an elbow.

A typical tsundere who can't be honest with herself.

Nanase Hiyori

Koharu's younger twin sister.

Among her siblings she's the most timid. Quick to get flustered. She's always worried about something.
Even when there's nothing there she trips and falls.

When she was younger, anytime there was a problem her older brother helped her so she is rather pampered.
She relies on her older brother so much that she believes that what he says is completely true to the point that when he tells total lies she totally believes him.

This timid Hiyori has no experience in sex, but is rather curious about it.

Nanase Koharu

Hiyori's older twin sister.

Among her siblings she's the most energetic. With few worries, when something crosses her mind, she's a girl that blurts it out without any hesitation. She's open-minded about sex and is a type that is frank and okay with dirty jokes and indecent topics.

When her parents are away, she boldly tempts her older brother with sexual advances. It's an established fact that she always outmaneuvers the others.

Multi-skilled, she participates in both the tennis and swimming clubs. Due to that, she always eats a lot, but unfortunately none of those nutrients go into her chest.


Nanase Michika

A little sister who shows very little emotion. Her expression generally doesn't change.

She appears to love books as she's always seen walking around with one. Her room is filled with books.
She's a bookworm whose thoughts can't be read.
But if there's anything sexual going on, she goes after the protagonist relentlessly.
This is her way of expressing affection. Believing in the absurd information she read in a book that said, "In order to become lovers with the person you love, it's best to train your target," her aim is to make her older brother her own.

From what she learned in books, she's a skilled technician who, when serious, can make you ejaculate till you faint in less than a minute using fellatio, hand jobs, and other techniques.
| | |
| --- | --- |
| Required CPU: | Pentium III 800 MHz or higher |
| Recommended CPU: | Pentium 4 1.7 GHz or higher |
| Required Memory: | XP: 256MB or more, Vista/7: 512MB |
| Recommended Memory: | XP: 512MB or more, Vista/7: 1GB |
| Required Resolution: | 1024x768 |
| Required Colors: | 16bit colors |
| Recommended Colors: | 24bit colors |
| Sounds: | PCM |
| Required Graphics: | VRAM 32MB or more |
| Recommended Graphics: | VRAM 128MB or more |
| Required HDD Free Space: | 5GB |
| DirectX: | DirectX 9.0c or better |



I hope the sequels are better

Glitnir

Just like Holeypaladin, I struggled to finish it due to the main character. He is impossible to identify with and it's beyond me why the imoutos even remotely like him. It's just not believable in the slightest and 90% of his actions are very annoying, sudden and lacking in sense, even by hentai standards.

The sisters are top quality. The VAs are great - Rio's VA is Ogura Yui and she is basically the tsundere queen in my book. Instant buy just with her name on the box. However, there were several things that made this lose many points regardless and I would almost put it at 2 stars.

I covered the annoying MC. In addition, there was futanari in there. I'm all for girl on girl action, but not at all on board with futanari and while it's common to see it in hentai and such, I did not at all expect it in a sort of wholesome incest story (by lack of a better description) and there's no tag for it either.

The ending of the harem route annoyed me too and so did the moments where the text or voices explain something is happening, but you don't get to see it in the CG at all. Oftentimes this happens with blowjobs, where the girls are supposed to have it (deep) in their mouths, but you don't get to enjoy that view. Not all the time, but it happens a lot. I hate that in visual novels. They're visual novels so you can see these things, but then it's not shown. Huge disappointment.

Also, as much as I love Rio, I really think her route did her kind of dirty. For one the annoying MC playing with her feelings and also there was hardly anything normal or loving going on. Don't get me wrong, I liked many things they did and I would have loved to see her act like a queen more often, as she's fucking hot when doing so, but it just felt lacking overall.

But I did buy all 3 games on sale. It took me over a year to get through the first one though. Put it down a lot because of the issues I mentioned. By now I have even forgotten quite some details about the routes I read first. And I skipped Koharu's, because I liked her the least and just want to move on now to the seuqel.
I really hope the sequel is better. Rio and Aya were 10/10 imoutos and I have MOONSTONE in high regard because Princess Evangile is my first longer VN I have ever read and it is also my favorite and have read it like three times. But ImouPara1 did sadly not deliver.



Having trouble finishing

Holeypaladin

I started this game awhile ago, and I'm having trouble finishing it. The problem has nothing to do with any of the girls... they're all super cute and adorable. Were I rating this based only on the imoutos, it would be a five star review.

However, I'm deducting two stars for the way the main character is written. Moonstone Cherry depics him as an overly perverted coomer who, when he's not spending all his time watching porn and cooming, masturbates in public while watching his sister play tennis, doesn't put his cock away after banging another sister, leaving it on display for all to see, or pressures an innocent sister into doing weird stuff that isn't even sex (the heck is an armpit job?)

By comparison, the Oniichan from another siscon eroge (Onii Kiss) is full of nothing but pure love for his sisters and would do anything for them. I'm guessing Onii Kiss took its inspiration from this game, since the gameplay is virtually identical, but fixed the major glitch with the main character.

I'm hesitant to try the sequels if I have so much difficulty getting through this one, though... which is sad, because I really love these imoutos.





Go for it

Ryan

great game.





Good

Ashwanah

I hope they do an english version of Imouto Paradise 2





YES

CoolioAsh

The OVAs were great, the game is uncensored 10 out of 10 mate why haven't you bought it yet

Hardest part is choosing who to go after first





Art is great, voices too.

IlikeGames

I am really enjoying this story so far, I feel like I really have sisters. I'd be so nice to them too!

What's great is the variety of sisters, size wise, something for everyone! Money well spent!





i fapped so hard

Drake1226








Absolutely wonderful

Lordcybot

This game will suck you in and never let you go.
The characters are well written, the CG's are gorgeously drawn and the story itself branches in several locations on Aya's route alone.

Let me put it this way, I completed the game on the Harem route, and now I cant play it anymore because I dont want any of the sisters to be alone.

My only regret is its not a longer novel.





Koharu is best little sister

CuteySylveon

This game has every little sister type ever.It has a girl for everyone.Only thing I would change is make it even longer then before





i like koharu in a skort

Flextape11

game was great worth the money






They know why you're playing

WiredRM

I bought this game on a whim, and man, am I glad I did! Moonstone definitely knows what they're doing -- if this game was made by industry veterans I wouldn't be surprised. The art style is gorgeous and remains both consistent and high-quality throughout the game. Voice-acting is spot on, and each voice really seems to fit each girl great and breath life into them. Each scene is long enough to truly enjoy them -- from the feel-good dialogue to the lengthy sex scenes. This game is long! With five girls and a harem route, I definitely feel like I got my money's worth.

Each girl gets their own character development (to an extent) with their own story; while it serves mostly to facilitate the sex scenes, I found myself learning to appreciate each girl, rooting for them while I pursued their story. To be fair, some scenes require a healthy suspension of disbelief to really enjoy them. While I haven't completed all of the endings yet, based on each of the girls and their interactions in the ones I have finished I'm really excited to complete them all!

From a mechanical perspective, Imouto Paradise! contains all the features and options you've come to expect; with that said, there are some quality of life features that I discovered and appreciated pretty quickly. Allowing Auto Mode to continue after a keyboard input helps keep things moving with minimal additional inputs if you want to skip a particular piece of dialogue for whatever reason.Game resolution is flexible and allows for window rescaling, and even at higher resolutions the game's graphics still look crisp and sharp. The most welcomed feature that I've only personally seen in this game so far is the climax countdown -- a meter that appears when you're 10 screens away from the protagonist climaxing, counting down each screen until it happens. That feature, paired with many sex scenes involving multiple climaxes before they end, really help the game stand out in a market saturated with 'pretty good' hetero nukiges.

If you want a lengthy game with cute girls that you feel great after playing, treat yourself and pick it up!





Buy or Cry

Naomitage

One of the best titles i've played so far!

Yes, the Girls are all Stereotypes, it's pretty linear, how you will come to which end, but it's fun listening to the girls, the animations in the sexscenes are decent and it's even pretty surprising how you get the Haremroute (needed a bit to figure it out lol)

A sister for everyones Taste!






This IS eroge

rockyroad

Absolutely worth the price. Multiple routes, multiple personalities, excellent artwork make for hours of enjoyable play, while endearing, humorous and ecchi scenes abound.

No regrets with this purchase and love the game. More, PLEASE!





Worth all the money.

P-man

Moonstone Cherry perfected the genre. There is everything you ever wanted and it is worth the money invested.

The only downside is that Imouto Paradise 2 isn't out yet.

Unless you are one of those people who plays eroge for it's "plot" (which is like watching porn for it's story) then you have nothing to fear.





Hiyori moe

OTA-SOTO

This game is the Best ever and as darktodark said has something for every one. More info can be found at https://vndb.org/v5295 and please buy this it's well worth it.





rio for the win

NefariousEvil

it was amazing




Koharu makes me rock hard

DarkToDark

This game has it all. Fiery, direct, and passionate girl? Check. Shy and timid girl? Check. Dominatrix? Check. Big-sister (but still actually little sister) type? Check. Tsundere? Check. If you like lolis, there are two, and if you don't, you have three options.

While these characters are all stereotypes, and the game doesn't try to mix it up, it's still enjoyable to read and see their interactions. Cliches abound and some of the scenes are just downright facepalm-worthy, but even so, the characters' back and forth is good enough for the little day-to-day stories to be entertaining.

The sex scenes are all pretty good as well (and numerous, very numerous). The uncensored CGs don't look ridiculous as sometimes occurs, and there are even a few animated scenes. If you've read a lot of porn doujinshi that use these character archetypes, you probably won't find anything new. The dialogue isn't amazing, but I certainly wouldn't say it's bad.

Don't come in here expecting Grisaia no Kajitsu (which is basically variations on the above characters but with a healthy amount of character development, trope deconstruction, and story), but if you just want to read something that brings a smile to your face and a bulge to your pants, then pick this up.
...More