Really? Really! (download)

Developer:

Genre:

Adventure

Specification:

Without Mosaics, Full Voice

Category:

Price:

$34.95 MG point:174

On Sale:

Jun 6, 2014

OS:

Windows XP, Windows Vista, Windows 7, Windows 8

Reviews:

4.3 out of 5 (

6 reviews

)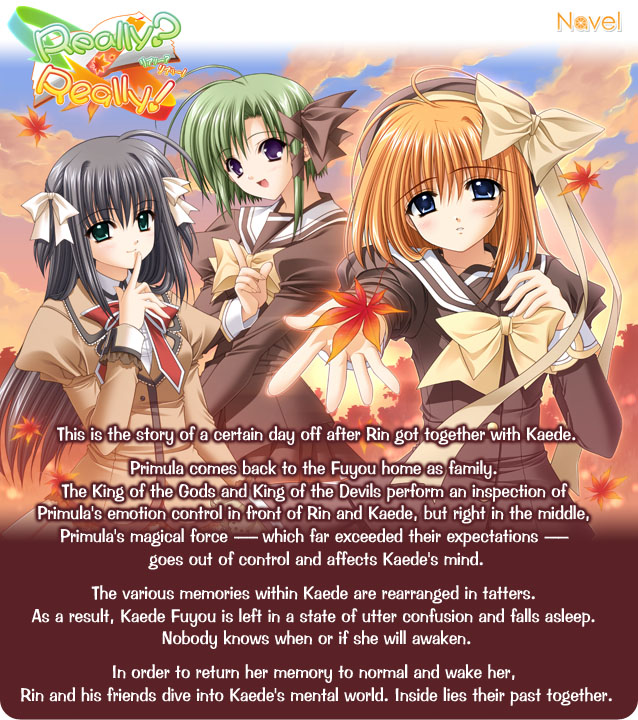 Kaede Fuyou

"Because it's something you wanted, Rin-kun♪"

Rin's childhood friend and lover. Attends the national Verbena Academy.

Attractive and intelligent, she's a Madonna-like presence at the academy and has many fans. Serving Rin is what she lives for, and she gives Rin such preference that she's apt to mess up things pertaining to herself.

Sakura Yae

"... Uhh, you two are a lot more grown-up than I expected..."

Kaede and Rin's mutual childhood friend; a modest and calm girl.

She's sentitive to the mood around her and good at listening to the troubles of others, but is a lost cause when it comes to herself. She gets flustered and panics. At present, she attends a different academy from the two of them.

Primula

"I'm the one in trouble right now."

An artificial girl developed in a collaboration between the Worlds of the Gods and Devils.

She possesses the strongest magical power in the world, but cannot yet use magic since she cannot control it well. She is poor at social interaction and very taciturn. Little by little, she shows more emotion while coming into contact with Rin and Kaede.

Asa Shigure

"Good. That means I've added another page of me into your heart."

A senpai in the cooking club Kaede is a part of and a bad friend of Rin's.

Energetically goes along with the running mood. An honest and level-headed girl. Also has a surprisingly dependent side. For some reason she hates magic, but therein is hidden the secret of her birth.

Mayumi Thyme

"Mankind is doomed if my breasts are big?!"

Half human and half devil, Kaede and Rin's classmate.

Highly inquisitive and likes sticking her nose into even the most trivial of matters. As a result, she always has a camera on hand. She'd be a beauty if she'd just keep her mouth shut, and has style on par with a model... but has no breasts to speak of.

Nadeshiko Benibara

"All right. Everyone but Midoriba, scatter. Don't fall behind so soon after matriculating."

An instructor at Verbena Academy, and Rin and the other's class's homeroom teacher.

She speaks her mind plainly. An enthusiastic instructor who is frank about her convictions. Her candid personality makes her very popular with students. In charge of world history, and also quite knowledgeable about magical history.
| | |
| --- | --- |
| Required CPU: | PentiumIII 800MHz |
| Recommended CPU: | Pentium4 1.4Ghz |
| Required Memory: | 512MB |
| Recommended Memory: | 1GB |
| Required Resolution: | 800x600 |
| Required Colors: | 16bit colors |
| Recommended Colors: | 32bit colors |
| Sounds: | DirectSound |
| Required Graphics: | VRAM 128MB and Shader 2.0 supported graphics adapter |
| Required HDD Free Space: | 2 GB |
| DirectX: | DirectX9.0 |





Nadeshiko

shiromeister

One ending, no replayability.

Nadeshiko ero scenes, plenty of replayability.

20/10 the only reason I got this was for Nadeshiko. All hail the teacher!



Disappointing

Obake

Shuffle and Tick Tack are some of my favorites, so I was really looking forward to Really Really. Unfortunately I don't feel it measures up to the previous titles. Part of it is simply that I don't like Kaede, but its more than that.

I liked many of the mini-stories (subplots, memories, whatever), but the game does a very poor job pulling them into a cohesive whole even considering the premise of the game. I didn't like having to jump back and forth between several memories to get by, and I had issues with the importance of the memory problems that had to be fixed. Minor inconsistencies have to be fixed right away, but major problems get ignored for quite some time.

It is also worth noting that there is only one ending, no replayability. Normally I'd call that a problem, but frankly I don't want to play through this again, so its fine.




Fun even for Non Kaede fans

Xander

The dialog and actions of the models have been ramped up with this title. Asa is even more of a tease (even though most the memories are false) And the Phoenix Wright style of game play has a few tricky sections to it. I am by no means a fan of Kaede, but I still enjoyed this game.

Too bad it lacks re-playability, but the story is fun while it lasts.




Needs more endings

MTJMTN

Kind of bummed there is no replay value do to only one ending.





Loved it

KingChayle

This was a worthy sequel to my favorite VN series. Can't wait for the rest :D





Best VN series *u*

Yagami

Really Really haves a great plot and unique eroge,now waiting for SHUFFLE! Essence+ *u*
...More